Roger Clarke's, A Penny For Going

From nit-combs to knick-knacks!
Free download of Roger Clarke's fascinating book, courtesy of the publisher, Nemine Juvante (Saltaire) Publications. Based on fascinating research, this is the story of Saltaire told from a fresh perspective. It describes the history of Saltaire through its shops and shop keepers - key barometers of change. Originally, Saltaire provided all the essentials of living for its residents but these same shops now house businesses which cater for visitors with more modern tastes. Set in Sir Titus Salt's beautiful village, the narrative takes the reader back into the past but with a unique modern twist.
Author, Roger Clarke

This is a PDF file. Click on the image, or the download button. The file will open in your browser. From there you can choose to download/save to your device.

House histories

Quick link:

Researched by Colin Coates

Who lived in Saltaire houses? Colin Coates discovers the people and families who made their home in Saltaire. First street: Ada St.

Reel Lives: Women who worked in the mills

Quick links:

Researched by Colin Coates and inspired by the Cloth & Memory exhibition in Salts Mill, by British artist, Caren Garfen.Biographies of the 108 women connected with Saltaire who worked in mills. More >

News: 100 years ago

Quick link:

Life and reportage, but not as we know it. Saltaire stories that hit the news.

Researched by Colin Coates


Saltaire Journal

The Saltaire Journals are researched articles relating to Saltaire and its history. They are available to download on a world-wide basis to non-commercial parties such as local historians and research and educational bodies, courtesy of the publisher, Nemine Juvante (Saltaire). More >

Mill Workers

Quick links:

Researched by Colin Coates

Saltaire Mill operated from 1853 until 1986, and gave employment to thousands of workers. Few records survived. Mill workers appear on census information from 1861 to 1911. Here we find out who they were.
More >

WW1 - The Saltaire Story

Quick links:

Researched by Colin Coates

WW2 - The Roll of Honour

Quick link:

Researched by Colin Coates

Honouring the men and women who lived in Saltaire and served their country in World War Two, and documenting what life was like in Saltaire during WW2.

Extra biographies

Quick links:

The people connected to Saltaire who didn't work in the Mill, or serve in a war. We discover their lives in Saltaire.

Researched by Colin Coates

Second Boer War Roll of Honour

Quick link:

Researched by Colin Coates

Biographies of those connected with Saltaire who served in the Second Boer War.

Info and archived History Club meetings and posters >

Saltaire History Club website: www.saltairehistoryclub.org

Saltaire History Club Facebook feed:
The oldest stone carving in Saltaire
Peter Bottomley writes: I noticed in the Church grounds a small stone which I thought was a grave stone for a pet. When I took the first photo of the stone I noticed some letters carved on it, so after wiping away some of the moss I could just about make out the letters, which read `L&L CCo` and a mark which looked like a star. At first I didn't know what the letters meant but worked it out as Leeds and Liverpool Canal Company. I got in touch with the Canal & Rivers Trust to ask them what the stone represented... Read more >

Image: courtesy of Peter Bottomley.
SALTAIRE PEOPLE: Lots of stories shared by you
Shared social history of the people who live, or have lived in, Saltaire. We welcome your stories. Please get in touch. Email: history@saltairevillage.info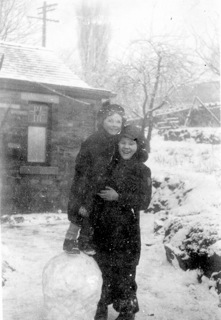 Latest: Mitchell, Julia (nee Spalding)
Two years at Albert Road Infants' School 1946 - 1948
A very enlightened education
I was born in March 1942 at the Norman-Rae Nursing Home at the junction of Bingley Road and Kirkgate next to the Ring of Bells pub. Life, during and for a few years after the Second World War, was spartan. I spent my first few nights of life in an air raid shelter as planes flew nightly over Bradford on their way to bomb Liverpool. Coal rationing meant that at home my family and I lived in the only heated room in the house which had a rolled-up mattress in one corner ready for emergencies and where my brother and I were bathed in a sink in another. When my mother ventured into the kitchen in the winter she donned her fur coat and gloves and every night, upstairs we were tucked very quickly into cot or bed warmed by hot water bottles, wearing thick woolly vests under and fleecy 'siren suits' over our night clothes. More >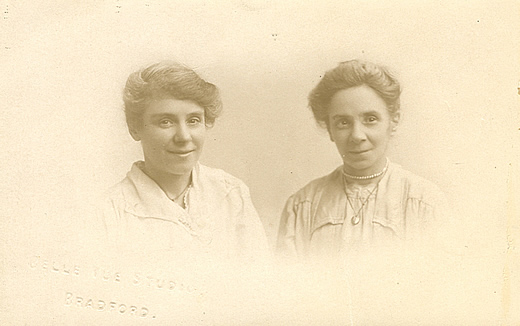 The Dewhirst family
Rhoda was born in 1874 and went on to work as a spinner at Salts Mill. Sarah (Sally) was born 1876 and went on to work as a wool twister at Salts for 51 years. She was presented with a clock which my sister now has. I remember as a child being taken to see "the little Aunties" Rhoda and Sally who lived at 1 Edward Street. They were both under 5 feet tall and always wore a hat... More >
Debunking two myths concerning the life of Sir Titus Salt
Researched by David King
Robert Balgarnie wrote a biography of his late friend, Sir Titus Salt. Did he get some things wrong? More >
FREE DOWNLOAD: Sir Titus Salt, Baronet: His Life and its Lessons by Rev. R. Balgarnie
SIR TITUS SALT, BARONET
HIS LIFE AND ITS LESSONS
BY
REV. R. BALGARNIE

This biography, written by Sir Titus Salt's contemporary and friend, Reverend Robert Balgarnie, is made freely available courtesy of Nemine Juvante (Saltaire) Publications.

You can also buy the a republished hardback edition of the Balgarnie's biography with valuable Commentary and Additions by local historians, Dave Shaw and Philip Barlo.

Download free text (Acrobat file), or buy the book with Commentary and Additions >
The Saltaire Sentinel Archive, January 2006 - December 2017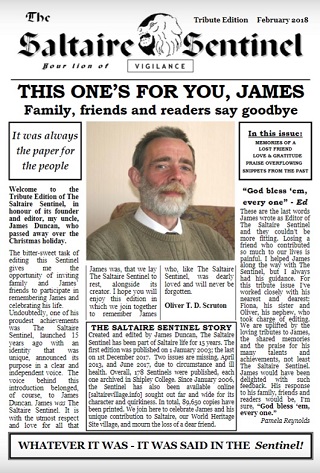 Created and edited by James Duncan, The Saltaire Sentinel was a part of Saltaire life for 15 years. The first edition was published on 1 January 2003; the last on 1st December 2017. Two issues are missing, April 2013, and June 2017, due to circumstance and ill health. Overall, 178 Sentinels were published, each one archived in Shipley College. Since January 2006, the Sentinel has also been available on this website, [saltairevillage.info] sought out far and wide for its character and quirkiness. In total, 89,650 copies have been printed.
James Duncan died on the 6 January 2018. A Tribute Edition was published in February to celebrate James and his unique contribution to Saltaire, our World Heritage Site village, and mourn the loss of a dear friend.
For future generations, The Saltaire Sentinel gives an authetic view of life in Saltaire in these years.

"WHATEVER IT WAS - IT WAS SAID IN THE Sentinel!"
Jack Robinson recalls his childhood in and around Saltaire
Many thanks to Jack Robinson for sharing these memories, evocative of childhood in the 1940s.

I was born in Shipley in the West Riding of Yorkshire on December 7th 1937, I presume it was at home as it was the norm in those days, in Regent Street number 24 (no longer there). My first memories don't start till I was about 3 years old and they are rather disjointed but never the less are very clear in my 80 year old mind. ...
Rifle presented by Titus Salt in 1861 is now owned by American, Eugene Tucceri.
1 July 2017. Saltaire Historian, Colin Coates, writes: I have been contacted recently (through the Saltaire Village website) by Eugene Tucceri, a gentleman from small town in central Massachusetts, USA. Eugene owns a rifle that was presented by Titus Salt in 1861 to the winner of a rifle shooting competition for the Bradford Volunteer Corps. Eugene had been looking for years for the name of the person who won the rifle and I was able to provide this information for him. Many thanks to Eugene for taking the trouble to contact us and share these photographs. It is greatly appreciated.
This Wonderful Creation, 1976
A tour of Saltaire and an account of Saltaire's history and purpose, filmed Eric Hall in 1976.

This Wonderful Creation, 1976, by Eric Hall, is a film curated by the Yorkshire Film Archive. The YFA collects and preserves non-fiction film since the 1890s, which show Yorkshire's rich and varied lifestyles, industries and culture. Many of the films are available to watch, free of charge via the YFA's website.

Link to the film, more information and images >
Yorkshire Film Archive films of Saltaire:

BRADFORD UNDER SNOW (1910S)

Bradford and Saltaire covered in snow. It includes a horse drawn snow plough.
7mins | 35MM | Black and white | Silent

EASTER ON SHIPLEY GLEN 1912 (1912)

Early images of the fairground entertainment on Shipley Glen in 1912. Shows scenes of a wooden roller coaster and a broken down Helter Skelter.
4mins 33seconds | 16MM | Black and white | Silent

SALTS MILL CENTENARY TRIP TO BLACKPOOL 1953

The employees' trip to the seaside resort of Blackpool, undertaken in celebration of the centenary of Salts Mill, known as Salts (Saltaire) Ltd. 1853 - 1953.
20mins | 16MM | Black and white | Silent

JCC ANNUAL CAR RALLY BRADFORD DIAMOND JUBILEE (1983)

A brief history of the Jowett Company and the Jowett Car Club's annual rally held at Saltaire. Shows many fine vintage cars.
15mins | Super 8 | Colour | Combined magnetic sound
MYTH: Saltaire streets had a strict hierarchy
Historian, Colin Coates writes: One myth that I come across when I speak to people is that in Saltaire "the workers streets had strict hierarchy." Those who peddled this myth will tell you the houses in Albert Road, were occupied exclusively by managers and "professional" people.

Read article >
THOMAS MILNES, c1810-1888

THE NEARLY MAN OF BRITISH SCULPTURE
Written and researched by Chris Bell
Copyright, Chris Bell, 2016

First published in The Telamon, the Magazine of The Friends of Kensal Green Cemetery.

[Thomas Milnes carved the lions, War, Peace, Determination and Vigilance which adorn Victoria Road, Saltaire.]

Chris Bell writes: My Milnes connection comes through my grandfather's mother Ellen Sarah Milnes, who was born in Snettisham, Norfolk in 1871. My grandfather, Fred Wagstaffe, was an avid family historian who wrote monographs on every branch of the family...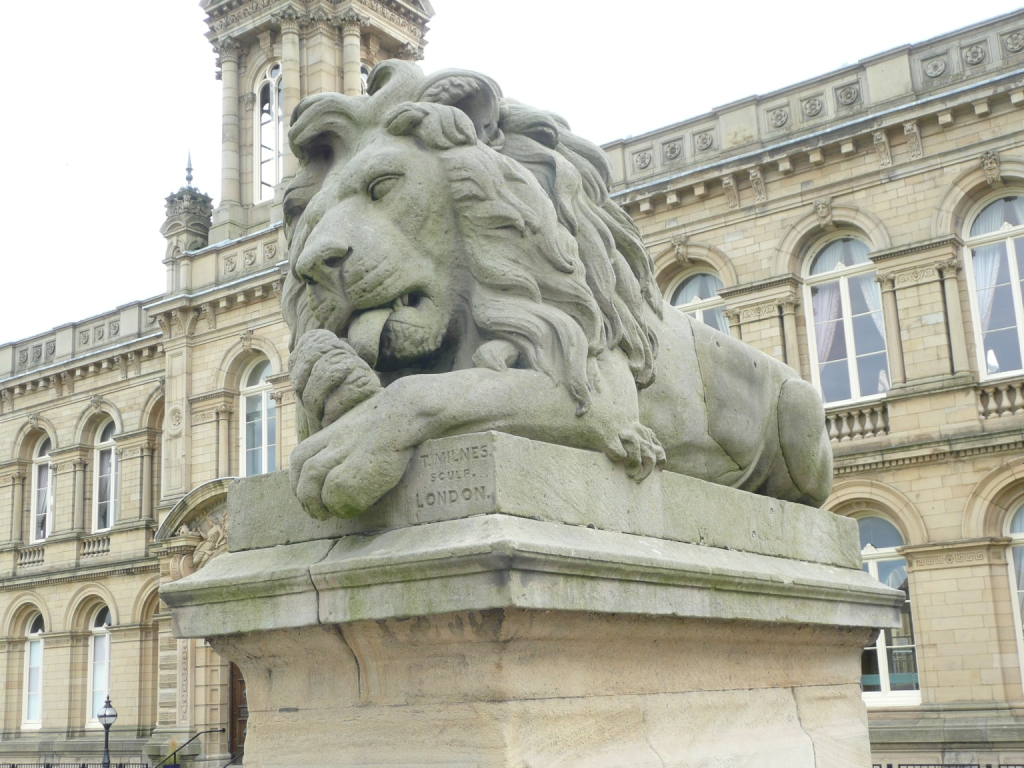 The Wedding of the Briggs: A play by Boguslawa Sieroszewska
Introduction by Dr Sarah Dietz, July, 2016: The renewed interest in the shared history of Marki and Bradford is certainly a credit to the enthusiasm of the Marki-Pustelnik-Struga History Group, although the romantic portrayal in Bogusława Sieroszewska's play is very far from historical fact. In 1883 the Briggs brothers, formerly of Briggella Mills in Bradford, established a large worsted factory and workers' community in Poland. To cement their position in Warsaw society, the Yorkshiremen both married daughters of local industrialists. These "arranged" marriages were consecrated with minimal ceremony, not in church but in the offices of the British Consul at Warsaw and it should be accepted that the brides were less of a prize for the young men than the strengthened business relationships with their newly-acquired fathers-in-law. Indeed the Briggs spoke no Polish so communication with their new wives would have been somewhat challenging!
Abraham Holroyd's descendant, Lincoln Holroyd, Cornet Soloist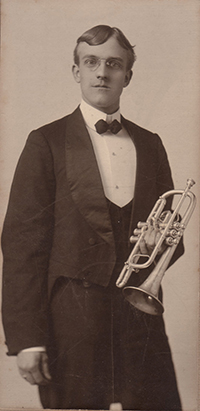 In 1892, Abraham Holroyd's grandson, Lincoln, emigrated with his family from Saltaire, England to Bordentown, New Jersey. His father Edwin is credited with giving Lincoln his first lessons on cornet and is referred to in one source as a "well known band man". By 1900 Linc had established himself as a cornet soloist with Winkler's 2nd Regimental Band of Trenton, New Jersey. His first professional teacher was Carl F. Koenig of Leipzig. Both Linc and Carl performed with Winkler's Band. In 1901, Linc moved to Camden NJ, home of Victor Records. As assistant cornet soloist, Lincoln recorded for Patrick Conway's band and played with Arthur Pryor's band as well. In 1905 he accepted a position as Brass Instructor at the Utica Conservatory, and remained an active performer and educator in that city until his passing in 1961.
The Purchase Deed of 25 Mary Street, Saltaire, on 19 May 1938 by Mr & Mrs Elsworth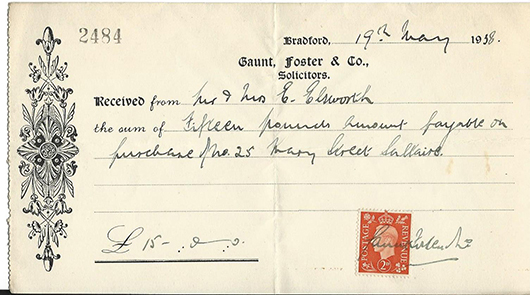 The family bible of Sir Titus Salt's parents, Daniel and Grace Salt
An amazing and profoundly touching piece of social history. The family bible of Daniel and Grace Salt was salvaged from an unknown house clearance in Oxted, Surrey. It is now in the possession of Colin Waghorn, an avid collector of ephemera.

Sir Titus Salt's parents, Daniel and Grace Salt, took care to memorialise their family. In the middle of the bible Daniel's father's death date is inscribed, so too Daniel and Grace's birth dates and marriage, their children's birth and christening dates, and for three of their children, their death dates. The information is pictured and transcribed. Read article >
The Rules of Saltaire Village: genuine and fake
The genuine rules of Saltaire

So far, it's been established there are two sets of Rules of Saltaire Village from Sir Titus Salt's time that are genuine

.

Local historian, Colin Coates, confirms there are also genuine rules for Sir Titus Salt Hospital, written in 1910 and revised in 1922.
Fake rules of Saltaire, as sold by the Visitor Information Centre

The "rules for living in Saltaire Village 1853 - 1876", below, and "rules for working in Salts Mill, 1853 - 1876" are sold as a souvenir, but no source has been found by local historians and researchers. Please don't cite them in your essays!
Saltaire myths and fake facts
Those interested in facts, please take note: unless stories are sourced, please don't assume they're part of Saltaire's history.

Have you heard of any of these myths that are touted around Saltaire?

Saltaire streets had a strict hierarchy.
Rules of the Village and the Mill: unsourced and evidence of being faked.
Daisy Place, Fern and Myrtle Place were named after Sir Titus Salt's maids.
Sir Titus Salt had illegitimate children.
Streets were to be named after Titus Salt's parents, Daniel and Grace, until he quarrelled with them.

The church chandelier was placed to obstruct Lady Caroline's view.
The bust in the church was placed to aggrandise Sir Titus Salt in his lifetime.
The urine of red-headed girls was collected separately.
Titus Salt destroyed the records of Salts Mill.
The blocked up windows of Saltaire were due to the glass tax.

Myths - more info
See the list and more detail >

The fake rules of Saltaire

Students and academics, beware. These rules are fake. More >
Victoria Hall, Saltaire: the addition of the side galleries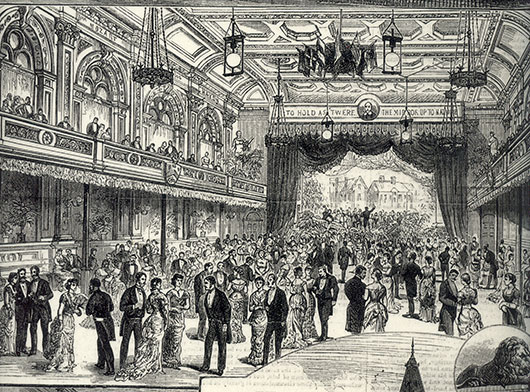 Local historian, Colin Coates writes: Today (20 July 1915) I managed to visit the West Yorkshire Archives in Bradford and I found two items that suggest there were indeed side galleries in Victoria Hall.

I attach these two finds plus a newspaper cutting I found previously:-

1. Newspaper cutting from September 1877 which mentions "erection of a gallery".
2. A gallery plan (undated) showing seats on three sides of the hall.
3. A list (dated 1886) of the all the rooms in the hall. Note there are two sets of dimensions for the gallery.

Although its not conclusive - I think it is possible there were indeed side galleries in the Hall which, sadly, no longer exist. Read article >
Saltaire World Heritage Site 1028
Saltaire Village is near Bradford in West Yorkshire, England. It is named after Sir Titus Salt who built a textile mill and this village on the River Aire.In December 2001, Saltaire was designated a World Heritage Site by UNESCO. Saltaire is not a monument. People live here - so it is open all the time!

For more information about UNESCO and the Nomination File (Saltaire's submission to UNESCO to be considered for World Heritage Status - the file contains a detailed decription of Saltaire's history and buildings) - Read article >
The Exley family of Saltaire & the RMS Lusitania connection
Written by Sylvia Brooks, May 2015

Added to website: 9 May 2015
In 1910, Joseph Exley, a wool sorter, emigrated with his family to New England, USA. In May, 1915, Ida, his daughter, was on the RMS Lusitania, bound from New York to London. She was making her way back to Bradford to be married. The cruiser was torpedoed by a German submarine. No trace of Ida or of her trousseau was ever found. Read article >

Five generations of the Sharp family in Saltaire
Written by Colin Coates, May 2015

Added to website: 9 May 2015
Colin Coates writes: In March 2015 I met up with Dave Sharp, who had travelled from his home in Flamborough to meet up with friends in Shipley and to have a chat with me about his family who had lived in Saltaire for over sixty years. Dave is a Shipley lad who recalled conversations with his grandfather, William, who was born in Saltaire in 1915. Read article >

Thomas William Appleton, photographer
In 1852 Thomas William Appleton started a photographic business in partnership with Henry Berlon at the top of Manor Row, Bradford, on the site in which the Yorkshire Penny Bank now stands. Thomas and later Richard James Appleton photographed some very important people in Bradford, including Titus Salt.

Steve Lightfoot writes: I have been researching the portraits of Sir Titus Salt and I thought you may be interested in what I had found. If anyone has any further information on this subject I would be most interested.

Steve Lightfoot: email: stpud2011@gmail.com
Remembering Denys Salt
22 December 2014. Today, we heard that Denys Salt, the great grandson of Sir Titus Salt, had died. His health had been frail recently and he had been readmitted to hospital on Saturday. A friend stayed with him until midnight when he fell asleep. He died in the early hours of 21st December.

Dave Shaw, a long-time friend of Denys writes: "Denys who was 96, was a lovely, wonderful man, as all who met him here in Saltaire will testify. He was, effectively, the Salt family historian and had encouraged the learning of Saltaire history for more than 50 years. His loss will be keenly felt by many. A very sad start to Christmas week, but a life to be greatly celebrated, not least for the example Denys set us all."
Denys Salt's 95th birthday, 2013
Local historians from the Saltaire History Club, Dave Shaw and David King, travelled to Graz to wish Denys Salt a Happy Birthday. Denys, the great grandson of Sir Titus Salt the philanthropic founder of Saltaire, lives in Austria and is 95 years old. For a number of years, Denys has visited Saltaire at festival time and is always a welcome visitor.
Eva Salt - a sad loss
It is with great sadness that we share with you the news that Eva, wife of Denys Salt, died on 20th May 2010 in Austria. Her funeral was held in Graz at the local Evangelical Chapel on Friday 28th May. Eva and Denys, great grandson of Titus Salt, visited Saltaire regularly and were last here in September 2009, supporting the Saltaire Festival. At this time of great loss, Denys contacted his friend, historian, Dave Shaw to send good wishes on the occasion of the recent Bandstand Opening in Roberts Park. Dave Shaw attended the funeral with his wife, Ann, as did Rev. Paul Breeze of Saltaire's United Reformed Church.

Love and sympathy is sent to Denys and his family from his many friends in Saltaire.
Assuntina De Matteis returns to Saltaire
In the hillside village of Montefalcione, Italy, Assuntina Anzalone kissed her mother goodbye and set off on a long and anxious journey to England. This was March 1950 and Assuntina was 19 years old. She found England bleak at first, though working in Salts Mill she also found friendship, and through one of those friends, she would meet her husband, a handsome Italian immigrant called Antonio De Matteis. Assuntina and Antonio celebrated their sixtieth wedding anniversary in August 2014. She journeyed to Saltaire from her home in Peterborough, with her daughter, Rossana, and grandson, Massimo, to relive some precious memories.

This is her story. Read article >
An account of the Saltaire Congregational Sunday School
The attached article comes from the Leeds Times Saturday 6th May 1876 and indicates the Sunday School opened Saturday 29 April, 1876. It also gives details of the classrooms. [Researched by local historian, Colin Coates] Read article >
Book featuring Henry Francis Lockwood (1811 - 1878) co-architect of Salts Mill and Saltaire Village
Wealth and Notability: the Lockwood, Day and Metcalfe Families of Yorkshire and London, by Robert Ward

This book tells the story of an extraordinary group of families, the Lockwoods, the Days and the Metcalfes of Yorkshire and London, and their contingent of wealthy and notable people. It includes a chapter on Henry Francis Lockwood (1811-1878), the Saltaire architect, and his family.

There are nine pages on Henry, plus a further twenty on his children and descendants, which include the British actress Margaret Lockwood. It also includes a copy of Henry's portrait which has so far remained in the family in private ownership. Read article >
A family wedding in Saltaire
The contributor's grandparents lived in Saltaire on Shirley Street from the 1940's to the late 80's and are both in the photo. (Sent via email, 7 May 2014). If you can name anyone, please get in touch. We've had some feedback already. View enlarged image and notes >

From Sydney, Australia: Peter Davy's connection with Saltaire
Peter Davy, of Sydney, Australia, contacted the website on 8 May, 2014, to share his family history. His great grandfather, John Davy, was the bookkeeper/cashier at Salts Mill, and his grandfather, Arthur Davy became a successful businessman and philanthropist.

Peter Davy, 2014: "Firstly I would like to say that I am very impressed with your website which has prompted me to write to you. My connection to Saltaire goes back to my great grandfather John Davy who was born in Cowling /Kildwick area, his vocation being a drysalter [I think it means dyer]. In his early twenties, John migrated to Bradford, where the Industrial Revolution was booming. All his family were born in Idle, one of which was my own father also named John They were all involved in the textile trade.
Rev. Robert Balgarnie's writing box
The Reverend Robert Balgarnie, minister of the Congregational Church in Scarborough, published the biography of Sir Titus Salt in November 1877, following his death on 29th December 1876. Ten years later, Robert Balgarnie left Scarborough with his family. He was presented with a personal gift - a writing box - by the Misses Huntley. The inscription is as follows:

Presented by Misses Huntley to their Beloved Pastor the Rev Robert Balgarnie on his leaving Scarborough as a Token of Respect & Esteem for the loving sympathy & interest he has always taken in their Family during his 36 years ministry. July 30th 1887.
Dr. Samuel Rhind, physician of Saltaire
Dr. Samuel Rhind, born c1830, and probably came to Saltaire around 1860. In 1867, he produced a medical report on Saltaire (to be found more fully in Balgarnie's Salt (p171-173) for the Imperial Commision of the Paris Exhibition. This resulted in Sir Titus Salt being awarded the French Legion of Honour. [Courtesy Dave Shaw]
Saltaire, trams and trolley bus memories...
There is an information and commemorative panel planned for the newly formed area outside The Tramshed in Saltaire. Do you have memories of the trams and trolley buses in Saltaire or of living or working in Saltaire Village? We would love to hear from you. The information will be passed on the Saltaire's World Heritage Officer, Helen Thornton.
Bradford, Titus Salt, and the development of Saltaire
The life of Titus Salt from his birth in 1803 to his death in 1876 including notes on Bradford at that time and conditions which lead to the development of Saltaire.

Written by Pamela Reynolds.
Saltaire in Hull: Two buildings connected with Sir Titus Salt and H. F. Lockwood
Sir Titus Salt contributed to many philanthropic buildings. Local historian, Ian Watson, presents his research on two buildings connected to Titus Salt and the architect H. F. Lockwood.

Ian Watson writes: The booklet is about a visit I made to the Park Street orphanage in Hull, which was mainly financed by Titus Salt, and a private chapel designed by Henry Lockwood, both of which were opened on the recent Open Weekend. Read article >
My father, Barry Clatworthy

Pamela Reynolds, Editor of saltairevillage.info.
8 October 2013

Barry Clatworthy was a teacher and a very good one. I didn't fully realise this until after he died, because I was never taught by him. He didn't think it would be fair on me! Then I started to find comments about him on Facebook from people who had been taught by him. Read article >
The Saltaire-Kilnsey Park connection
An important era in Yorkshire's history was commemorated when the owner of one of the county's top rural visitor attractions donned Victorian attire and began a walk with a trio of alpacas in tow.

Jamie Roberts set out from Saltaire in West Yorkshire on 6 August 2013, to return home to Kilnsey Park in the Yorkshire Dales as part of the Park's 35th anniversary celebrations. The walk ialso honoured an important anniversary in the history of Salts Mill, one of Yorkshire's and the world's greatest industrial powerhouses in Victorian times and now a cultural centre and UNESCO World Heritage site. Read article >
The David Hockney/Jonathan Silver connection
David Hockney's acticle, King of Salt's Mill, pays tribute to his friend, Jonathan Silver, who bought a near-derelict Salts Mill in 1987 and transformed it into a place of enterprise, art and culture. It was written soon after Jonathan's death in 1997. Many thanks to David Hockney for allowing his article to be published on the Saltaire Village Website.

David Hockey: biography and art on Artsy.net
Bradford Mills at Marki, Poland: 'A Second Edition of Saltaire'
By Sarah Dietz
In 1883, Edward Briggs, a Bradford worsted manufacturer, purchased a 75 acre estate at Marki outside Warsaw. Where, with blueprints drawn up in Bradford, under the supervision of the Polish architect Edward Lilpop, he built a huge state of the art worsted mill and model workers' community which would later be described as 'a Second Edition of Saltaire'. While construction was underway Briggs recruited a hundred Polish girls and, provided with decent clothes and shoes, he shipped them to England to learn factory skills. Read article >

Related link: The Polish delegation's visit to Saltaire, June 2015 >

Image: Bradford Mills are Marki by kind permission of Ralph Haigh
Saltaire Prize Choir Piano
Roger Clarke writes: Saltaire Prize Choir was formed in 1877 as the Saltaire Wesleyan Choir, to be re-named in 1889 at the height of national popularity of choral singing. Choral contests were organised all over Great Britain with substantial cash rewards, encouraging groups to enter.

In 1889, the Saltaire choir won £150 in prizes, and money from engagements was over £500. £350 was given to charity and the rest went to the Chapel Authorities. Over a five year period from 1889, they earned over £1,000. Read article >
Saltaire photographs in the 1940s - Who, what, where, when?
These photographs (including images taken at Saltaire Cinema) were contributed by Matthew Godfrey from his family's personal effects. If you recognise anyone from these photos - or you can contribute some information, please email: history@saltairevillage.info
Many thanks.

Matthew Godfrey writes:

I have an old group photograph taken in I'd say the 1940's in what maybe Saltaire Victoria Hall and wonder if the Saltaire History Club would be interested in publishing it on the site to ask if anyone recognises the event, themselves and/or any of their relatives. Although I can recognise 4 members of my family, the photo is still a bit of a mystery and was found in my dear Great Aunty's house in 2011 after she sadly passed away. See the photo attached. Read article >
History Club overwhelmingly rejects Bradford Council's proposal for a water turbine in Roberts Park
On the 18th October 2012, the History Club discussed Bradford Council's proposal to install a water turbine in Roberts Park, the outcome of which is that the Club has declared, by an overwhelming majority, its opposition to the proposal. The precise motion that was carried was:
"Saltaire History Club, having been identified as a stakeholder in BMDC's Feasibility Study for a Water Turbine in Saltaire WHS, declares its opposition to the Council's proposal and calls upon BMDC to abandon its current project and find a better solution to its renewable energy needs".
This decision will be communicated to the Council.
The voting was 23 for, 1 against, with 1 abstention. Read article >
Dayton or Bust! Two Saltaire historians on an American adventure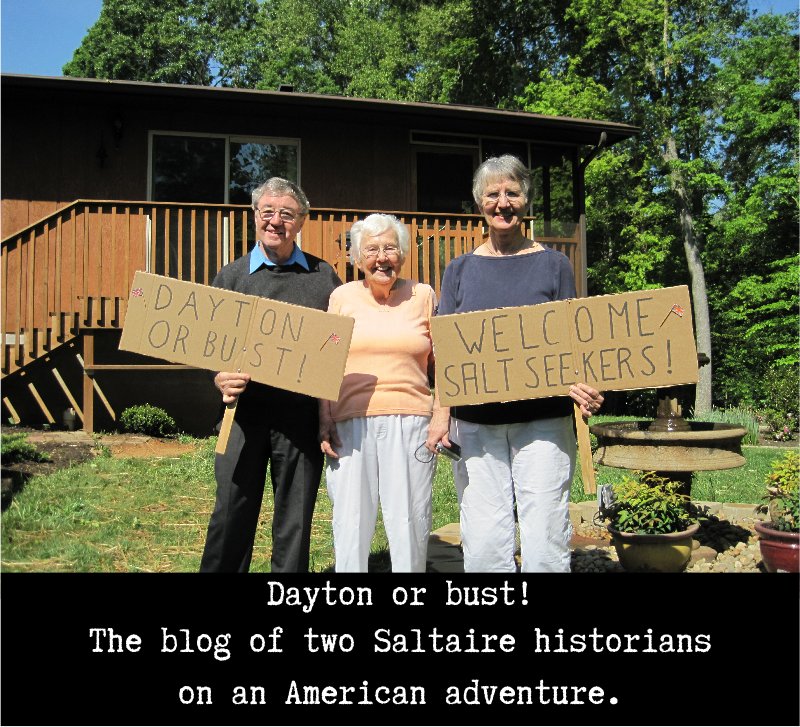 Dave Shaw writes: Hello to those activists & supporters involved in Saltaire's history who may be interested in a trip that David King & I are making next week to Dayton Tennessee. [The trip was made in 2012.]

It's very little known, but the Salt family created & invested heavily in a coal & iron company that members of the family created in Dayton, Tennessee (the Dayton Coal & Iron Co). The land is about to be inaugurated as part of the Cumberland Trail (a long distance footpath running nearly 300 miles from Cumberland Gap to Chattanooga, (see http://www.cumberlandtrail.org/ ), & David King & I will be attending the opening ceremony which takes place on 4 May (Titus Salt's great grandson, Denys Salt's 94th birthday!). We travel out on Tues 24 Apr, return on 7 May, 2012.

Read the the blog of Dave Shaw and David King >
Three Saltaire Historians and a long walk home from New Lanark...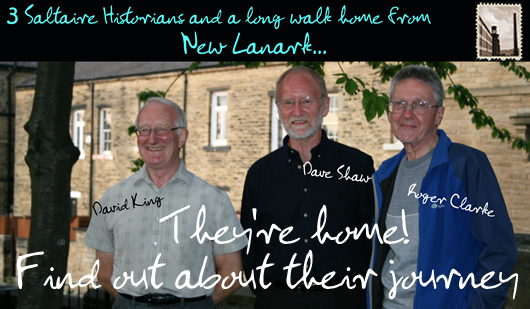 Follow the journey of The Three Historians as they make their way back from New Lanark to Saltaire. Dave Shaw kept a daily blog of the trip during the summer, 2011 - its trials (blisters and bad weather) and triumphs (too many to mention!). Read article >
The book: Milner Field - The Lost Country House of Titus Salt Jnr
A series of coincidences and near-misses will result in the publication this autumn of a book on one of Saltaire's great mysteries, writes Richard Lee-Van den Daele.

Back in 1996, my interest was sparked when I discovered the ruins of the once great local mansion, Milner Field near Gilstead. Coincidentally, David Beale from Baildon also stumbled upon the ruins. Unknown to one another, we began pondering the story that lay behind the evocative pieces of carved masonry strewn on the isolated hillside overlooking Saltaire.
Read article >
Elizabeth Bennett, born 1865 at 14 Caroline Street, Saltaire
The Saltaire History Club welcomes emails from people researching the Saltaire connections of their family history. Val Moss of Manchester is researching her great grandmother, Elizabeth Bennett, who was born in Saltaire in 1865. Val shared her research with us and local historian and writer, David King, did some casting around to colour some of the detail of Elizabeth's life and situation. Read article >
Added to website on 30 March 2011
The restoration of Roberts Park, Saltaire:
YouTube film by David Weber
Like many other enthusiasts and supporters of Saltaire I watched the park slowly decline over the past decade, writes David Weber. I was saddened that so much regeneration had taken place within Saltaire itself yet the park seemed to be on a slippery slope to oblivion. The vandalizing and burning of the shelter pavilions was, I thought, the last straw and to see them boarded up and covered with graffiti was one stage away from demolition. The news in 2003 that preparations were afoot to draw up a plan of restoration excited many Saltaire residents and supporters.
Read article >
Mary Whitehead's research on Saltaire poet, Ann Moss
"Ann Moss, Saltaire Poet" was published in 2010, and is an inspirational story of Ann's life as a deaf, single parent in diminished circumstances. Promotion of this volume in Ann's native Ashton-under-Lyne led to contact with Mary Whitehead who is generously sharing her research on Ann Moss's references to places and events in Ashton, complete with an 1831 map showing locations. Mary's research can be downloaded as an Acrobat file. Read article >
"THE STATE OF BRADFORD"
A protest song by Eddie Lawler
Eddie Lawler writes: "Bradford city centre has, in my lifetime, been more destroyed than regenerated, and its current lamentable condition has inspired me to write my latest song, The State Of Bradford".

Listen to the song and read the lyrics. Read article >
THE SALTAIRE JOURNAL, VOL 1, ISSUE 4
The Whitlams? Who are they?
By David King
Local historian, David King, has written a fascinating and well researched article on the Whitlam family. Caroline Whitlam was just a teenager when she met her husband-to-be, Titus Salt.

This is a 28 page booklet, downloadable as an Acrobat file.
(Size 17MB) Download the Saltaire Journal >
Don't have Acrobat Reader? Get it FREE!
When was Ripley Ville built and other questions
The District of Bradford used to have a second model industrial village, 'Ripley Ville' which, unlike Saltaire, has not survived. Local author Bob Walker clears up more than a century of confusion about when Ripley Ville was built and explains why this matters. It has taken more than five years of detective work. Follow the clues and weigh the evidence with the author to discover when Ripley Ville was built. This journey of discovery adds to our understanding of H W Ripley's career, Victorian housing and land use in West Bowling and for industrial model villages in the West Riding of Yorkshire.
Memories of visiting our grandparents in Saltaire - Charles and Cissy Goddard of 24 Ada Street
Wendy O'Reilly (Nee Harding) writes: I would like to share what I hope you find interesting reading, about the lives of three children - Glen, Melody and me, Wendy, who idolised their grandparents, Charles and Cissy Goddard who lived at 24 Ada Street, Saltaire.

This was the sixties and our father, who grew up in Saltaire, took work wherever he could find it as a saxophonist and sometimes this meant abroad. The one thing we three children looked forward to in those days was our trips to visit our Grandma and Granddad.
Evelyn Joan Reynolds
It is with great regret that we mark the passing of Evelyn Joan Reynolds, (nee Mason) of Wilsden, at the age of 95.

Evelyn, whose earliest memory was of seeing a zeppelin during the First World War, had led a full life...
Back to the future for the Hamonds Saltaire Band
Championship band, YBS has changed its name to Hammonds Saltaire Band, a name which reflects its 150 year history.

Although the Band has been known as YBS for the past 15 years it has been fondly remembered as the "former Hammonds Band" going back to a time when it was sponsored for a period of almost 50 years by the then local Hammonds Sauce Works which was based in Saltaire.
Read article >
Added: 28 January 2009
Russell Fenwick shares his memories of Saltaire in the 1940s and 50s
Russell Fenwick contacted the village website on 2 January 2009, to share his memories of Saltaire in the 1940s and 1950s.

Hi,
I moved to Dallam Avenue, to live with my auntie in Saltaire in 1941 aged five or so... Read article >
The Saltaire Rifle Volunteers
Saltaire barber, Peter Randall, showed me this photograph of the Saltaire Rifle Volunteers, which a branch of his family was involved with. The 39th West Riding Rifle Volunteers were established in Saltaire in 1859. The Volunteers were a Home Guard, a kind of Dad's Army, formed with the idea of protecting Britain against invasion by Napoleon.
Elaine Embelton donates original Balgarnie's Salt
On Friday 11 April 2008, Elaine Embleton met with Roger Clarke, to donate an orginal copy of Balgarnie's Salt, the biography of Sir Titus, written by his friend the Rev. Balgarnie, to the Saltaire Archive located in Shipley College Resource Centre, Exhibition Road. Roger was suitably attired as the historical figure, the Rev. Cowan, which he plays when conducting tours around Saltaire on behalf of Salts Walks.
The history of Saltaire's street names
by Barlo & Shaw
Read the history of Saltaire's streets. Better still, if you live or have lived locally, share with us what you know about the history of your Saltaire house by writing in and telling us. Read article >
Salts Mill outing to Blackpook, 1953
Photos taken in June 1953 are now on-line. They belong to the Bradford Museum who have kindly allowed the site to publish them in the hope that people might be able to put names to faces.
Read article >
Salt's textile production captured in paintings

The work of artist, Henry Carr
Leeds-based artist Henry Carr's paintings from the 1950s are on display in Salts Mill's Gallery 2 depicting the sequence of textile production. Read article >
"I was born in the village at number 15 Shirley Street in June 1917..."
Bert Thornton, resident of Saltaire and now in his 90th year, gave this talk to the Saltaire History Club on 17 May 2007. His story of life in Saltaire as a child, visiting the mill and going to school, is rich in detail and captures the Esprit de Corps of Saltaire Village life.


Read article >
Added to website: 26 May 2007
The story of New Hirst Mill, told by Bill Hampshire
Bill Hampshire shares his expert knowledge of the development of the textile industry in this area before Titus Salt built Salts Mill on the River Aire. Bill gave this talk to the Saltaire History Club on 17 May 2007, bringing the history of New Hirst Mill to life.

Read article >
Added to website: 26 May 2007
The mystery of Edward Salt, Saltair, Ohio
Steve Page from Cincinnati got in touch with us via the Chat Board on this website. His parents live in Saltair, Ohio - where Steve grew up - and the legend goes that this Saltair, Ohio, USA is connected with our Saltaire, Yorkshire, England. The Saltaire Sleuths are on the case!

Read article >
Added to website: 13 April 2007
Eddie Lawler's poem: Tale of the Works Trip to Gordal Scar
This poem tells the story of Salt's mill workers going on a trip to Gordal Scar in the Yorkshire Dales, before Titus Salt built Saltaire.
Articles on education in Saltaire from 1833 - 1887
These articles were kindly sent to us by Richard Coomber on 23 February 2007. Richard participates in the Saltaire History Club.

Read article >
Added to website: 23 Feb 2007
History of one man's enchantment with Shipley Glen's pleasure ground
The Pleasure Ground's Aerial Glide was reportedly the oldest surviving static amusement park ride in the UK and the only surviving ride of its type anywhere. Read our introduction and visit Gary Radice's site: The Magic Eye, to read the interview with Mike Short.
Read article >
The Tourist Information Centre, 2 Victoria Road, closes down
The TIC in Saltaire, closed on 4th January 2007. The TIC page was located in the Business section of this site, and has now been relocated here, in History.
Read article >
Medina Griffiths, first headmistress of the Girls' School in Saltaire
Two articles on Medina Sarah Griffiths; these articles are fantastic! They was sent to us by Sally Rackham who lives in Tasmania. The first, 'A Headmistress of a School. Eighty Years Ago' was written by Sally's late grandmother Eveline Lewis nee Griffiths in about 1954, referring to her education at Saltaire School in the 1800s. The second article, 'Medina Sarah Griffiths, was written by Sally Rackham's father, the late Peter Lewis.
Saltaire history, as told by Salts Mill
Anne Foster and Leslie Lumb
Anne Foster & Leslie Lumb married 10th August 1946 Bradford Register Office. They now live in New Zealand. Here's what Saltaire was like when they married.
Stephen Beecoft shares his memories of Salts Mill
Stephen J. Beecroft emailed Roger Clarke on 29 May 2007. Stephen worked at Salts Mill in the 1960s and although it was only for a couple of years, it made a big impression on him. From there he emmigrated to Canada and continued to work in the textile industry. Now retired, Stephen shares his fascinating memories of Salts Mill with us.

Read article >
Added to website on 4 June 2007
The Shooters' of Saltaire
Elizabeth Hughes from Willunga, South Australia told Roger Clarke about her great grandfather, Jesse Shooter, who emigrated to Australia in 1911 but who had been a street trader in Saltaire. She knew that three members of her family were buried in Windhill Cemetery. She asked if Roger could find out more!

Read article >
Added to website: 23 Feb 2007
Jimmy Dewhirst's fatal accident at the Mill
Pat Holland from Halifax told us that one of her relatives died tragically in a horrible accident when his coat was caught in the cogwheels of a machine. Roger Clarkes finds out more about his death.

Read article >
Added to website: 23 Feb 2007
Mary Maude remembers her Saltaire ancestors
Mary Maude, who lived in Saltaire for 24 years tells us about her family who lived in Saltaire through the 1900s. Her father, grandfather and great grandfather owned the only furniture shop in Saltaire and were undertakers. She also had other relatives living in the village.
Harold Garrard Remembers his first day at Salts Mill, 1935
Saltaire historian, Dave Shaw speaks to Harold Garrard, who recalls that after starting his first day of work at Salts Mill in 1935 where he stayed for 50 years.
Restored Crank Engine
Paul Belbrow from Northallerton got in touch late 2006 and asked if Roger Clarke knew anything about the origins of a crank engine he was restoring because he had an idea it was made on Dockfield Road in Shipley. Roger pointed him in the right direction and he did the rest!
The Memories of Ray Sykes - Growing up in Saltaire
Ray Sykes was born in Saltaire in July 1942. His father, John Henry Sykes (known as Jack) was born in 1920. Ray's grandparents lived in 29 Shirley Street. They came from Barnsley in 1930. Ray's granddad was disabled and died when Ray was 4. Ray remembers his grandmother who seemed to cook all day. The house on Shirley Street was tiny. They didn't use the front door, always the back and they would sit on the coal range for warmth... Read article >