THE SALTAIRE RIFLE VOLUNTEERS
By Roger Clarke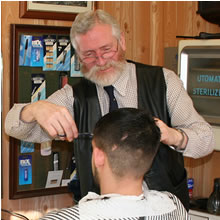 Saltaire barber, Peter Randall, showed me this photograph of the Saltaire Rifle Volunteers, which a branch of his family was involved with. The 39th West Riding Rifle Volunteers were established in Saltaire in 1859. The Volunteers were a Home Guard, a kind of Dad's Army, formed with the idea of protecting Britain against invasion.
Mouse over image to enlarge. Image: Peter Randall in his barber's shop, Bingley Road, 2 February 2007
Peter's great, great grandfather, Dorson Firth, was the gamekeeper for the Earl of Rosse at Northcliffe. It is believed that his one of his sons, Tom Firth, instructed the Volunteers which included 90 villagers and members of the Salt family. Edward, George and Titus Junior held commissions with them, and Sir Titus gave the Volunteers beer to drink when they were on manoeuvres. Edward Ackroyd, creator of the model village of Akroydon in Halifax, was commissioned colonel in the Volunteers and afterwards always insisted on being called Colonel Akroyd, as though this was a Regular Army commission.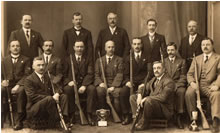 They used Snider rifles which were kept in an amoury in Victoria Hall and it is thought that the gymnasium was their drill room.
The photo shows Tom Firth (back row, far right) as a member of the Volunteers. He lived in Northcliffe Woods and like his relatives was gamekeeper to the Earl of Ross.
Mouse over image to enlarge. Image: The Saltaire Rifle Volunteers, date unknown.
Peter Randall is a member of the Firth family whose family tree has been traced back to 1723 living in this area. Members of the family are well represented as workers in Salts Mill, and for many years they ran the bakery at 2, Victoria Road . Another branch of the family worked as farmers and gamekeepers since the 1700s.
I'm grateful to Peter for sharing his family history and this photograph with us.
Added: 24 April 2008