My father, Barry Clatworthy

11 August 1928 - 18 October 2008
Remembering my father, Barry Clatwothy.
Pamela Reynolds, Editor. saltairevillage.info. 18 October 2013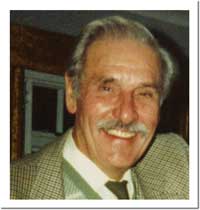 My dad, Barry Clatworthy, died five years ago today. He was a teacher and a very good one. I didn't fully realise how good until after he died. Then I started to find comments about him on Facebook from people who had been taught by him. They thought he was great. He came to Saltaire to visit me. He loved it here. I'm glad he saw me happy and settled in such a lovely place when I married Patrick.
Mouse over image to enlarge.
My dad was an avid reader and an enthusiastic historian. He was practical and methodical - organising his workshop in the garage as well as his written databases of the books he read (with comments) and music (which he rated).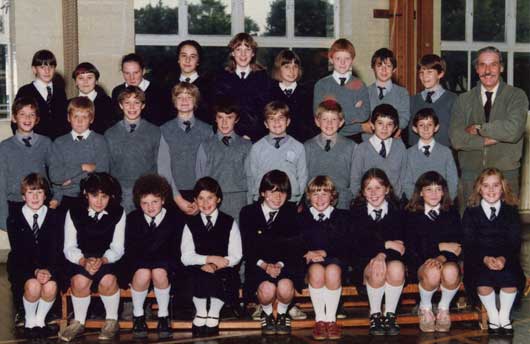 Barry Clatworthy with his class of 1984, Alderman Cogan School, Hull
Link to full size photo >
People said he was always the same - friendly and funny, helpful and kind. He kept birthday cards and letters from his friends and family. He loved animals. He loved children. In his treasured possessions was a history exercise book by one of his Alderman Cogan pupils, David Fisher, in form 4A1; because David's work was so carefully done, Dad marked the book: for retention, and he kept this book safe for the rest of his life. [David, if you want your book back, I'll gladly send it! Email: pamelareynolds@saltairevillage.info ]
I knew my dad loved me. He always greeted me with a bear hug saying, 'Who loves ya baby?' And as he got older, he became even more sentimental. Kindness and friendship humbled him. He treasured people, animals, memories - the beauty of the earth. I put a tribute together for his funeral - a synopsis of his life. It was a progressive and very useful life. I am very proud of him.
There are so many moments when I stop and think, what would Dad have done? When I hear his voice, he steers me good. I think I share some of his characteristics. I organise and archive, driven by a need to be helpful. These traits are hard-wired in me - my grandparents were similar folk.
I was sorting through some of Dad's books and found that he had re-read some of his favourites in his final weeks. He was particularly fond of C. S. Forester and read Hornblower and the Atropos, in August 2008. He died in October. The day before he died, he asked me questions about the chronology of royalty. He was frustrated he couldn't remember the exact dates of all the kings and queens. He had a joke to tell up to the day he died. He was a funny, happy, kind, clever and helpful man.
Barry Clatworthy deserves a mention on this website. Without him, it would never have occured to me to spend so much time developing a resource that might help folk out there in the cyberspace that so mystified him.
I miss him every day.