A Headmistress of a School. Eighty Years Ago
By Eveline Lewis nee Griffiths c1954 writing about Miss Medina Sarah Griffiths
Acrobat files:

Article one
A Headmistress of a School. Eighty Years Ago

Article two
Medina Sarah Griffiths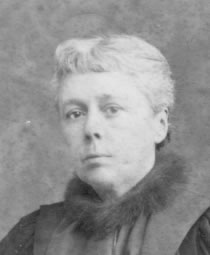 [Photo: Medina Sarah Griffiths]
These articles were sent to us by Sally Rackham who lives in Australia. The first, 'A Headmistress of a School. Eighty Years Ago' was written by Sally's late grandmother Eveline Lewis nee Griffiths in about 1954, referring to her education at Saltaire School in the 1800s. The school was new (built by Sir Titus Salt) and the appointed headmistress was Miss Medina Sarah Griffiths (same surname and distant relative). The second article, Medina Sarah Griffiths, was written by Sally Rackham's father, the late Peter Lewis. Medina was truly progressive: she introduced a wide curriculum for the girls, including Latin and Esperanto; there were no forms and no marks. Girls were encouraged to stay on until they were ready to take a degree, which at that time could only be obtained from London University.
"Freedom in all but essentials was one of the watchwords of the school. All power of punishment was kept absolutely in the hands of the Headmistress and when transgressions arose the culprit herself was sent to confess her wrong-doing, a salutory measure, discipline enough in itself!"
Eveline received an excellent education at Medina's schools and took out a BA Hons at Cardiff University in 1892, graduating from London University. Her article is now held by the Powys County Archives in Llandrindod Wells.
We thank and gratefully acknowledge both Sally Rackham for sharing these articles and photographs with us, and Powys County Archives, who now hold the collection.
Introduction by Sally Rackham, 2006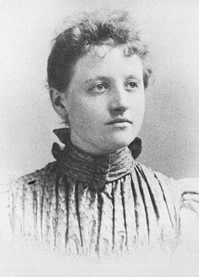 First things first - my Grandmother - Eveline Lewis nee Griffiths wrote this account of her school towards the end of her life. She had received a good education at Medina's schools and took out a BA Hons at Cardiff University in 1892, though the degree was awarded by the University of London as Cardiff did not at the time have the power to grant degrees to women. She became headmistress of a small school in Newtown, Powys two years later but soon ended up marrying my Grandfather, Hugh Lewis and her teaching career came to an end.
[Photo: Eveline Griffiths, after university. ]
When my parents had both died, the family decided to give the large amount of family papers to the County Archives at Llandrindod. There are other family papers held at the National Library of Wales. I spent some time at the office in Llandrindod this summer and came across this article among Granny's papers. I remember her quite well, she lived next door to us in Newtown and was quite a formidable old lady by then. She died in 1957. My father wrote a good deal about her and published it (privately) in a book called Eveline which is available at some of the local libraries, Archives Office etc in Powys.
The notes about Medina Sarah Griffiths [the Headmistress of Saltaire School] were written by my father Peter Lewis, late of Milford Hall, Newtown and were part of a series that he put together for me about various members of the family. (My name is Sarah Medina - though people call me Sally - and I was named after MS Griffiths, so I have always felt a strong connection with her). They are obviously personal memories of her and the generations are one further removed from me. I have not edited them. I thought by leaving it as it was written, it might give a little context to the family connections.
My husband Chris and I emigrated to Australia in 1971, thinking we would be here for perhaps 5 years, but... 35 years on we are still here. We do visit the UK every year now that we have retired and we share a house with one of my sisters (the house where my grandmother lived) in Newtown. We tried to come to Saltaire about 4 years ago but found ourselves in the middle of a huge traffic jam as the result of some pop concert and eventually we gave up. Perhaps we will try again - next summer maybe. I am interested in family history and have started to try and draw all the threads together - hence my visit to the Archives Office and finding this story (and others).
Acrobat files:
Article one: A Headmistress of a School. Eighty Years Ago
Article two : Medina Sarah Griffiths