A new book featuring Henry Francis Lockwood (1811 - 1878) co-architect of Salts Mill and Saltaire Village
Wealth and Notability: the Lockwood, Day and Metcalfe Families of Yorkshire and London, by Robert Ward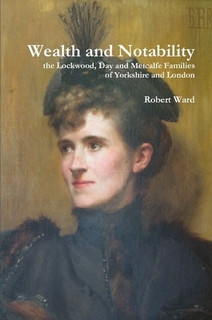 This book tells the story of an extraordinary group of families, the Lockwoods, the Days and the Metcalfes of Yorkshire and London, and their contingent of wealthy and notable people. Among the wealthiest was the boot blacking manufacturer Charles Day, who made the kind of fortune that would easily rank him alongside today's richest rock stars. Perhaps the most notable, indeed noble, was Priscilla Cecilia Armytage-Moore who became the Countess of Annesley. But they are not alone. Other family members include influential architects such as Henry Lockwood the designer of Bradford Town Hall and the company town of Saltaire, leading lawyers such as solicitor general Sir Frank Lockwood, top businessmen among them Charles Armytage-Moore who founded a leading firm of stockbrokers and Sir Joseph Flawith Lockwood head of the EMI corporation, and famous actors including Margaret Lockwood, one of the best-loved British film actresses of her day. This books traces their roots and tells their stories.

You can buy the book here >
About the Author
Robert Ward lives in Huddersfield with his wife who is the great-great-great granddaughter of Henry Francis Lockwood through his son Horace Day Lockwood and then Constance (pictured on the front cover. Henry was also great grandfather of the actress Margaret Lockwood who was very famous in the 1940s and 1950s). Robert Ward recently wrote a piece for the Margaret Lockwood Society web site which gives a brief outline of the lives of her father and grandfather and back to Henry. The article can be found here: margaretlockwoodsociety.wordpress.com/

One interesting finding is that Margaret Lockwood had two additional half-siblings unknown to her biographer and obituary writers, although she clearly knew about them herself, she seems to have concealed their existence.

Robert Ward is the author of several books, including:

Wealth and Notoriety: the extraordinary families of William Levy and Charles Lewis of London

Ancestors and Relatives: the Tasker and Blackburn Families of Rawcliffe, Hook, Snaith and Goole

Famous for Suits: the story of Foster and Tetley, clothiers and outfitters of Goole

- and books on computer assisted learning and language.