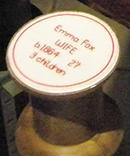 Colin Coates, historian
Reel Lives
Mill Workers
WW1: The Saltaire Story
WW2: Saltaire soldiers
Second Boer War
Social History

| Home | History | Reel lives of Saltaire women

Surnames beginning with:

A | B | C | D | E | F | G | H | I | J | K | L | M | N | O | P | Q | R | S | T | U | V | W | X | Y | Z

The Reel Lives of Saltaire women who worked in the mills

Historian, Colin Coates writes:

In August 2013, I visited the Cloth & Memory exhibition in Salts Mill, where I saw an interesting exhibit by a British artist named Caren Garfen. She had researched the 1891 census for women born and living in Saltaire who worked in the mill. Caren had recorded the details of these women on tiny plaques on the end of cotton reels, representing the bobbins at the mill. Each reel had a ribbon extending from it, detailing their addresses. The piece was very thought provoking.

I wondered what happened to these women? At the time I was using the censuses for Saltaire to help me write biographies of the men from Saltaire who served their country during the World War One.

I contacted Caren and told her I could write a biography on each of the women detailing their lives. Caren agreed and by the time the exhibition closed in November 2013, I had written biographies for around sixty of the women. These were on display next to Caren's work and proved popular with visitors to the exhibit.

Early in 2015, Jennifer Hallam (a project worker from Salts Mill) contacted me and told me that there was going to be a permanent exhibition at the mill entitled "People and Process" and it would include Caren's exhibit. Jennifer asked me if I could complete the biographies for all of the women. This I did and so when the exhibition opened in February, alongside Caren's exhibit were the biographies of all 108 women.

Here we honour the women of the Reel Lives exhibition. See below for the names, with links to their biographies.

(Author's note – we do not actually know which mill the women worked in, but living in Saltaire, it was likely to be Salts Mill.)

Do you have a question or want to share information?

Email Colin Coates: colincoates@saltairevillage.info

Salts Mill Exhibition: People and Process, A History of Salts Mill, Saltaire
Website: www.saltsmill.org.uk
Weds – Fri, 10am - 4:30
Sat & Sun, 10am-5:30pm (closed Mon & Tues)

Click on the letter to view the biographies, or on an individual name.

Latest updates:

Dewhirst, Rhoda [Updated 9 September 2019]
Dewhirst, Sarah Harriett [Updated 9 September 2019]
Burnett, Elizabeth [Updated 13 July 2019]
Metcalfe, Mary Hannah [Updated 13 July 2019]

A
Abbot, Hannah
Abbott, Harriet
Ackroyd, Sarah Ann
Ainsworth, Elizabeth
Ainsworth, Sarah Hannah

B
Bairstow, Annie
Bairstow, Margaret
Baxter, Agnes
Baxter, Alice
Beecroft, Mary Ann [Updated 10 July 2017]
Beecroft, Sarah Jane
Bennett, Eva Louisa
Boddy, Emma
Bolton, Alice
Burnett, Elizabeth

C
Crabtree, Hannah Mary
Crabtree, Julia
Crabtree, Mary Elizabeth

D
Dewhirst, Rhoda
Dewhirst, Sarah Harriett
Dibb, Edith
Dibb, Polly Illingworth
Dodgson, Rose Ann
Dodgson, Harriet

E
Eastell, Ada
Eastell, Fanny
Eastwood, Mary Jane

F
Feather, Polly
Fell, Jane
Ferguson, Annie
Ferguson, Emmeline
Fieldhouse, Annie Elizabeth
Firth, Sarah Jane
Foulds, Ada
Fox, Emily
Fox, Helena
Fox, Kate
Furnish, Harriet

G
Greaves, Alice
Greaves, Eliza
Greaves, Martha Emma
Gresswell, Mary Ann
Gresswell, Sarah

H
Hainsworth, Hannah
Hainsworth, Mary
Hall, Alice
Hall, Elizabeth Annie
Hanson, Alice
Hanson, Annie
Harrison, Clara
Harrison, Martha Alice
Harrison, Sarah
Hartley, Eliza
Hartley, Rhoda
Hartley, Sarah Ellen
Hartop, Hannah
Hartop, Sarah
Hill, Jane
Hinton, Laura
Hinton, Rosetta
Hird, Annie
Hodgson, Amelia
Holdsworth, Lydia
Holdsworth, Sarah Louisa
Horsfall, Bertha
Hustler, Alice
Hustler, Clara
Hustler, Hannah

J
Jolley, Sarah Elizabeth
Jowett, Ada Alice
Jowett, Margaret (1)
Jowett, Margaret (2)

L
Laycock, Emily
London, Emma
London, Miranda

M
McLaughlin, Catherine
Metcalfe, Mary Hannah
Metcalfe, Rosetta
Mitchell, Susannah
Moss, Alice

R
Read, Mary Elizabeth
Rhodes, Florence

S
Sanctuary, Edna
Shackleton, Beatrice
Shackleton, Gertrude
Shackleton, Sarah Hannah
Shuttleworth, Anne
Shuttleworth, Emma
Shuttleworth, Polly
Shuttleworth, Sabina
Smith, Susannah
Squelch, Margaret Ellen
Sugden, Sarah
Summerscales, Annie

T
Tate, Charlotte
Taylor, Sarah
Tennant, Ellen
Trotter, Polly

W
Wallbank, Fanny
Wheelhouse, Annie
Whitaker, Alice
Whitaker, Sarah Hannah
Whitfield, Mary Ann
Wilson, Christiana


Researched by Colin Coates © 2015
All rights reserved.