Local historian, Colin Coates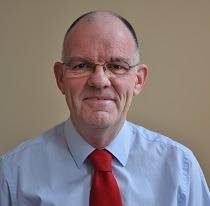 WW1 - The Saltaire Story
Colin Coates relocated to Saltaire in 2011 and became interested in the fascinating history of the village and its people. Following a meeting of the Saltaire History Club, Colin was inspired and motivated to research the story of Saltaire during World War One.
Using information from local Rolls of Honour, online resources such as Ancestry and CWGC, and newspaper cuttings from the Shipley Times, Colin has built up a valuable database to help us understand what it was like to live in Saltaire during the Great War.You can keep up to date by following the WW1 Saltaire twitter feed and the WW1 Saltaire Diary, which was updated weekly, and is now updated monthly.
July 2019 UPDATE
Colin Coates writes: A new zone has been added to the Saltaire Village website to feature my research on mill workers.

Saltaire Mill operated from 1853 until 1986 and in that time it was home to thousands of workers. However, few records exist as to who these workers were. The censuses from 1861 to 1911 show the workers occupations but they do not show where they worked.Here you will find biographies of those who we know worked in the Mill.

Link to Mill Workers >
November 2018 UPDATE
Colin Coates writes: As the World War One Diary draws to a close, I am about to open a new chapter in my life. After working for 46 years I have decided to retire at the end of 2018. Then in February 2019 I am going to live in Australia with my wife, Maree. Whilst I will miss my friends in Saltaire it does not mean the end of my work exploring Saltaire's fascinating history. As my research is done online there is no reason why I cannot continuing with it once we are settled in Australia.

With the help of Pamela Reynolds, I will be publishing a monthly diary recalling events from 100 years ago in Saltaire. This diary will start in January 2019. Biographies of Saltaire people form a large part of my work. I will be continuing this by writing biographies for those who worked in the mill at Saltaire. I would like to thank Pamela for publishing my work on the Saltaire Village website. It is a website all those interested in Saltaire should be proud of. I intend adding to its content for many years to come.
Reel Women

In August 2013, I visited the Cloth & Memory exhibition in Salts Mill, where I saw an interesting exhibit by a British artist named Caren Garfen. She had researched the 1891 census for women born and living in Saltaire who worked in the mill. Caren had recorded the details of these women on tiny plaques on the end of cotton reels, representing the bobbins at the mill. Each reel had a ribbon extending from it, detailing their addresses. The piece was very thought provoking. I began to research the lives of these women.

There is now a permanant exhibition in Salts Mill called "People and Process" featuring Caren's exhibit. I have now researched the biographies of 108 of the Reel Lives women. That information is available in Salts Mill, and here on the Saltaire Village Website.

Questions, comments and information
Should you have any queries, comments or information to offer please do not hesitate to contact me by email.

Email Colin Coates: colincoates@saltairevillage.info