The Purchase Deed of 25 Mary Street, Saltaire, on 19 May 1938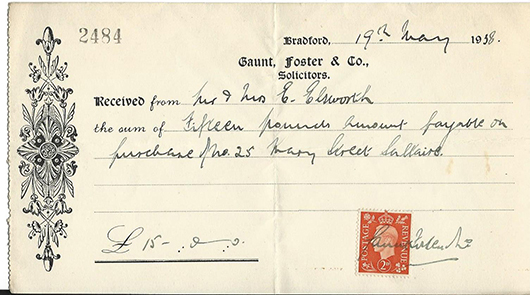 Transcript:
2484
Bradford 19 May 1938
Gaunt, Foster & Co. Solicitors

Received from Mr & Mrs E Elsworth the sum of Fifteen pounds, amount payable on purchase of No. 25 Mary Street Saltaire.
£15.00

This scan courtesy of Carlo Harrison, with thanks.
Further information, researched by Colin Coates:
Ernest and Rhoda Elsworth lived at 27 Mary Street from 1924 to 1938, before they purchased 25 Mary Street. Records show they still at 25 Mary Street in 1962.