Wainwright, Harrison
9 July 1872 – 1943

[Revised and corrected 11 Sept 2016]
Harrison Wainwright was born 9 June 1872 to Jane Wainwright (b 1846). It is not known who his father was. Harrison was baptised 5 January 1873 at Bradford Cathedral. Jane married Albert Ernest Merry (b Banbury, Oxford in 1845) 7 May 1881 in Bradford. They had two daughters;- Louise (b1883) and Sarah Jane (b1866).

Harrison, living in Manningham and working as a woolcomber, married Emily Hudson 26 November 1892 at Bradford Cathedral. They had 6 children, with one dying in infancy:-
Elsie (b1894)
Fred (1896 – 26 November 1915)
Minnie (b1897)
Florence (b1899)
Albert (b1902)

In 1901 the family were living at 146 Hollings Road in Bradford, with Harrison working as a woolcomber. In 1904 they were living at 13 Sun Place in Baildon, moving to 16 Melbourne Street in Shipley. In 1911 they were living at 7 Dove Street in Saltaire with Harrison working as an overlooker. By 1920 they had moved to Bingley.

Harrison died 3 December 1943 at Sydenham Place in Bradford. In his will he left £196 12s 2d (worth £8k in 2015) to his widow Emily.
Walker, Jonathan Reuben
20 December 1886 – 1965
Jonathan Reuben Walker was the son of Charles Walker. Charles was born c1843 in Bilton, near Hull. He married Sarah Smith 19 April 1875 at Bradford Cathedral.

Jonathan, the fourth of twelve children, was born 20 December 1886 in Little Smeaton (Selby district). He was baptised six days later at St Peters, Kirk Smeaton.

In 1891 the family were living at Little Smeaton; by 1901 they were living at Browgate in Baildon with Charles working as a gardener.

Jonathan, a twisting overlooker, married Ethel Stead 19 October 1912 at St Johns. Baildon. By 1918 they were living in Saltire, first at 16 Fanny Street, then 7 Dove Street and in 1922 at 17 William Henry Street. In 1929 they moved into a new built house at 1 Dallam Walk in Shipley. From 1936 they lived in Baildon.

Jonathan died in 1965.
Walker, John Edward (Neddy)
13 March 1844 – 26 June 1916
John Edward Walker was the son of John Walker. John was born c1801 in Clifton, near Brighouse. He married Mary Ann Armitage 23 December 1833 at St Peters Birstall, near Batley.

John Edward, known as Neddy, the fifth of eight children, was born 13 March 1844 in Hunsworth, Cleckheaton. The family lived in Cleckheaton with John working a cart driver/labourer and Neddy as a mechanic.

Neddy married Sarah Jane Stead 28 January 1882 at Halifax Parish Church. They had five children: - Ellen (1884-1958), Mary (1886-1968), Herbert (1888-1980), Wilfred (1893-1972) and Harold (1894-1973). All three sons served in, and survived, the First World War.

In 1892 the family lived at 7 Bath Buildings in Saltaire (demolished in 1936). In 1901 they were at 28 Shirley Street in Saltaire, moving to 5 George Street around 1905.

Neddy died 26 June 1916 and was buried in Nab Wood Cemetery. His widow, Sarah, died 2 April 1926 and was buried alongside him.
The Wall Family
Wall, Michael – head of the family
c1849 – 16 April 1900
Michael was born c1849 in Limerick in Ireland. He married Bridget Mary Kenny in 1875 in Limerick. In 1881 and 1891 they lived at Knottingley in Yorkshire with Michael working as a sail maker. Michael Wall died 16 April 1900 at 6 Katherine Street in Saltaire of pneumonia exhaustion.
Wall, Bridget Mary – wife of Michael Wall
c1857 – 28 March 1928
Bridget was born c1857 in Limerick. Following her husband's death she lived with her children at 6 Katherine Street in Saltaire. They remained in Saltaire moving to 11 George Street by 1905. Bridget worked as a maternity nurse. She died 28 March 1928 and I her will she left £140 (worth c£8k in 2015) to her eldest son, James.

Michael and Bridget had thirteen children, four of whom died in infancy.

(Three of the sisters married three brothers (Moore)).
***************
Wall James – eldest son
1876 – 11 March 1943
James was born c1876 in Sheffield. He worked as an engine tender in a factory/chemical works. James married Martha Ellen Leach in 1913. In 1918 they were living at 5 Wycliffe Road in Shipley. By 1921 they had moved to 82 Saltaire Road in Shipley.
James died 11 March 1943 and Martha died in 1951.
***************
Wall, Mary Ann – eldest daughter
5 October – 20 July 1952
Mary was born 5 October 1877 in Limerick in Ireland. She married Benjamin Wiseman Wensworth (born c1874 Wetherby, Yorkshire) in 1901.
In 1901 they were living in Knottingley with Benjamin working as a cooper. Around 1905 they moved to Saltaire, living at 14 Whitlam Street with Benjamin working as a tramway conductor. In 1914 they were living at 19 Jane Street in Saltaire; 1929 found them at 15 Albert Road in Saltaire.
Benjamin died in 1931. Mary died 20 July 1952, leaving £292 8s 10d (worth £7.5k in 2015) to her two eldest children.
Benjamin & Mary had five children:-
Catherine (6 January 1902 – 1979) married James Burden in 1934.
Vincent Michael (1903 – 1966)
Bernard (1905 – 2 December 1976)
Les – died young
Gerard (1910 – 1939)
***************
Wall, Margaret – third child
1881 – 25 June 1931
Margaret was born 1881in Knottingley in Yorkshire. Margaret worked as mohair twister. She never married and from 1905 lived at the family home, 11 George Street in Saltaire. Margaret died 25 June 1931.
***************
Wall, Elizabeth – fourth child
17 February 1884 – 1970
Elizabeth was born 17 February 1884 in Knottingley in Yorkshire. Elizabeth worked as a twister and a lining weaver. She married Thomas Moore (a grocer's assistant, born Whitby 1884). Elizabeth died in 1970.
***************
Wall, Josephine – fifth child
1 November 1886 – 1935
Josephine was born 1 November 1886 in Knottingley in Yorkshire. Josephine worked as a lining weaver. She married Dennis Gilbert Moore (a tailor's cutter, born Whitby 22 November 1885) on 18 June 1914 at St Mary & St Walberga's Church in Shipley. They had five children:-
Leonard Joseph, born 10 August 1915.
Eileen, born in 1918
Bernard, born in 1920
Cyril, born c1923
Winifred, born in 1925
Josephine died in 1935 and Dennis died in Lancaster in 1969.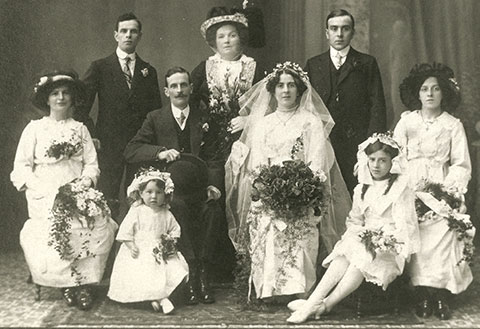 Josephine Wall marries Dennis Gilbert Moore, 1914
Photograph courtesy of Philip Hoare (son of Leonard Joseph Moore) with thanks.
Left to right, standing - Henry E Moore, Bridget Wall, Alphonsus Wall (?)
Left to right, seated - Rose Margaret Wall (?), Dennis Gilbert Moore, Josephine Moore, Kathleen Wall.
The two young girls are unknown.
***************
Wall, Alphonsus - sixth child
1890 – 1959
***************
Wall, Kathleen – seventh child
15 June 1894 – 30 May 1966
Kathleen was born 15 June 1894 in Knottingley in Yorkshire. Kathleen worked as a lining weaver. She married Henry E Moore (manager of a silk textile mill, born Whitby 1885) in 1918. Kathleen died 30 May 1966.
***************
Wall, Gabriel - eighth child
26 March 1896 – 1969
***************
Wall, Francis Bernard - youngest child
c1898 – 8 September 1938
Wallace, James
1870 – 10 June 1915
James Wallace was the son of William Wallace. William was born c1841 in Grassington. He married Jane Chew 25 December 1864 at Bradford Cathedral

James, the fourth of six children, was born in 1870. In 1871 they were living at Idle with William working as a pointsman. William died in May 1880 and was buried in Hirst Wood Cemetery. In 1881 & 1891 widowed Jane lived with her children at 6 Dove Street in Saltaire. In 1881 James was working as a millhand; in 1891 he was a quarryman. Jane died in 1893.

James married Grace Hall 28 June 1896 at Bradford Cathedral. They had five daughters: - Ethel (1899), Bertha (1900), Doris (1902), Lily (1905) and Carrie (1910). In 1897 & 1898 they were living at 11 Caroline Street in Saltaire. From 1899 they lived at 1 Ashley Road in Shipley. James died 10 June 1915 and was buried in Hirst Wood Cemetery four days later.

By 1918 his widow, Grace, was living at 3 Dove Street in Saltaire with her daughters. It was here where she died in 1945 and she was buried alongside her husband 12 December.
Weston, Edna (nee Schofield)
2 January 1923 –????
Edna Schofield was the daughter of Percy Schofield. Percy was born 5 July 1897 in Bradford. He was serving in WW1 when he married Elsie Taylor, 13 July 1918 at St Peter's Shipley. The married couple lived in Saltaire all their lives; firstly at 29 Ada Street, then 72 George Street from 1931 to 1936 and lastly at 37 Ada Street until Percy's death 29 May 1955.

Edna was born 2 January 1923 in Saltaire.

Report from the Shipley Times 15 August 1936:

Edna Schofield, aged thirteen, of 37 Ada Street, will be crowned as the Shipley district's first "British Legion Queen" at the Legion garden party that is to be held in a field adjoining Ashley Lane, Shipley, on Saturday 5 September.

In 1939 Edna was working as a shorthand typist.

Report from the Shipley Times 7 October 1942:

At Shipley Parish Church on Saturday (3 October) the wedding took place between Trooper Cyril Weston, elder son of Mr. and Mrs. H Weston, of Baker Street, Shipley, and Miss Edna Schofield only daughter of Mr. and Mrs. Percy Schofield, of Ada Street, Saltaire.
The bride was formerly on the clerical staff of Messrs. Luxton, Hyde and Winfield, auditors and accountants. Barclays Bank Chambers Shipley. Her mother was organiser of the Glenaire Trio and has helped in many charity concerts. The bridegroom was a member of the Saltaire Mills Home Guard and is now serving in the Tank Corps. He was a former member of the Salts (Saltaire) Football Club. A guard of honour was provided by the Saltaire Mills Home Guard.
The ceremony was performed by the Vicar (Reverend Canon W J Perrett).
Given away by her father, the bride wore a dress of white lace with white tulle veil. She carried a bouquet of pink roses. The bridesmaid was Miss Irene Morley (friend of the bride), and Mrs. Trevor Smith (cousin of the bride) was matron of honour. The bridesmaid and matron of honour wore blue dresses with head-dress of blue organde and veils to match. They each carried bouquet bronze chrysanthemums. Mr. Trevor Smith was the best man.
Afterwards a reception was at the Saltaire Institute.

The married couple lived at the following addresses: -
1942 – 1 Baker Street, Shipley
1945 - 18 Oakfield Drive, Baildon
1947 to 1949 – 27 Woodcot Avenue, Baildon
1950 to 1953 – 46 Saltaire Road Shipley
Watts, William
1863 – 31 October 1935
William Watts was the son of Joseph and Hannah Watts.
Joseph was born c1832 in Halford in Warwickshire. The family lived in Halford with Joseph working as a farm labourer.

William, the third of seven children, was born 1863 in Halford. He married Elizabeth Ann Shaw 25 December 1889 at Bradford Cathedral. In 1891 they were living in Horton with William working as a house painter. From 1901 they were living in Saltaire; firstly at 1 Helen Street, then from 1907 at 29 Shirley Street.

Elizabeth died 9 July 1915 and was buried three says later in Hirst Wood Cemetery in Shipley. In 1933 widowed William moved to 40 Annie Street in Shipley. He died 31 October 1935 and was buried alongside his wife. They had seven children, one of whom died in infancy:-

Joseph (b1892) – served in WW1
Maria (1893 – October 1949) – married Edwin Harry Jones 16 April 1921 at St Peters Shipley. Buried in Hirst Wood 31 October 1949.
Edith (1896 – 24 January 1928) – married Ernest Sheard in 1924. Buried alongside her parents.
Minnie (1897 – 23 December 1923) – never married; buried alongside her parents.
William (b 23 April 1900) – accounts clerk; married Winifred Boggett 23 July 1934 at Ferrybridge.
George (1905 – 1968).
Mathew Wilson was born c1832 in Bramley. He married Christiana Wray 22 July 1855 at St Peters in Leeds. They had five daughters; Sarah (b1861), Ellen (b1867), Grace (b1869), Florrie (b1872) and Christiana (b1877).

In 1861 & 1871 they were living in Bramley with Mathew working as a stone mason. By 1877 they had moved to Saltaire living at 20 Jane Street.

Mathew died July 1884 aged just 52. He was buried 5 July 1884 at St Pauls churchyard in Shipley. His widow, Christiana, remained in Saltaire, living from 1889 at 17 Jane Street. By 1897 she had moved to 15 Dove Street. From 1911 she lived at 15 Jane Street.

Christiana died 5 October 1914 and was buried alongside her husband two days later.