Sanctuary, Jack
11 July 1903 - 1989
Jack Sanctuary was the son of George Sanctuary. George was born 10 January 1857 in Cullingworth. He married Hannah Maria Broadley in 1876.  In 1881 they were living at 46 George Street in Saltaire with George working as a worsted spinning overlooker. In 1891 the family were living at 28 Albert Road (renumbered now as 55). In 1901 & 1911 they were living at 68 George Street in Saltaire.

Jack, the youngest of seven children, was born 11 July 1903. He was baptised 2 September 1903 at Saltaire Congregational Church. Jack was awarded a scholarship at Salts School in 1915.

Jack lived with his family until 1939 at least. Following his father's death in 1932 the family moved to 36 Wellington Crescent in Shipley in 1935.

Jack died in 1989 at Tunbridge Wells in Kent. He had an elder brother, William Thomas, who served in WW1.

 
Sanctuary, Norman
13 August 1878 - 24 August 1948
Norman Sanctuary was the son of Jacob Sanctuary. Jacob was born 1843 in West Walton in Norfolk. He moved with his family to Cullingworth in Yorkshire before 1851. In 1861 they were living at 5 George Street in Saltaire, Jacob was a warp twister and his father, John, worked in a combing shed. Jacob married Margaret Ann Brook 18 May 1867 at Kirkgate Chapel in Stephen Road, Bradford. In 1871& 1881 they were living at 13 Titus Street in Saltaire.

Norman, the fourth of six children, was born in Saltaire 13 August 1878. His older brother, Fred, served in WW1. In 1891 & 1901 the family were living at 75 George Street in Saltaire, by 1901 Norman was working as a house painter.

In 1904 Norman was playing billiards for Saltaire . He moved with his family to 21 George Street around 1908. From 1918 the family lived in Ferrands Road, Shipley.

Report from the Shipley Times 14 July 1916: -

Conscience Man In Caravan – Norman Sanctuary, of George Street, appeared at the Skipton Police Court on Tuesday (11 July), on a charge of being an absentee under the Military Service Act.

It was stated that the prisoner was found living in a caravan at Austwick, and that when charged by a military officer from Bradford, said that the prisoner was given notice to appear on or about 14 June. He had appeared before the local Tribunal in February, but his claim was dismissed. He appeared before the Central Tribunal with the same result.

The prisoner now said he based his appeals on conscientious grounds, but he was unable to be present at the Appeal Tribunal. He asked that the case should be adjourned in order that he might secure legal representation.

Replying to questions, the prisoner said that his circumstances had completely changed since the hearing of the appeals. At that time there was himself and a brother at home. The latter, however, was now serving in France. Consequently, there was only himself left to keep his father and mother who were 73 years old.

The Chairman said they could not deal with the matter, and a fine of 40s, was imposed, and the prisoner being remanded, to await a military escort.

In the 1939 Register, Norman, a house painter, was living with his brother Fred at 25 Ferrands Road. When Fred died 17 March 1941, he left his estate of £2100 16s 4d (worth c£120,000 in 2020) to Norman. Norman married Mary Ellen Flatley in 1941. They lived at 14 Sunny Mount in Keighley.

Norman died 24 August 1948 and left £386 8s 11d to his widow, Mary ( worth c£15,000k in 2020).

Mary lived out the rest of her life at 14 Sunny Mount, dying 30 April 1962 in Bingley Hospital.
Alfred Seeley was the son of John Seeley. John was born c1856 at Hondon, Suffolk. He married Mary Swenson in 1876 in Middlesbrough.

Alfred was born in 1893 in Ormesby, Middlesbrough. In 1901 they were living in Ormesby, where John was a platelayer's labourer.

Alfred was a soldier when he married Margaret Thompson, 6 December 1915, at St. Paul's Shipley. They were both living at 11 Hargreaves Street, Shipley.

By 1929 they were living at 29 Thomas Street in Shipley. From 1930 to 1934 they lived at 1 Albert Terrace in Saltaire.

Report from the Shipley Times and Express 15 August 1931: -

At Bradford West Riding Court on Monday (10 August), Alfred Seeley, labourer, 1 Albert Terrace, Saltaire, was charged with having stolen a gold signet ring, valued 18s, the property of Fred Pearson, of the same address.

Supt. Bell, in outlining the case for the prosecution, stated that Pearson lent Seeley a jacket and waistcoat in which there was a gold signet ring in one pocket. When Pearson came to put the jacket and waistcoat on he found that the ring was missing. Seeley suggested that the ring might have fallen out on to the bedroom floor, but it was subsequently ascertained that the ring had been pawned. Information was given to the police, and Seeley was arrested.

Seeley, who pleaded guilty, explained that had been drinking, and that the theft would not have occurred had he not been drinking. The Bench bound Seeley over in 40s. for twelve months, the condition being that he refrained from taking intoxicating drink during that period.

In April 1934 it was reported that Alfred, of Albert Terrace, pleaded "Guilty" to being drunk and disorderly on 31 March. He was fined 18s.

In 1934 Alfred and his wife moved to 34 Hirst Wood Road, Shipley. By 1935 they were living at 60 Hill Street, Shipley.

Senior, Joseph
c1860 - 21 October 1881
Joseph Senior was the son of the elder Joseph Senior. The elder Joseph was born c1824 in Leeds. He married Jane Holmes 10 August 1845 at St Peter's Leeds. In 1851 they were living in Ecclesfield with Joseph working as a cordwainer.

Joseph, the third youngest of nine children, was born c1860 in Hull. In 1871 they were living at 53 George Street in Saltaire. Joseph died 21 October 1881.

Report from the Shipley Times 5 November 1881: -

A SAILOR DROWNED.
A young man named Joseph Senior, 21 years of age, brother of Mr. John Senior, newsagent, Westgate, was drowned at sea early on the morning of 21 October.
 Senior left Saltaire about five years ago to go to Hull to be fisherman and has since that time followed that occupation. About half-past two on the morning named, he was out on board the "Albert Victor," about 80 miles from Spurn Point, and whilst engaged holding one end of a net, which had become entangled, his mates heard him call out, and immediately he was seen to fall overboard. It is supposed that the net was too heavy for him, and that rather than let it go, he allowed himself to be pulled overboard. A heavy sea was running at the time, and this no doubt rendered his task more difficult. After he fell overboard, his body was not seen again.

 
Sharpe, Edward Stevenson
9 November 1878 - 10 July 1958

Edward Stevenson Sharpe was born 9 November 1878 in Londonderry in Northern Ireland. He was the son of John William Sharpe, a Presbyterian Minister.

In 1902 Edward gained a degree in medicine and surgery at Edinburgh University. By 1908 he was a physician and surgeon practicing in the Shipley area and he was one of the doctors who attended Salts Hospital.

From 1908 Edward lived at 1 Myrtle Place in Saltaire. He married Ethel Rebecca Jackson 25 August 1909 at St Paul Shipley. They had three daughters; - Kathleen Laurentia (born 1910), Joan McMormick (13 January 1913 - 1990) and Mary Dorrien (born 1915). From 1924 the family lived at 227 Bingley Road in Shipley, where they remained the rest of their lives.  

During World War One Edward was the Commander of the Shipley Volunteer Force, who had their headquarters at Albert Road School in Saltaire.  

Edward died 10 July 1958 at Bradford Royal Infirmary.

Extract from a report in the Shipley Times 16 July: -

The death took place on Thursday (10 July) of last week of Dr. Edward Sharpe, of 227 Bingley Road. Shipley, who had been a medical practitioner in Saltaire for 52 years He was 79, and only retired nine days before his death

Son of a Presbyterian minister. Dr. Sharpe was born in Ulster, and qualified at Edinburgh University before coming to Shipley. For over 50 years he was on the staff of Salt's hospital, where he also served on the Board of Governors.

A keen golfer, he was a past president of the Shipley Golf Club and had been a member of the club for over 40 years. He leaves a widow and three daughters.

The funeral was held on Saturday morning at St Peter's, Shipley, where the service was conducted by the Vicar (the Rev, R. M. Robinson). It was attended by representatives of the medical and nursing professions and the Shipley Golf Club.

He was buried in Hirst Wood Cemetery. In his will he left £12,878 to his daughter, Joan. His wife, Ethel, died 16 March 1979 and was buried alongside him.
Sidebottom, Maria (nee Fillingham)
18 June 1873 – 1961
Maria Fillingham was the daughter of Charles William Fillingham. Charles was born c1848 in Beverley. He married Fanny Meanwell (born c1851 Hull) in Lincoln in 1869. In 1871 they were living in Lincoln.

Maria, the third of nine children was born 18 June 1873 in Lincoln In 1881 the family were living in Gainsborough. Charles worked as an iron moulder.

In 1891 the family were living at 5 Merton Street in Shipley with Maria working as a millhand.

Maria married Samuel Sidebottom 22 August 1900 at St Paul's Shipley. In 1901 they were living in Long Preston (village between Settle & Skipton) with Samuel working as a railway porter. By 1905 they had moved to Leeds and in 1911 they were living in Kirkstall. They had a son, Herbert born 1905. By 1918 they were living at 5 Amelia Street in Saltaire.

Samuel served in WW1. After the war he and his family continued to live in Amelia Street until around 1931 when they moved to 45 George Street in Saltaire. By 1945 they were living at 1 Albert Road in Saltaire. Samuel died in 1953

Report from the Shipley Times 18 June 1958: -

LIVE PLAINLY AND GIVE FREELY IS BIRTHDAY MOTTO

Mrs. Sidebottom of 1Albert Road, Saltaire celebrates her 85th birthday to-day (Wednesday). She enjoyed 58 years of married life until her husband died at the age of 79, some five years ago. He was formerly foreman at Leeds Railway Station and had worked there for over 50 years. They were caretakers of Lloyds Bank, Saltaire. for 16 years.

Leading quite an active life. Mrs Sidebottom does all her own housework. Mrs. Sidebottom likes the company of young people who, she says, keep her young. She is a member of the Saltaire Congregational Church, although she is unable to attend the services as often as she would like. At one time she took part in the Thursday evening Women's Own Keep Fit classes. Her hobbies now include knitting and reading.

Mrs Sidebottom is fortunate in having two of her sisters living quite close. They are Miss Naomi Fillingham. who is a retired midwife and Mrs. Ethel Berry. Her brother Mr. Frank Fillingham lives at Garston. Liverpool.

Having travelled quite extensively. touring most of France and the British Isles, Mrs. Sidebottom still enjoys a trip out and celebrated her birthday by going with the Windhill Co-operative Society for a day at Cleethorpes. Being an active old lady herself. Mrs. Sidebottom's motto is "have interests outside and don't mope inside, live plainly, give freely, this is the pleasure of life.

Maria died in 1961. Her nephew Jack Fillingham served in WW2
Simpson, Kate (nee Simpson)
1 July 1899 – 12 February 1990
Kate Simpson was the daughter of Arthur Simpson. Arthur was born, 27 April 1879, in Pateley Bridge. He married Rachel Edwards, 13 November 1897, at St. Paul's Shipley. They had eight children.

Kate, their eldest child, was born, 1 July 1899, at 47 Thompson Street, Shipley. She was baptised 23 July 1899 at St Paul's Shipley. (Also: Kate's siblings: John Beck Simpson, and Douglas Foch Simpson.)

In 1906 the family were living in Bingley. They moved to Colne, Lancashire around 1908. In 1911 they were living in Sowerby Bridge. In 1914 they were at Barnoldswick, Lancashire. By 1918 they were at 34 George Street, Saltaire.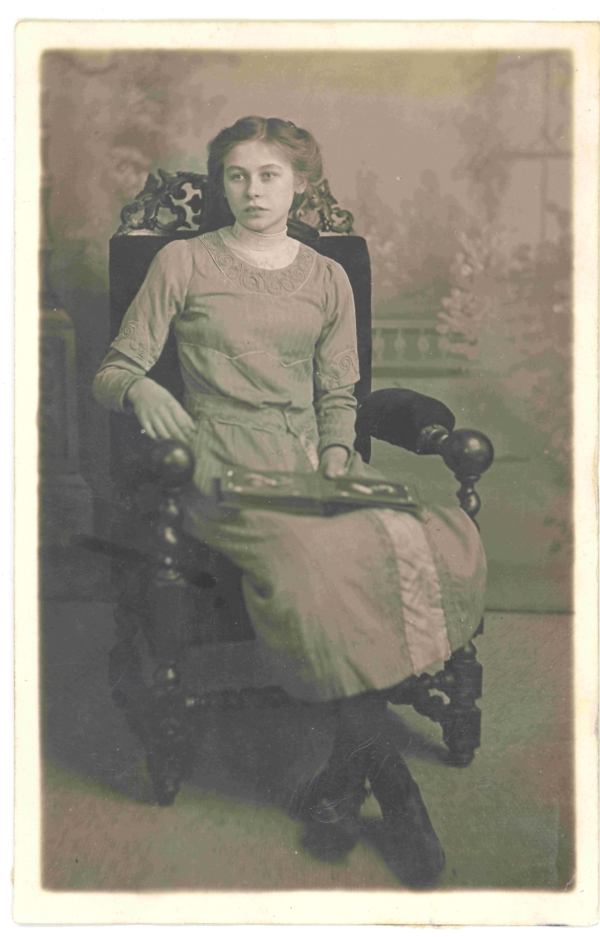 Image: Kate Simpson
Kate married Arthur Simpson (they shared the same surname) in 1921. They had two daughters – Rachel Annie born in 1922, and Kathleen Mary born in 1927.

In the 1939 Register they were living at 25 Netherhall Road, Baildon, with Arthur working as a textile dyer. Kate died 12 February 1990.
Slingsby, Walter Baxter
c1869 – 1950
Walter Baxter Slingsby was the son of William Slingsby. William was born in Idle. He married Martha Hodgson 23 September 1865 at St Wilfrid's Calverley.

Walter was born c1869 in Idle. In 1881 they were living in Idle where William was a mill mechanic and Walter a spinner.

Walter married Hannah Scott 31 October 1888 at St Wilfrid's Calverley. They had a daughter Lilian born in 1889. By 1911 they were living at 56 Victoria Road Saltaire with Walter working as a mill mechanic. Walter, with his wife and daughter, emigrated to Australia in 1920. They departed from London 21 August 1920 aboard "SS Ormonde" for Melbourne Victoria.

S.S. Ormonde was built by John Brown & Co, Clydebank for The Orient Steam Navigation Co. Ltd., in 1917 as a troopship. She served the UK - Suez - Australia route between the wars. Converted to one-class in 1933. Troop carrier in WWII. Returned to commercial service in 1947, again on the Europe - Australia route. She was scrapped in 1952.

Walter worked as a textile mechanic / engineer. He lived with his family lived in Castlemaine, a small city 120kms north west of Melbourne.

His daughter Lilian died a spinster in 1938. Both Walter and his wife Hannan died in 1950.
Smith, John Richard
13 October 1883 – 7 November 1940
John Richard Smith was born 13 October 1883 in Saltaire to Joseph Smith & Margaret Shackleton. In 1891 they were living at 23 Jane Street, Saltaire, with Joseph working as a warp scourer.

John married Jane Hannah Shepherd 24 August 1907. She was born 27 November 1886 in Ripon. They had a daughter, Edith, born 5 December 1907. In 1911 they were living at 25 Atkinson Street, Shipley, where John was a vice grinder.

In 1912 they emigrated to Canada. They departed from Liverpool 3 May 1912 aboard S.S. Empress of Ireland, bound for Quebec. Whilst in Canada they had a son, George, born 25 February 1914. Living in Lenoxville, Quebec they moved to Newport, Vermont, in America 10 May 1919.

Joseph became a USA citizen, 9 December 1930. They were living in Newton, Massachusetts, with John working as a janitor. He is described as being 5ft 7ins tall, weighing 130lbs, with grey eyes and light brown hair.

James died, 7 November 1940, at Waltham, Massachusetts. Jane died, 20 February 1958, at Newton, Massachusetts.

 
Smith, Kirk
1862 - 1903
Kirk Smith was the son of Hardisty Smith. Hardisty was born 1838 in Horsforth. He married Mary Ann Kirk 9 April 1860 at St Oswald Guiseley. In 1861 they were living in Horsforth with Hardisty working as a woollen weaver.

Kirk, the elder of two sons, was born 1862 in Horsforth. In 1881 the family were living in Headingley Cum Burley with Kirk working as a twister.

Kirk married Sarah Jane Senior 15 December 1883 at St George's Church in Leeds. They had five sons all of whom served in World War One; Leslie, Hardy, Harold, William & Gilbert. They had two daughters; Florrie & Carrie, who married George Henry Bower who also served in the war.
In 1891 Kirk and his family lived in Headingly Cum Burley, by 1901 they had moved to 25 Jane Street in Saltaire. Kirk died in 1903; his widow, Sarah, died in the same house in 1923.
Smith, Richard Mosley
26 November 1888 – 5 June 1960
Richard Mosley Smith was the son of George Smith. George was born c1854 in Rotherham. He married Sophia Butterfield, 23 October 1882, at Wesleyan Methodist Chapel, Windhill. They had five children.

Richard, their only son, was born 26 November 1888. He was baptised, 13 January 1889, at St. Mary Magdalene, Manningham. In 1891 the family were living at 46 Alexandra Road, Shipley, where George was a wool buyer. George died before 1901.

In 1901 Richard was living with his mother and sisters at 30 Helen Street, Saltaire. In 1911 they were at 32 Titus Street, where Richard was a grocer's assistant. Working as a confectioner and living at 32 Titus Street, Richard married Miranda Evelyn Ward, 25 September 1922, at St. Peter's, Shipley. She was living at 14 Bromley Road, Shipley.

By 1933 they were living at 53 Avondale Road, Shipley. In the 1939 Register they were living with at 2 Avondale Grove, Shipley, with Richard having retired.

Richard died, 5 June 1960, at 35 Avondale Road, Shipley. In his will he left £2,079 0s 2d. Miranda died there, 11 April 1969. In her will she left £5,337.

 
Smith, Wilkinson
1855 - February 1914
Wilkinson Smith was the son of John Smith. John was born c1825 in Shipley. He married Mary, (date and her maiden name unknown). 

Wilkinson, the third of six children, was born 1855 in Bingley. In 1861 the family were living in a temporary hut in Barden in North Yorkshire. John was working as a carter at a public works. In 1871 they were living at 32 Albert Street in Shipley with John working as a farm labourer and Wilkinson as a yarn scourer. Wilkinson was a scourer all his working life.

Wilkinson married Elizabeth Atkinson 28 November 1874 at Bradford Cathedral. They had seven children, two of whom died in infancy; Fred (b1876), Henry (1879 - 1920), Mary (b1881), Harold (1890 - 1933) and May (1892 - 1916).

In 1881 Wilkinson and his family were living at 18 Queen Street in Shipley. By 1887 they had moved to Saltaire living at 16 Albert Road (renumbered 31); 24 Jane Street from 1897 to 1901; 14 George Street from 1901 to 1905; then from 1905 at 10 Jane Street.

Wilkinson died in February 1914 and he was buried 25 February 1914 in Hirst Wood Cemetery.

His wife, Elizabeth, was buried alongside him 6 June 1918. Their children; May, Henry and Harold were buried with them.
Snailham, Christopher
27 January 1884 – 17 August 1965
Christopher Snailham was the son of William Snailham. William was born c1853 in Preston. He married Jane Hall in 1874 in Preston. They had eight children, but four died as infants. The family lived in Bolton where William was a sheet metal worker.

Christopher was born 27 January 1884 in Bolton. In 1901 & 1911 he was working as a library assistant.

Christopher married Marvel Wilson 9 November 1911 in Bolton. They had a daughter, Constance, born 29 August 1912.

Christopher served his country in WW1 when he was general secretary of the Bradford Church Institute.

Report from the Yorkshire Post 24 July 1924: -

Mr. Christopher Snailham. secretary and librarian to the Church Institute, Bradford, has been appointed chief librarian and manager of the Saltaire Institute.

Report from the Shipley Times 13 January 1943: -

An interesting address dealing with the importance of sea and air power was given in connection with the War To-day series, by Sir Archibald Southby, M.P. for Epsom, at the Shipley Town Hall on Friday evening.

The meeting, held under the auspices of the Shipley District Ministry of Information Committee, was the first organised by Mr. C. Snailham, who has been appointed to succeed Mr. Arthur Turner, who has joined the R.A.F., as secretary.

I congratulate Mr. Snailham on his organising abilities in making such satisfactory arrangements for the meeting.

Christopher and his family lived at 5 Albert Road in Saltaire from 1931 to 1948.

Report from the Shipley Times 1 December 1948: -

Mr Douglas W Prescott, of Leicester, has been appointed Librarian to succeed Mr C. Snailham. mho is to retire towards the end of January. Mr Prescott is to take up duties at Shipley on January 1.

Excerpts from a Report in the Shipley Times 26 January 1949: -

TRIBUTE TO SHIPLEY'S RETIRING LIBRARIAN

TO-MORROW Mr. C. Snailham, Chief Librarian Shipley Public Libraries, will relinquish his post for a well-deserved period of retirement after 50 years of public service.

He served his apprenticeship to the library profession at Bolton, under the eagle eve of a Victorian disciplinarian, Archibald Spark, and finally left Bolton after the first world war to become librarian and secretary to the Church House, Bradford; relinquishing this post to become Chief Librarian at Shipley.

His period of office at Shipley has seen many changes, notable among them the reorganisation of the Carnegie Branch Library at Windhill.

The success of this venture was assured by the financial aid, he secured from the Carnegie United Kingdom Trustees. Complete internal reconstruction produced a modern, efficient library service, for both children and adults, with special consideration to provision of reference books and desks in quiet surround where school children may actively pursue their home studies. The branch offered a full-time service under a trained branch-librarian and with trained staff.

During the last war, Mr Snailham was kept very busy organising the British Restaurant in the Saltaire Institute basement; which task he assumed in spite of his additional duties as librarian and manager of the Institute, and with outstanding success, showing a profit instead of the usual loss which we have come to associate with these institutions.

Little has been mentioned of Mr Snailham's capable management of the Saltaire Institute, though anyone familiar with the numerous social events filling the annual programme of the Institute cannot fail to appreciate how much the smooth flow of social enjoyment is dependent on the efficient managerial, but paternal, supervision accorded to all by Mr Snailham, from Conversazioni to smaller dances and parties of local societies or families.

In 1949 Christopher and his wife were living at 30 Bank Rise in Baildon, moving to 74 Baildon Road, where they were still living in 1960.

Christopher died 17 August 1965 at 2 Netherhall Park in Baildon. In his will he left £254 to his widow, Marvel. She died in 1978.

Snowden, Benjamin
15 Jan 1847 - ????
Benjamin Snowden was the son of William Snowden. William was born c1803 in Foulsham, Norfolk. He married Mary Ann Baldrey 29 April 1834 in Southwold, Suffolk.

Benjamin was born, 15 January 1847, in Norwich. The family lived in Norwich where William was a shoemaker; Benjamin was working as a shoemaker by 1871.

Benjamin married Rebecca Rent Green 14 September 1874 in Norfolk. They had two daughters. By 1881 they were living at 42 Ada Street in Saltaire.

Report from the Shipley Times Saturday 26 August 1882: -

Another Unhappy Couple at Saltaire.

At the West Riding Police Court, Bradford, on Monday last, Benjamin Snowden, described as a shoemaker living in Ada Street, Saltaire, was brought up charged with assaulting his wife, Rebecca Snowden, on the 16th of August, and also threatening his son-in-law, Arthur Green, on the same date

lt appears from the evidence, that the first complainant and defendant have been married eight or nine years, and during the last five or six years the defendant has been in the habit of ill-using his wife.

The assault complained of consisted of the entering the house on the 16th inst., and without any provocation striking his wife a violent blow in the face. The wife stated that her husband had taken his money home regularly, and she did not want to imprison him. She merely wanted to live comfortably and have peace.

The complainant Arthur Green, who lives with his mother and step-father, complained that when he got up to assist his mother, the defendant threatened to screw his neck round. He had said similar things to him many a time before. He had done the same sort of thing on the Saturday when the Prince of Wales was in the district, and he (Green) took up the poker and struck the defendant on the head with it, in defence of his mother.

The case was dismissed.

Alice Rebecca, daughter of Benjamin, died 16 December 1882 aged just five.  In 1891 Benjamin was not living with his family, he was living in the boarding house in Norwich.
Speak, Savannah Johnson
4 September 1868 – 29 December 1929
Savannah Johnson Speak was the son of Savannah Speak. Savannah snr. was born 11 August 1832 in Sowerby. He married Annie Speight 17 December 1859 at St Peter's, Birstall. They had five children. In 1861 the family were living at 1a Caroline Street in Saltaire. Savannah snr. worked as a warp dresser

Savannah, their third child, was born 4 September 1868 in Saltaire. In 1871 & 1881 the family were living at 41 Caroline Street.

Extract from a report from the Shipley Times 17 January 1880: -

SALT SCHOOL SCHOLARSHIPS

The Governors of the Salt Schools have during the past week offered for competition, under Clause 24 of the Deed of Endowment of the Schools, four free scholarships tenable for three years each in the High Schools. Two of the scholarships were offered to boys and two to girls. The competitive examination was held on Monday evening last, and was conducted by Mr. Joseph Taylor, superintendent of the Bradford Board Schools. It comprised the subjects of reading, writing, arithmetic, dictation, English grammar, and geography. Ten boys and one girl (all scholars of the Central Board School) entered, and the result, as declared by the Examiner, is as follows, the highest number of marks obtainable being 190:

Savannah Johnson Speak, Saltaire .. 175 (first)

Speak is only eleven years of age and has been a scholar of the Central School from its commencement as a temporary school in the Gymnasium of the Institute on 5 April 1875.

Extract from a report in the Shipley Times Saturday 19 May 1883: -

The Yorkshire College Scholarships.

At the meeting of the council held at Leeds on Wednesday (17 May), the following were elected to scholarships tenable the Yorkshire College from next October: —

Science scholarships, each tenable for two years— Entrance: Savannah Johnson Speak, Salt Schools, Shipley, Akroyd Scholarship of £25.

In June 1884 in the Junior class of the Yorkshire College Savannah was awarded George Ward prize and was placed first in mathematics. In July 1885 he was second in the second year Physics course. In June 1886 in the Physics third year course he was placed second. In October 1887 he was awarded a Royal Scholarship at South Kensington.

On leaving South Kensington College Savannah studied at the Royal School of Mines, Imperial College, London.

He worked in Transvaal in 1890 and in German South West Africa in 1891. He was lecturer in metallurgy at the University of Sydney from 1892 to 1894. He was a metallurgist at the Geldenhuis Deep Gold Mine, Johannesburg, in 1895-97 and worked in the Dutch East Indies 1898-99. He also worked in West Africa, Celebes, Korea, British Columbia, Siberia, Argentina, and Northern Rhodesia.

From 1905, he was a consulting engineer, practicing from London Wall Buildings, and became a partner in the firm of Hooper, Speak & Co. He was president of the Institution of Mining and Metallurgy from 1922-23.

Savannah married Ethel Maud Griffiths 12 December 1908 at All Souls, Langham Place, Westminster, London. They adopted a daughter, Gwendoline, who was born, 13 April 1916, in Ireland.

In the 1920s, Savannah lived at Monkenhurst, New Barnet, on the edge of Monken Hadley Common. He died on 29 December 1929 at Dixton, Hadley Common, leaving an estate of £14,439. His executors were Ethel Maud Speak, widow, and William Henry Speak, merchant. Ethel died 24 July 1963 at Bradley Court Nursing Home, Mitcheldean, Forest of Dean, Gloucestershire. Gwendoline, who was a spinster and pianist, died in 2013 in Croydon, Surrey.
Stead, Fred
3 August 1863 – 24 January 1940
Fred Stead was the son of Samuel Stead. Samuel was born c1818 in Baildon. He married Sarah Hutton in 1837. They had ten children. Samuel worked as a warp dresser.

Fred, their youngest child, was born 3 August 1863 in Saltaire. His mother died in 1864.

In 1871 he was living with his father and siblings at 4 Caroline Street, Saltaire. In 1891, as an artist, Fred was visiting Beamsley, Bolton Abbey.

Fred married May Greening in 1896 in Bradford. They had three children, including Samuel Charles Stead who lost his life in WW1. In 1901 they were living at 35 Ivy Road, Shipley. In 1911 they were living at Norwood House, Baildon Green. By 1916 they were back in Shipley living at 35 Ivy Road. In the 1921 Census, Fred was an artist (painter) living at 22 Farfield Road, Shipley, with his wife, May, daughter, Verna, aged 19, and son, Fred, aged 9. In the 1939 Register they were living at Ghyllwood Drive, Bingley.

Fred died, 24 January 1940, at 15 Ghyllwood Drive. He was buried three days later in Nab Wood Cemetery, Shipley.

Extract from www.notjusthockney.info : -

Frederick (Fred) Stead (1863 – 1940) was born in Shipley and lived for the latter part of his life at Ghyllwood Drive, Bingley. He painted mainly portraits and local landscapes.

He studied art, initially at the Saltaire Art School in Shipley and was awarded a scholarship to study at the National Art Training School in London (later renamed The Royal College of Art). He gained a Travelling Scholarship that took him to Italy, Switzerland, Germany, and France to study.

On his return to Britain, he taught at both Saltaire and Bradford Schools of Art, where he was a Life Art Master, and was also an occasional Inspector in Art for the West Riding County Council. He also became the Head of the Saltaire/Shipley Art School but gave this up to work full time as a portrait and landscape painter.

He became a leading portrait painter in oils of the rich and wealthy in Bradford, which supported a wider range of his art subject interests, including Yorkshire landscape scenes and other portraits.

Fred's work was well-regarded nationally and internationally; his paintings were bought by collectors in America and Australia. He was a Chairman of the Society of Yorkshire Artists and a lifetime member of the Bradford Art Club.

He exhibited regularly at the Yorkshire Union of Artists and at exhibitions in Birmingham, Liverpool, Manchester, as well as at the Royal Academy. His work can be found today in the Bradford Museums & Galleries art collection, and in the public art galleries at Calderdale, Salford, and Preston. He was married to May Stead, another well-regarded local artist, particularly of miniature portraits.
Stirk, John
25 February 1829 – 9 November 1885
John Stirk was born, 25 February 1829, in Bingley to Thomas & Mary Stirk. He was baptised, 23 August 1829, at All Saints, Bingley.

Working as a weaver, John married Martha Sunderland, 9 July 1851, at Bradford Cathedral. They had two sons, William, born in 1853, and Thomas, born in 1863.

In 1861 they were living at Hudson Folds, Shipley, with John working as a weaver. In 1871 they were living at 20 Amelia Street, Saltaire. John's wife, Martha, died 24 May 1879.

Before 1881, widower John, married Margaret (maiden name and date of marriage unknown). In the 1881 census John was living at 20 Amelia Street with Margaret and his son Thomas. John died, 9 November 1885, at 24 (renumbered 50) Victoria Road, Saltaire. He was buried in St Paul's churchyard, Shipley, 11 November 1885.
Stirk, Martha (nee Sunderland)
4 August 1828 – 24 May 1879
Martha Sunderland was born, 4 August 1828, in Bingley to Thomas & Nancy Hinchcliffe. She was baptised, 21 September 1928, at All Saints, Bingley.

Working as a weaver, Martha married John Stirk, 9 July 1851, at Bradford Cathedral. They had two sons, William born in 1853, and Thomas born in 1863. In 1861 they were living at Hudson Folds, Shipley, with John working as a weaver. In 1871 they were living at 20 Amelia Street, Saltaire.

Martha died 24 May 1879.

Report in the Shipley Times 31 May: -

SUDDEN DEATH

On Saturday (24 May), a rather remarkable instance of sudden death occurred to a woman named Martha Stirk, wife of John Stirk, residing at 20 Amelia Street, Saltaire.

It appears that the deceased, who had reached the age of fifty without having previously suffered from any serious ailment, was occupied in her household duties as usual, when, about the middle of the forenoon, she complained of feeling unwell, and said she would go and lie down awhile. She did so, and her son, a youth of about 16, went upstairs at half-past twelve, to ascertain if she were better.

Finding his mother asleep, he thought it better not to disturb her, and, going away, did not revisit her until about three o'clock in the afternoon. He then discovered his mother to be dead.

Deceased had previously enjoyed good, if not robust, health, and her sudden demise was a matter of much surprise to the neighbours. She is said, however, to have suffered from heart disease, but there is no evidence in support of the statement.

The coroner, on being acquainted with the facts of the case, did not think it necessary to hold an inquest; and the interment took place on Wednesday (28 May), at St. Paul's Church burial-ground.
Stirk, William
c1848 - 30 September
William Stirk was the son of William Stirk (Snr). William (snr) was born c1816 in Eldwick. He married Martha Bland 9 July 1837 in Otley.

William, the fourth of seven children, was born c1848 in Baildon. In 1851 the family were living in Baildon with William (snr) working as a woolcomber. By 1861 they had moved to Shipley with William (snr) working as a worsted spinner. In 1871 they were living at 34 Albert Road (renumbered now 67) in Saltaire with William (snr) working as a wool dyer and William as a weaver. In 1881 they were at 27 Earle Street in Shipley with William (Snr) working as a yeast dealer and William as an overlooker.

William (snr) died 8 November 1885 and was buried in St Pauls Churchyard in Shipley. His wife, Martha, died 27 February 1888 and was buried alongside him. Four of their children were buried with them:-
Mercy (1850 - 21 February 1877)
Hannah (1852 - 8 April 1876)
Mary Ann (1855 - 1 March 1875)
Sam (1856 - 8 November 1867)

William, living at Croft Street in Shipley, married Sarah Stancliffe, a weaver living at Victoria Road in Saltaire, 20 February 1886 at Bradford Cathedral. They had two children, a son, Walter born in November 1877 and a daughter, Martha Elizabeth, born in 1887. Sadly Walter died 24 December 1878 aged just 13 months .

The family lived in Saltaire all their lives. In 1889 they were at 6 Amelia Street, moving to 9 Edward Street. In 1903 they moved to 25 Dove Street.

William died 30 September 1915 and he was buried at Nab Wood Shipley. Sarah died 15 April 1930 and was buried alongside William. Their daughter, Martha, married Charles Houlden in 1918. They lived at 2 Myrtle Place in Saltaire. Martha died 10 April 1951 and was buried with her parents.
Stone, Arthur
26 September 1858 – 23 October 1920
Arthur Stone was the son of William Gaved Stone. William was born c1828 in Cornwall. He married Hannah Ford, 22 December 1849, at St. Austell, Cornwall. She was born c1849 in Cornwall. They had at least children.

Arthur was born 26 September 1858 in St. Austell. In 1871 & 1881 they lived in St. Austell, where William worked as a miner. In 1871 Arthur was a shoemaker; in 1881 he was a tin miner.

Arthur married Louisa Mitchell in 1894. She was born in 1861 in St. Austell. They had four children, with one dying as an infant. By 1896 they were living in Millom, Cumberland, where Arthur worked as an iron ore miner. In 1901 they were living at 13 Nelson Street, Millom, moving to 68 Newton Street by 1911.

By 1920 Arthur and his family had moved to 2 Edward Street in Saltaire. He died 23 October 1920.

His widow, Louisa, moved to 21 Constance Street, Saltaire, around 1927. She died there in 1933.
Storey, Thomas Sadler
1 November 1856 – 7 September 1932
Thomas Saddler Storey was the son of William Storey. William was born 23 February 1817. He married Ann Sadler 22 September 1849 in Northallerton. They had 10 children.

Thomas, their fourth child, was born 1 November 1856 in Northallerton. In 1861 the family were living in Northallerton where William was a fruitier master.

Thomas married Sarah Ann Broadley, 3 January 1880, at St John the Baptist, Halifax. They had seven children, including: -

Louisa, born in 1880 – she married the undertaker Joseph Dibb.
Ada born in 1882 – she died in 1888 aged just six.
Gertrude, born in 1885 – she married John Watmough.
Elizabeth, born in 1887 – she married John Leahy.
Wilton, born 5 October 1889 – he worked in Saltaire Mills.
Lionel, born in 1897 – he served in WW1.

In 1881 & 1891 the family were living in Norwood Green, Hipperholme cum Brighouse with Thomas working as a nursery gardener.

Death Notice in the Brighouse News 25 August 1888: -

STOREY – 23 August, aged 6 years, Ada, daughter of Thomas Sadler Storey, cart driver, Granny Hall, Brighouse.

In 1901 the family were living at 5 Amelia Street in Saltaire. By 1906 they had moved within Saltaire to 49 George Street. They moved to 24 Alexandra Road, Shipley, around 1925.

Report from the Shipley Times 11 January 1930: -

GOLDEN WEDDING.

Mr. and Mrs. Thomas Storey, of 24 Alexandra Road, Shipley, celebrated their golden wedding on Friday of last week, having been married Halifax Parish Church on 3 January 1870. Mr. Storey, who is a native of Northallerton, is 73 years of age, and Mrs. Storey who was born in Norwood Green, near Bradford, is 70 years of age. They have lived in Shipley for over thirty years. For several years Mr. Storey was in the employ of Mr. William Kershaw, nurseryman, but retired from work last year.

They have had seven children, five of whom survive (two sons and three daughters). One son is in Canada, and the other is in Poland. Their eldest daughter is Mrs. Joseph Dibb, of Cottingley, formerly of Shipley, and the other daughters are Mrs. John Watmough, of Saltaire, and Mrs. John Leahy, of Cottingley. There are eight grandchildren.

The happy event was celebrated by a family gathering at the house of Mr. and Mrs. Storey last week-end.

Thomas died 7 September 1932, following an accident on 27 August 1932.

Report from the Shipley Times 8 October: -

Mr. Thomas Sadler Storey, a retired gardener, of The Bungalows, Cottingley, who was fatally injured at Shipley on 27 August, was heard at Bradford West Riding Court on Monday, when Peter Gilbey, aged 20, a machine minder, of James Street, Valley Road, Shipley, was summoned for driving a motorcycle in manner dangerous to the public, and also for driving a motorcycle without due care and attention. Defendant pleaded ''Not guilty" to both summonses.

Mr. R. C. Linney, of the County Solicitors' Department, Wakefield, prosecuting, said that the evening of 27 August, a tramcar was proceeding along Bradford Road, Shipley, in the direction of Bradford. The tram stopped at a recognised stopping place at the corner of St. Paul's' Road and Bradford Road, Shipley. Thomas Storey alighted, and was walking to the pavement, distance of some 15ft. The defendant, who was driving his motor-cycle in the same direction towards Bradford, passed the tramcar while it was stationary, and, in so doing, struck the old gentleman, the front of the machine catching him in the middle of the body. He was lifted and thrown against tram standard on the side of the road. He was taken to hospital, where he subsequently died from his injuries. Mr. Linney said it would be unfair to the defendant if he were to lay undue stress upon the fact that Storey had died. It was some indication of the force with which he was struck at the time.

The defendant, in evidence, said he saw the tram 20 yards ahead, and changed from second gear to low, when he would be travelling at nine to ten miles hour. He saw no one alighting from or boarding the tramcar, and after blowing his horn went to pass the tram. When he was about two yards from it, the man appeared in front of him and was struck. Defendant said he did not know where he came from and he did not see him get off the tram. He reported the accident to the police.

After a short retirement, Sir John Mowat (chairman) said it was clear that the defendant had not driven with due care and attention. He would be fined £5 and £1 Is. fid. costs. For not having signed his driving licence, there would be a fine of 10s.

Thomas was buried 10 September 1932 at Nab Woods Cemetery, Shipley.

Report from the Shipley Times 17 September: -

The funeral took place, at Nab Wood Cemetery, Shipley, on Saturday 10 September of Thomas Sadler Storey of 5 The Bungalows, Cottingley.

Mr. Storey, who was fatally injured by a motor-cycle on Saturday, 27 August, was a well-known and highly respected resident in Shipley, for several years, and for over thirty years he was employed as a gardener by Mr. William Kershaw, The Nurseries, Saltaire.

The Rev. J. Alexander Booth (Pastor, Saltaire Congregational Church) officiated.

The family mourners were Mrs. Storey (widow). Mr. and Mrs, Joseph Dibb (daughter and son-in-law), Mr. and Mrs. John Watmough (daughter and son-in-law), Mr. and Mrs. John Leahy (daughter and son-in-law), Mr. and Mrs. Wilton Storey (son and daughter-in-law). Miss L. Storey, of Leeds (sister), Mr. A. Booth, Mr. and Mrs. L. Booth. Mrs. Lund (Brighouse), Mrs. Marsden. Bingley (nephews and nieces), Marjorie G. Gibb, John Leahy, Muriel Storey, Margo Watmough, and Audrey Watmough (grandchildren).

Amongst those present were Mr. and Mrs. Hollingworth, Mrs. Houlden, and Mrs. Priestley. Mr. W. Smith (representing Messrs. Walton, Ward and Co., Baildon Bridge), Mr. Thorpe (representing Mr. William Kershaw, The Nurseries, Saltaire), Miss W. Scott, Mr. W. Lee, Mr. E. Farrar (Norwood Green), Mr. Peter Gilbey.

The bearers, who were employees of Mr. Joseph Dibb, were Messrs. M. Lapish, J. Rowlands, A. Belton. M. Mayfield, W. Sletts, H. Boothroyd, and C. Smith.

The funeral arrangements were carried out under the personal supervision of Mr. Jesse Sykes (acting on behalf Mr. Dibb).

His widow, Sarah Ann, was buried with him, when she died 19 April 1933.
Sugden, Edward
May 1866 – 20 March 1871
Edward Sugden was born in May 1866 to Samuel Sugden, a wool sorter & Priscilla Wood. They were living at 11 Amelia Street, Saltaire, when Edward was tragically drowned, 20 March 1871.

Report in the Bradford Observer 22 March 1871: -

Melancholy Case of Drowning at Saltaire.

On Monday (20 March) afternoon, at about five o'clock a melancholy case of drowning occurred in the Leeds and Liverpool Canal, between Saltaire and Hirst locks.

It appears that a little boy named Edward Sugden, aged four years and ten months, son of Mr. Samuel Sugden, wool sorter, residing at 11 Amelia Street, Saltaire, went to play with two other boys about his own age, named Robert Allen and Walter Bolton.

They proceeded to the canal bank and were playing, when the little boy Sugden fell into the water. There being no person present at the time of the occurrence, no attempt at rescue could be made, and the poor little fellow sank before assistance arrived.

Being missed by his parents towards evening, the bellman was sent round the town, but no tidings of the child could be gained. Some person having seen one of the boys with whom the deceased was in company, communicated the circumstance, and the boy, who had gone to bed, was awakened, and questioned as to what had become of Sugden. He immediately replied that he had fallen into the canal.

Search was at once made for the body, but it was not recovered until about noon yesterday, when it was got out by Seth Bentley, manager at the baths, Saltaire, assisted by some other persons. The body was conveyed to the house of the parents, where it awaits the coroner's inquest.

The inquest was held at the Rosse Hotel on Thursday 23 March. The verdict was "Accidently drowned."
Summerhill, William
c1874 – 1916
William Summerhill was born in c1874 in Birmingham, Warwickshire. He married Susannah Woodward 12 July 1902 in Bingley. They had one child who sadly died as an infant. By 1906 they were living at 19 Amelia Street, Saltaire.

Report in the Shipley Times 28 May 1909: -

SERIOUS ACCIDENT AT SAILTAIRE.

On Saturday (22 May) morning a serious accident occurred at Saltaire to William Summerhill, of 19 Amelia Street, Saltaire. Summerhill, who is a married man, was engaged in cleaning windows on the third storey of a house occupied by Mrs. Sharpe, 10 Albert Terrace. In order to reach the windows he had reared a ladder against the wall, and it was through the upsetting of this that the accident happened.
A horse attached to a milk-float belonging to Mr. Sam Whitfield, 57 George Street, was proceeding along the narrow street, and collided with the foot of the ladder, with the result that the unfortunate man was hurled to the ground from a height between thirty and forty feet. His head struck the edge the causeway, and when he was picked up by Mrs. Sharpe and Mrs. Bishop he was found to be unconscious. The right side of his head was shockingly cut and bruised, and blood flowed profusely. Blood was also issuing from his ears. Dr. Thornton found that the man had sustained a fractured skull.
Summerhill was afterwards conveyed in the horse ambulance to the Bradford Royal Infirmary. He had only been given temporary employment as a window cleaner.
Summerhill has regained consciousness during the last day or two and is now very comfortable.

In 1911 William and Susannah, were living at 14 Ada Street, Saltaire. He was a iron foundry labourer; she was a wool comber.

William died in 1916.
Swaine, Allen
26 February 1894 – 12 April 1960
Allen Swaine was the son of Joe C. Swaine. Joe was born c1869 in Wakefield. He married Mary Ellen Totty, 4 April 1893, at St. Mary Magdalene's in Outwood, near Wakefield.

Allen, their only child, was born 26 February 1894 in Stanley, near Wakefield. His mother died in 1895. Widower Joe married Emily Jane Calvert, 27 October 1896, at St. Anne's in Wrenthorpe, near Wakefield. They had two children. They lived in Outwood, where Joe was a grocer and off-licensee. In 1911 Allen was a pawnbroker's assistant.

Allen married widow Florence Oxley (nee Newsome) 24 July 1926 at St. John's, Wakefield. She was 13 years older than Allen. From before 1939 to their deaths they lived at 14 Albert Terrace, Saltaire. In 1939 Allen was working as a wool warehouseman.

Florence died 11 April 1950 at 14 Albert Terrace. She was buried at St. Paul's, Alverthorpe, Wakefield. In her will she left Allen £451 18s 10d.

Allen died 12 April 1960, 10 years to the day after his wife died.

Report in Shipley Times 22 June 1960: -

FOUND IN GAS FILLED KITCHEN

A verdict "that he died of coal gas poisoning self-administered, there being not sufficient evidence to determine the state of his mind at the time," was recorded by the District Coroner, Mr. S. E. Brown, at the resumed inquest at Shipley Town Hall today on Allan Swaine (66), boiler maintenance man, 14 Albert Terrace, Saltaire, who was found in the gas-filled kitchen of his home on 12 April.
Mrs. Maude Creasey, of Britannia Street, Shipley, said Swaine was her brother-in-law and lived alone. He had not worked since last February after having a slight stroke. He had been worried about the stroke and the possibility of having another one.
His neighbour, Mrs. Nora Riley, Edward Street, Saltaire, said on 11 April she arrived home at 10 p.m. and noticed a smell of gas which she and other neighbours thought came from the street. The next morning the smell had disappeared.
Dr. John D. Bates (pathologist) said cause of death was carbon monoxide poisoning.
Mr. Wilfred Steel, Woodlands Estate, Oakworth, Keighley, laundry delivery man, said he called at Swaine's home to deliver the laundry on 12 April, and he found him lying on the kitchen floor with a blanket over his head. There was a strong smell of gas.

Allen was buried with his wife at Alverthorpe. In his will he left £1505 9s 7d to Fred Goodall Swaine, a joiner. Fred was a younger brother of Allen.
Swift, Albert
14 August 1914 – 24 December 2018
Albert Swift was the son of Frank Swift. Frank was born 11 March 1891 in Barnsley. He married Annie Whittingham 29 October 1910 at St. Mark's, Manningham. They had three sons. In 1911 they were living at 17 Cope Street, Bradford, with Frank working as a wool comber. He served in WW1.

Albert, the middle son, was born 14 August 1914. In 1928 he started an apprenticeship as a shuttle maker with Jowett Bros, Shipley, an occupation he would follow all his working life.

Albert married Joyce Delores Beeley in 1939. She was born, 21 January 1918, in Sheffield. They had two children. By 1946 they were living at 1 Amelia Street, Saltaire. They remained here until after 1960.

Albert was an active member of Shipley Labour Party. In the local elections in May 1951 he lost in the Shipley West Ward to G. Waddilove by 2,257 votes to 894. In a by-election in Shipley's East Ward in December 1951 he retained the seat for Labour with an increased majority. He polled 1,308 votes, his opponent 722.

Report in the Shipley Times 17 February 1960: -

Coun. Albert Swift, of 2 Amelia Street. Saltaire, has been nominated chairman of the Council for 1960-61.

Coun. Swift has been member of the council since 1951 and is the Labour representative for the East Ward. He has been vice-chairman of the Highways and Buildings committee since and has served on the Libraries Estates. Transport and Public Works, and Public Health committees.

He is employed as shuttle worker at Jowett Bros.. Ltd.. Park Works, Rosse Street. Shipley.

A married man with a son and a daughter, he joined the Labour Party when he came out of the forces, and for a short time he was secretary of the local Labour Party.

In May 1960 Albert was elected as Chairman of Shipley Council. With his wife and daughter Albert attended a garden party in the grounds of Buckingham Palace in July 1960.

24 September 1960, his daughter, June Valerie Swift, married Thomas Brian Ashton, of Accrington, at St. Paul's, Shipley.

Albert's wife, Joyce, died 3 July 2014 in Wakefield. They had been married 75 years. Albert died 24 December 2018, aged 104, in Walton, near Wetherby.