Carrington, Albert
20 November 1902 – 26 September 1957
Albert Carrington was the son of John Carrington & Ellen Blackmore. John and Ellen were married 7 November 1898 at St. Paul's, Shipley, with Ellen living at 49 Titus Street, Saltaire.

Albert was born 20 November 1902 in Rothwell, near Leeds. He was baptised 12 April 1903 at the Wesleyan Methodist Chapel in Rothwell. In 1911 they were living in Wath Upon Dearne, Rotherham, with John working as a coal miner.

Albert married Ivy Hague in 1933. She was born 12 May 1908 in Shipley. They had a son, Brian, born in 1937. In 1935 they were living at 41 Salisbury Street, Shipley. By 1937 they had moved to 10 Amelia Street, Saltaire.

In the 1939 Register, Albert was a wool warehouseman and Ivy a wool comb minder. By 1943 they had moved to 45 Titus Street, Saltaire, where Albert was a grocer, with a shop next door at 46 Titus Street. Late at night on 30 December 1944, Ivy was one of eight victims who were injured in a head-on collision between a taxi and a private motor car in Bradford Road, Shipley. She was taken to Sir Titus Salt's Hospital and treated for minor injuries.

By 1946 Albert & Ivy were living at 13 Coach Road, Baildon. In June 1947, Albert was reported as being the sole proprietor of Carson Café, Victoria Road, Saltaire. In June 1951 as the proprietor of Carson Café, Prod Lane, Baildon, Albert was registered as a retailer of ice cream by Baildon Urban District Council. At this time he was living with his wife in Brookfield Avenue, Windhill. In February 1957 Albert placed an advert in the Shipley Times for his grocery store at 99 Coach Road, Baildon.

Albert died, 26 September 1957, at 101 Coach Road, Baildon. In his will he left £1,581 15s 4d, to Ivy. In October 1957 the licence for the shop was transferred to Ivy. In April 1959 she transferred the licence to Lilian Markham. By 1960, Ivy was living with her son, Brian, and his family at 22 Victoria Road, Saltaire. Ivy died in 2000 in Gloucester.
Charlesworth, John
7 July 1856 – 26 September 1914
John Charlesworth was the son of son of Joseph Charlesworth. Joseph was born c1818 in Hepworth, near Holmfirth. He married Ann Moorhouse 12 September 1841 at All Hallows Kirkburton, near Huddersfield. In 1851 they were living in Hepworth with Joseph working as a shopkeeper.

John, the second youngest of nine children, was born 7 July 1856 in Saltaire. In 1861 the family were living at 11 Victoria Road in Saltaire with Joseph running a grocery shop as a family business. After Joseph died 8 September 1868, his widow, Ann ran the business which by 1871 had moved to 1 Victoria Road.

John married Lucy Ann, daughter of William London, 12 May 1879 at St Pauls Shipley. Lucy was a mill worker and her father, William, was a grocer at 1 Daisy Place in Saltaire.
By 1881 John was running the family business, with two of his sisters, Annie & Ellen, running a confectioners next door at 2 Victoria Road. By 1897 the two businesses combined and were run by family in the same premises until around 1935.
John & Lucy had five children, all born in Saltaire; Annie (b1880), George (b1882), Joseph (b1884), Alice (b1888) & Walter (b1890).
John was a prominent churchman, being a warden at St Peters Shipley. He was a Freemason and held the post of Worshipful Master at Airedale Lodge in Shipley. He was member of the Shipley Bowling Club and the Shipley Unionist Club.
John died 26 September 1914 and after a well-attended funeral he was buried at Hirst Wood.
Clapham, George Edward
4 February 1904 – August 2002
George Edward Clapham was the son of George Clapham. George was born c1873 in Heightington in County Durham. He married Mary Lowrey in 1901 in Darlington.

George Edward, the middle child of three, was born 4 February 1904 in Gainford, County Durham. In 1911 the family were living at Wellwood Lodge, Chellow Dene, Bradford, where George was a chauffeur. George served with the Army Service Corps in WW1.

George, a bank clerk, married Gladys Kathleen Hanson 11 December 1928 at All Saints Salterhebble, Halifax. They had a daughter, Shelia, born 1931. They were living in Sowerby from 1932 to 1938. In the 1939 Register they were living in Halifax.

Report from the Shipley Times 28 May 1958: -

Mr. G. E. Clapham at present clerk-in-charge, has been appointed manager of the Saltaire and Shipley branches of Lloyds Bank Ltd., in succession to Mr. C. C. Bristol, of Sherwood Grove, Shipley, who is shortly retiring.

Mr. Clapham. who lives at 59 Grosvenor Road, Shipley, began his banking career In 1919 Sowerby Bridge, and after serving Halifax, he became clerk-in-charge at Shipley in 1951. He is a keen photographer and gardener and is treasurer of the Shipley Youth Centre.

Gladys, George's wife, died in 1997 in Salisbury, Wiltshire. George died August 2002 in the New Forest, Hampshire.
Clayton, Mary
16 February 1862 – 2 February 1940
Mary Clayton was the William Hudson Clayton. William was born c1826 in Manningham. He married Mary McNevin, 23 January 1855, at Bradford Catholic Chapel. They had a son and a daughter.

Mary, who had an older brother, was born 16 February 1862, in Bradford. In 1901 she was a certified teacher living with her uncle John Higgins, and aunt, in Horton, Bradford.

Working as a certified teacher, she lived at 2 Oxenhope Villas, Cliff Lane, Baildon, with her brother, Charles Clayton, from before 1911 until his death in 1937.

In the 1939 Register, Mary was living alone with a servant at 68 Victoria Road, Saltaire. She died in the house, 2 February 1940. Mary was buried in Nab Wood Cemetery with her brother and his family.
Clements, Charles Henry
1895 – 31 May 1939
Charles Henry Clements was the son of Isaiah Clements. Isaiah was born 1867 in Tavistock, Devon. He married Harriet Pringle in 1894 in Middlesbrough, North Yorkshire.

Charles was born 1895 in Eston, near Middlesbrough. He married Mary Hannah Lydon in 1917 in Middlesbrough. They had four children with one dying as an infant. Two of their sons Raymond Colin and Charles Henry jnr. served in WW2.

By 1926 Charles and his family were living at 4 Albert Terrace, Saltaire; by 1930 at 33 Helen Street, and by 1933 at 36 George Street.

Charles died 31 May 1939 at Darlington Memorial Hospital.

Report from the Shipley Times 10 June 1939: -

SALTAIRE CYCLIST'S DEATH

We must not allow inquiries of this kind to develop into trials of civil liability," said the Coroner (Mr. J. E. Brown-Humes) at the Darlington inquest on Monday (5 June), on Charles Henry Clements, aged 44, woolcomber, of 36 George Street Saltaire.

Clements was fatally injured in a collision between his bicycle and a motor-car on the Richmond-Reeth road on Whit Monday (29 May).

The jury returned verdict of "Accidental death."

Add freeing the jury the Coroner said: "There is tendency for these inquiries to be used for the purpose of apportioning blame on one side or the other, and it is necessary that you and I should remember our duty. That duty to see what is the cause of death and whether there is any criminal negligence to be imputed to any outside party."

The driver the car involved in the accident, Mr. Hugh Ralph Houston, of 398 Coniscliffe Road, Darlington, was represented by Mr. C. A. Hinks. Mr. J. R. Waite appeared for Clements's relatives.

Luke Murray, aged 15, of 10 Hirstwood Crescent. Shipley, said that about 6.50 p.m. on Whit Monday he, Clements, and Clements' son, Charles, were cycling to Reeth from Richmond, where they had attended the cyclists' meet, Charles was leading, and Mr. Clements was behind witness. They were approaching a bend in the road near Gill Book bridge when he saw three cars coming in the opposite direction.

"The first car passed very close to me;" said Murray. "I heard a crash, and on turning round I saw Mr. Clements was lying on the road."

Robert William Alton, of Stanhope Avenue, West Hartlepool, said that he had his ear parked by the roadside when he saw three cyclists going towards Reeth at a reasonable speed. A car was coming from the opposite direction, also at a reasonable speed.

"I should say without hesitation that the car was too far out," added Alton. "If there had been white lines on the bridge he would have been two or three feet over it."

Mr. Hinks submitted that if Alton's estimates of the position of the ear and the cycle were right they would not have collided on the road, which was 19ft. wide.

Harry Popplewell, master window cleaner, of 31, Silverhill Drive, Bradford, told the Coroner that he had 44 years' experience as a cyclist. He had been travelling behind the three cars toward Richmond when the accident occurred. His opinion was that the cyclist was travelling a little too fast round the corner and thus got into a wobble. If had not turned in toward the centre of the road would have gone into stone wall.

The Coroner pointed out that Mr. Alton and Mr. Popplewell, entirely independent witnesses, gave different views as to who was to blame. It was not the jury's task to decide between the witnesses.

In his will, Charles left £181 4s 1d to his widow. She died 21 October1978 at 20 Mary Street
Cowan, David Russell
30 September 1830 – 18 February 1910
David Russell Cowan was born 30 September 1830 in Dalziel, Lanarkshire, Scotland to Robert Cowan & Mary Russell.

David married Margaret Anderson Dodd 30 December 1856 at Bothwell in Lanarkshire. They had six children. David was ordained as the minister of the Independent Chapel in Kircaldy, Fife 17 February 1859. In April 1869 he accepted an invitation to be the minister of the Congregational Church in Saltaire.

A recognition service was held in the church for him 6 July 1969. The service was presided over by Titus Salt with his son Titus and Robert Balgarnie amongst the 250 guests.

In 1871 he was living with his family at 4 Albert Road (renumbered 7) in Saltaire; by 1873 they had moved to 3 Albert Road (re-numbered no 5).

David resigned from his position in Saltaire early in 1877. On Saturday 27 January the Church Bible Class presented David and his wife with a clock in recognition of their service at the church. On Saturday 10 February he was presented with an illuminated address and a purse of sovereigns at a public tea with 500 guests in the new Sunday school in Victoria Road.

Read Rev David Cowan's letter to the Church and Congregation of the Congregational Church Saltaire respecting his ministry and his termination from service.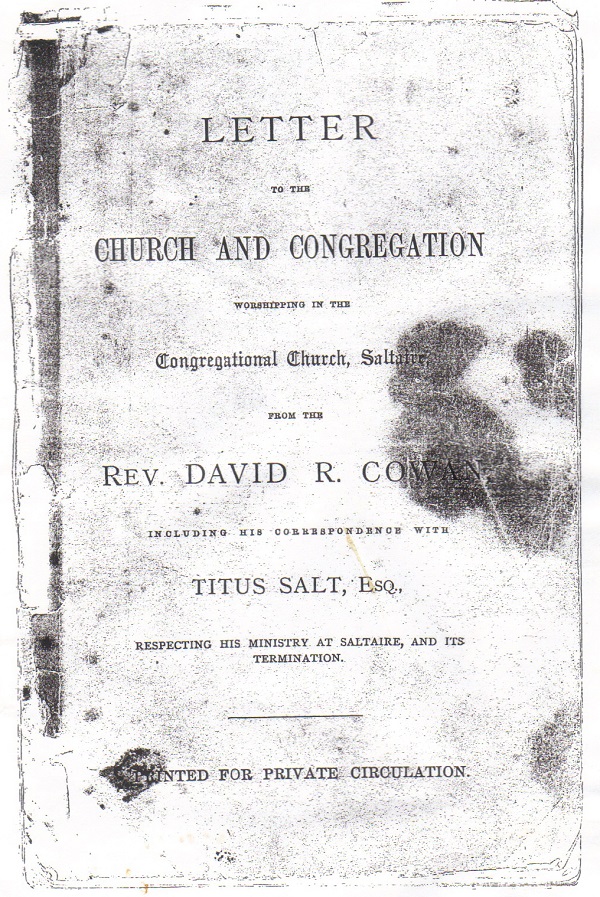 Excerpt:

It was my earnest desire and purpose to have moved away from the district, without troubling you with any account of the circumstances which led me to resign my charge; but the attempt to misrepresent these, and to damage my character and ministerial reputation, has been, and still continues to be, so persistent.... ... The treatment I have lately received – the manner in which the affairs of the Church have been managed, and the want of an impartial tribunal for the settlement of cases like my own, have been largely instrumental in driving me from the denomination to which I have belonged for so many years.... Read more >

You can also download the letter:

At a meeting of the Manchester Presbytery of the Presbyterian Church of England, David's application to become a minister was accepted. In 1877 he was the first pastor at a new Presbyterian church at Whalley Range, Manchester. In 1883 he moved to Walsall in Staffordshire, performing his first service 28 October. His wife, Margaret, died in 1890 at Stafford.

Widower David married Mary Mackie Steel in 1892. David died 18 February 1910 at 15 Eastgate Street in Stafford.
Cowie, John
5 December 1848 – 20 October 1912
John Cowie was the son of William Cowie. William was born c1817 in Lonmay, in Aberdeenshire. He married Margaret Smart, 22 December 1846, at Pitilogo in Aberdeenshire. They had at least 10 children.

John, their eldest child, was born 5 December 1848 in Pitilogo. The family lived in Pitilogo where William was a farmer of 65 acres.

John, a railway clerk living at Eccleshill, married Mary Alice Holgate 24 May 1876 at Bradford Cathedral. They had five children. They lived at 10 Bromley Road from before November 1878 to 1899. From 1900 to 1902 they were living at 1 Albert Road in Saltaire, then they moved to 56 George. By 1911 John had retired from the railway and living with his family at Sunnybank, The Glen in Shipley.

In March 1900 John was a supporter of James Roberts when he was elected as a district councillor in the West Ward. In August 1902 he was on the entertainment committee for Shipley's Coronation celebrations. In March 1903 he was M.C. at a social in Victoria Hall in connection with Salt Schools.

Extract from the Shipley Times 04 September 1903: -

The annual meeting of the Social Evenings Committee of the Salt Schools has just been held, and I am informed that most of the members of the committee have consented to continue their efforts in the same direction, as desired by the Governors. Mr John Cowie has again been elected chairman of the committee—a position he has held for several years .

John died 20 October 1912. He was buried three days later in Hirst Wood Cemetery. In his will he left £426 7s 9d (worth c£50,000 in 2020). Mary was buried alongside him 23 September 1926.
Cox, Harry
23 September 1921 – February 2000
Harry Cox was the son of Walter Cox. Walter was born 3 July 1892 in Baildon. He was an able seaman when he married Mary Ann Filby, 29 March 1915, at St Peter's Shipley. They lived at 9 Caroline Street in Saltaire. Walter served in WW1.

Harry was born 23 September 1918 in Saltaire. Around 1926 the family moved to 16 Ada Street in Saltaire. In 1939 Harry was an apprentice mechanical engineer and Walter was a spinner's warehouseman. Harry married Kathleen Crawshaw of 37 Taunton Street Shipley 26 November 1949 at St Paul's Shipley.

Report in the Shipley Times 30 November 1949:

A pretty wedding took place at St Paul's Shipley on Saturday, when Mr Harry Cox, the youngest son of Mr & Mrs W Cox of 16 Ada Street, Saltaire was married to Miss Kathleen Crawshaw of 37 Taunton Street Shipley. The Rev. A. F. G. Cooper officiated. The bride, who was given away by her brother, Mr S Crawshaw, made a charming picture in her gown of white cloque and tulle, and white embroidered veil crowned with a halo of feathers. She carried a bouquet of pink and white carnations. She was attended by Mrs W Cox (sister in law of the bridegroom) as matron of honour and Misses Christine Lockwood and Maureen Scott (nieces of the bride). Mrs Cox wore dresses of pink silk and carried posies of anemones. The bridegroom was accompanied by his brothers Mr William Cox as best man, and Mr Walter Cox as a groomsman.
After a reception at the Oddfellows' Hall Hotel the bride and bridegroom left for a honeymoon on the West Coast.

Harry died in February 2000. Kathleen Cox died February 16th, 2011.

Nab Wood Cemetery and Crematorium: Monumental Inscriptions
In loving memory of a dear Dad
Remembered with love, KATHLEEN & HARRY COX
In loving memory of a dear Mum
Dearly missed
Loved by all
Together again forever
Crabtree, Harry Wright
29 September 1890 – 11 February 1942
Harry Wright Crabtree was the son of Edgar Crabtree. Edgar was born 1868 in Saltaire; in 1871 his family were living at 15 Ada Street in Saltaire. Edgar, working as a worsted weaver, married Alice Wright in 1890 in Keighley.

Harry, who had a younger sister, was born 29 September in Saltaire. He was baptised 2 November 1890 at St Paul's Shipley. Harry and his family moved around Saltaire and Shipley as follows:-
1891 – 5 Whitlam Street, Saltaire
1900 – 4 Atkinson Street, Shipley
1911 – 7 Alexander Square, Shipley
1914 – 74 George Street, Saltaire
1915 – 10 George Street, Saltaire
1917 – 44 Whitlam Street, Saltaire

Harry, aged 26 and working as a metal worker, married Ellen Denney, a 23 year old weaver living at 7 Fanny Street in Saltaire, 11 August 1917 at St Peter's Shipley. From 1925 to 1934 they lived at 8 Mary Street in Saltaire.

Harry died 11 February 1942 in Keighley district; he was buried at Nab Wood Cemetery in Shipley. From 1945 his widow, Ellen, lived at 65 George Street in Saltaire until she died 13 April 1977.
Crossland, Kendall
14 July 1867 – 15 October 1940
Kendall Crossland was the son of John Crossland. John was born c1840 in Nottinghamshire. He married Esther (or Easter) Kendell, 30 January 1859, at St Wilfrid's, Calverley. They had at least four children.

Kendall, their third child was born 14 July 1867 in Bradford. In 1871 they were living at Bolton, Bradford, where John worked as a mason. John died in 1873.

Widow Esther married Richard Crossley, 7 October 1876, at St Peter's, Leeds. They lived at 29 Caroline Street in Saltaire where Kendall worked as a spinner. Richard died in 1900. In Kendall was a labourer living with his twice widowed mother at 52 George Street. By 1911 they had moved to 22 Titus Street.

Kendall's mother died 19 December 1912. In 1918 & 1919 he lived with his married sister, Sarah Ellen Mawson, at 39 Dove Street. Working as a yarn packer and living at 4 George Street, Kendall married Ada Robinson, of 40 Ada Street, 27 November 1920, at St Paul's, Shipley. They lived at 20 Albert Terrace, moving to 59 Victoria Road about 1938.

Kendall died in 1940 at 59 Vitoria Road, 15 October 1940.
Crossland, Lister
1876 – 1955
Lister Crossland was the son of Shaw Crossland. Shaw was born 1852 in Denby Dale near Huddersfield. He married Hannah Hinchcliffe 7 July 1873 at Cumberworth near Huddersfield

Lister, the third of seven children, was born in Skelmanthorpe near Huddersfield in 1876. The family lived in Skelmanthorpe with Shaw working as a weaver.

By 1901 Lister was employed as a house painter. Lister married Amy Busfield in 1905. They had a daughter, Vera, born in 1909. In 1911 they were living at 11 Shirley Street in Saltaire with Lister working as a house painter. By 1915 they were living at 16 George Street in Saltaire.

Amy died in 1934, Lister remained in George Street until around 1940. Lister died in 1955.
Czernooki, Alexy
19 June 1921 – 23 January 1986
Alexy Czernooki was born 19 June 1921 (place of birth unknown). He married Alice Marian Smith in 1952. Alice was born, 30 April 1922, to Harry Smith & Alice Kayley. In the 1939 Register, Alice was a burler and mender living with her parents in Skipton. Her father worked as an iron moulder. Alexy & Alice had two daughters: – Kathryn born in 1959, and Alison in 1961.

From 1953 to after 1960 the family lived at 18 Amelia Street, Saltaire. Daughter Kathryn married Richard Auty in 1980. Alexy died 23 January 1986 at 78 Victoria Road, Saltaire.

Daughter Alison married Rizwan Naz in 1998. By 2003, widow Alice was living at 104 Manor Lane, Shipley. Alice died 3 June 2016.