Ince, John
19 December 1862 – 18 May 1926
John Ince was the son of Christopher Ince. Christopher was born 3 July 1831 in Bradford. He married Mary Ann Rowe 12 May 1856 at Holy Trinity, Hull. In 1861 they were living at Drypool, Hull.
John, the fourth of ten children, was born 19 December 18962 in Drypool, Hull. In 1871 they were living at Southcoates, Hull. By 1881 the family were living at 18 Shirley Street in Saltaire with Christopher working as a hawker and John as an apprentice spinning overlooker at Saltaire Mills.
John married Hannah Elizabeth Caygill 27 December 1884 at Bradford Cathedral. After losing their first child at birth they had five children:
Maud 25 January 1888 – 12 October 1891
Christopher 15 November 1889 – 1967
Annie 2 January 1901 – 7 July 1986
Henry 4 October 1902 – 17 April 1903
Hetty 1904 – 1994
In 1891 they were living at 31 Constance Street in Saltaire with John working as a spinning overlooker. In 1901 they were at 72 Victoria Road with John a worsted foreman spinner. By 1911 they were living at 36 Albert Road (renumbered 71) with John now a spinning manager.
Report in the Shipley Times 5 September 1913 as follows:
Workpeople's Tribute to Mr. J. Ince.
Mr. John Ince, who on account of long-continued illness has had to resign his post as manager of the spinning department at Saltaire Mills, was on Monday evening the recipient of a presentation from the workpeople. The presentation took the form of a handsome 18ct. gold watch, bearing the inscription, "Presented to Mr. John Ince by his fellow-workers at Saltaire Mill." The watch was supplied the well-known firm Messrs. Fattorini, Bradford.

It is forty-one years since Mr. Ince commenced his workaday life at Saltaire Mills. He was then quite a small boy—so small, in fact, that he had to stand on a buffet in order to reach work at the spinning frame. That he enjoyed the confidence of the management is shown by his promotion to the important post of manager of the spinning department, and the presentation already referred to is a sufficient indication of the pleasant relationship which has existed between himself and the other employees.

Mr. Ince has taken) an active part in the work of the Saltaire Wesleyan Church and has always been willing to lend helping hand in charitable and other movements for the common good. General regret was expressed amongst the workers at the mill when it became known that his illness, which began several months ago, had caused him to relinquish his post. Although he has for some time past been able to get out, the nature of his ailment prevents him working present, but it is gratifying know that he is making favourable progress. The presentation was made at Mr. Ince's residence on Monday evening.
John's wife, Hannah, died 6 December 1918. John married Christiana Pinkey 19 June 1919 at Saltaire Wesleyan Church. They lived at 17 Leyburn Grove in Shipley; by 1921 they had moved to Saltaire House, Southgate, Hessle in East Yorkshire.
John died 18 May 1926 at Hull Royal Infirmary. In his will he left £2332 11s 6d (worth c£140,000 in 2019) to his widow and two sons.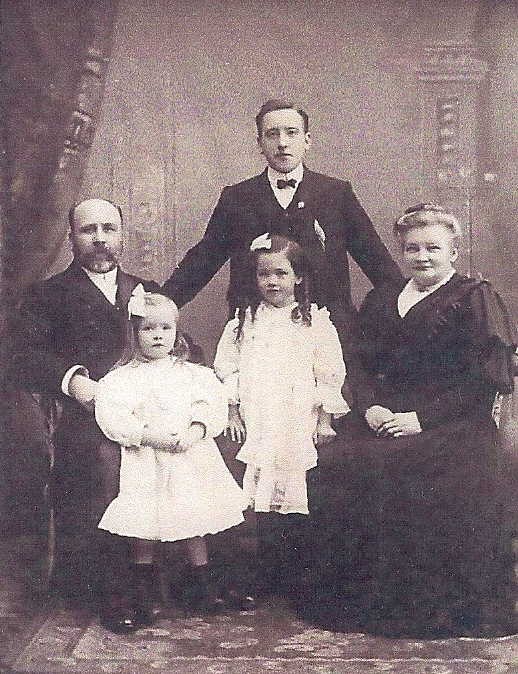 John Ince with wife Hannah, children, Hetty, Annie and Christopher (date unknown but must be around 1908).