Number 50, February 2007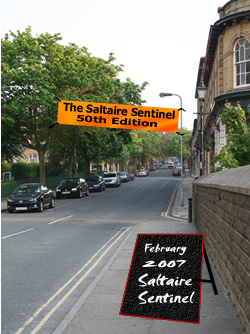 In this issue

SALTAIRY FIVE - O

We celebrate our fiftieth issue with a

Special Feature, telling you 50 THINGS

you never knew about the Sentinel.

Plus

GREAT COMPETITION

Spot the 50 Things.

Plus

ALL OUR USUAL UNUSUALS

TITUS AND THE LAW
DRAMATIC DISPUTE COMES TO LIGHT
HISTORIANS TO INVESTIGATE TENNESSEE CONNECTION
DAVE SHAW Reports:

At the next meeting of the Saltaire History Club, in the Shipley College Resource Centre, Exhibition Building, Exhibition Road, on Thursday, February 25th, Mr.Philip Barlo(w), of Barlo & Shaw, will be introducing a rare, and interesting, late 19th century American publication... Read more >

DIVA SEEKS DATA
DIVA is a new database, developed by the Library, Council, CVS and Resource Centre in Bradford, together with various other partners, with funding from the Bradford Health Authority, Neighbourhood Renewal and Cnet. It provides a useful network service for local voluntary organisations. Neighbourhood groups, sports clubs, and many other organisations can access publicity, for recruitment etc, be aware of each other and make sure they are consulted in important decision making. More information can be had from Diva Database Admin, Bradford Libraries, Archives and Information Service, 4th Floor, Central Library, Princess Way, BD1 1NN. Tel: 01274 433656
Sue Leach

IMPORTANT ANNOUNCEMENT to all contributors

As regular readers will be aware, the contents of this newspaper appear on the Saltaire Village Website at the discretion of Pamela Reynolds, who designed and maintains the site. An agreement has now been reached whereby all items submitted to the website will be deemed equally accessible to the newspaper without further permission.
It is hoped that this will both facilitate and encourage easier and wider promotion of local events and other initiatives.
ADVERTISING POLICY
The few businesses which enjoy regular advertising in these pages do so as they all serve as outlets for the newspaper. This is an important aspect of the community initiative. Space in the Sentinel is not for sale. Other commercial concerns will occasionally be promoted, by way of a feature, where an item of news, which in any case would be of interest to the community, is involved: The opening of a new establishment like Magic Number Three and the Backyard Competition, sponsored by Rance Booth & Smith, are examples.
Clubs, societies and similar organisations are invited to submit calendars of events which will be included as and when appropriate, free of charge.
Roger Clarke's Saltaire people
JOHN HOLROYD

Examples of work by John Holroyd are all around us: on advertising for many of the Village businesses and on tourist items in the local gift shops. The son of a teacher of woodwork, metalwork and technical drawing, (Tom Holroyd, who died in1976, taught at Salts Grammar School during the 1960s and early 70s), it is not surprising that John's work is meticulous in its detail... Read more >
LOOKING BACKWARDS AND FORWARDS AT SOME OF OUR REGULAR FEATURES
Two columns by Roger Clarke, Saltaire people and The History of Victoria Road, appear regularly in this paper, although limitations of space, together with the fact that, wherever possible, subjects are selected to be of some particular topical interest... Read more >
JOHN NICHOLSON POETRY PRIZE
To encourage the reading and, more specifically, writing of poetry locally. ALL Sentinel readers are eligible to participate, the only stipulation being the theme of Saltaire and/or Airedale. Read more >
Village Website
Features include: Saltaire Shopping, Roger Clarke's tourist tips, FREE Classified Ads, Interactive Chat Board and Links to other important sites of local interest.
There is also an Events Calendar. "You are welcome to post things in the calendar yourself," says Pamela, "You will need to join the Forum to do this - it's just a simple email which allows you to log on."
The site carries numerous photographs, many of which supplement Sentinel stories.
www.saltairevillage.info
JOHN NUTT writes from Aldershot:
I was delighted to read in the Sentinel (July 2006) about Ronnie Smith, who worked at Firth's Bakers in Victoria Road, Saltaire. But I was saddened to hear of its closure in 1988 due to loss of trade, largely from Salts Mill.
I was an apprentice baker at Firth's from 1965-68 and remember Ronnie very well. I have some very happy memories of all the workers in the bakery. Please could you pass on my best wishes and fondest memories to Ronnie and his family. My grandma moved from what was Regent Street (now demolished) to Titus Street.
Do any readers have any memories of Regent Street?
50 - Celebrating Our Fiftieth Issue - 50
"The Sentinel is great – I am sure it is a wonderful way of informing the Saltaire community of what is going on now, what will go on in the future and also what went on in the past." CAROLINE MOORE
"The Sentinel is a lifeline for us [now] we are in Austria." DENYS and EVA SALT
SALTS MILL
First Opened 1853, re-opened 1987 by the late Jonathan Silver and still open every day. It is twenty years since the late Jonathan Silver bought Salts Mill; an event which is generally – and quite justifiably – regarded as the most important moment in the history of the Village since Sir Titus... Read more >
SHOPKEEPERS PHOTOGRAPHED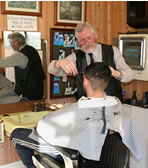 Roger Clarke and Pamela Reynolds have been busy with the dreaded digital camera recently, hurriedly collecting photographs of shopkeepers at work.
This strange activity is, it seems, in aid of Roger's
forthcoming book, A Penny for Going, a detailed history of local businesses... Read more >