SALTS MILL
First Opened 1853. Re-opened 1987 by Jonathan Silver and still open Every Day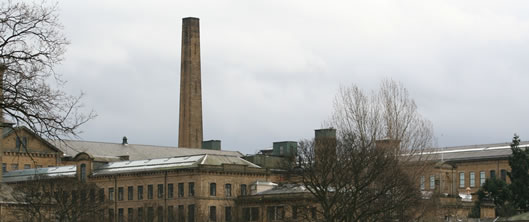 It is twenty years since the late Jonathan Silver bought Salts Mill; an event which is generally – and quite justifiably – regarded as the most important moment in the history of the Village since Sir Titus built it. You can learn more about Mr.Silver, including how he did not make the choice of Saltaire lightly, arriving here at the end of a world tour which began in 1984, at the
SALTAIRE HISTORY EXHIBITION on the ground floor of the Mill (at the far end). The exhibition was presented to Mrs Maggie Silver by Mr. David Weber after a successful opening in 2003 to commemorate 150 years of the building.
[Image: Jonathan Silver, copyright Salts Mill Estate. Read more about Jonathan Silver, who died in 1997]
Other attractions include the 1853 Gallery, world famous home of original works by Bradford born artist David Hockney, a personal friend of Jonathan's and regular visitor.
Cafe in to the Opera, an excellent place to eat, so named because it shares the top floor with a fascinating collection of models for stage sets, also by David Hockney, for opera including the Rake's Progress and the Magic Flute.
ADMISSION FREE
01274-531163
The Sentinel says:
"We'd Miss the Mill – for Many Reasons"
[All right, let's be honest: Just one of the reasons is it's our biggest outlet – Ed]