Number 52 April 2007

In this issue
TRAMWAY SPECIAL
Plus
STUDIOS CELEBRATE
Plus ALL OUR USUAL
UNUSUALS

GALLERIES GALORE
HOMES REQUIRED FOR ART TRAIL

Have you ever wanted to decorate your house with the finest quality art and craft from around Yorkshire? This could be your chance. The Saltaire Festival Arts Group is wanting to expand its programme and we need your help, writes DAVID WORSLEY. Read more

ARCHITECTS ON SHORTLIST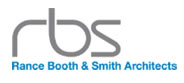 The stunning four storey Atrium at the University of Bradford, designed by Saltaire based chartered architects Rance Booth & Smith, has been short listed in the Design & Innovation category of the Royal Institute of Chartered Surveyors. Read more

SOCIETY SURVEY SHOWS TRAFFIC TOP CONCERN
Other matters mentioned included street maintenance, anti-social behaviour, tourism, local shops and the upkeep of Roberts Park. SVS Chair Elaine Gilligan said afterwards... Read more

SHIPLEY GLEN TRAMWAY
Built by local entrepreneur Sam Wilson, Shipley Glen Tramway opened on May 18th 1895. It still runs most Sundays and Bank Holiday afternoons throughout the year, thanks entirely to a loyal band of volunteers. As the Tramway, having recently been granted a hundred and twenty-five year lease, launches a publicity campaign to attract much needed recruits... Read more

SALTS WALKS

Guided tours of the Village set out from 'Magic Number Three' in Victoria Road (Presently at No.3 but soon removing to No.2) on Saturday and Sunday at 2pm, including Bank Holiday weekends.
Prices: Adults £3, Children, aged 12 and under, £2.50
There is no need to book. However, in order to be considerate to our tour guides who are available every weekend, walks take place only if the people wishing to take part are willing and able to raise a minimum of £15. Walks take approximately an hour.
For more information and to book a group walk on-line follow this link

FABULOUS FAMILY EASTER EGG HUNT


Find the clues hidden in Roberts Park to claim your free Easter Egg! This fabulous event, organised by the Friends of Roberts Park and Bradford Council, is on Saturday April 7th Collect your clues from noon to 2 p.m. There's free chocolate for every child!
STUDIOS CELEBRATE 25 YEARS
By Julia Horbury - Community Arts Manager, Kirkgate Studios & Workshops.
Kirkgate Studios & Workshops, the not for profit organisation based in Shipley, offers a wide range of art and craft courses as well as free use of their studios for people who are wanting to develop a skill by themselves. Read more


Roger Clarke's Saltaire people
TIM ROWBOTHAM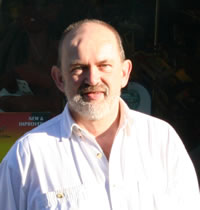 Tim Rowbotham owns and runs the ironmonger's on Bradford Road, Shipley. Since Luty's, opposite Gordon Terrace, closed down Tim's shop is the closest for Saltaire residents. It's a shop with bags of character – just like its owner. Read more

Village Website
Features include: Saltaire Shopping, Roger Clarke's tourist tips, FREE Classified Ads, Interactive Chat Board and Links to other important sites of local interest.
There is also an Events Calendar. "You are welcome to post things in the calendar yourself. You will need to join the Forum to do this - it's just a simple email which allows you to log on." – Pamela Reynolds
Most of the content of the Sentinel appears on the site, much of it supplemented by photographs and/or textual detail. www.saltairevillage.info
POLICE SURGERY
PC Richard Beaumont and PCSO Joanne Holland will hold a Police Surgery at Saltaire Contact Point, Salts Mill, Victoria Road between 9.30am and 11.30am on
Monday April 23rd. Please feel free to drop in for a chat.
See the list of future Police Surgery dates.


PRAISE FOR OUR WHEELIE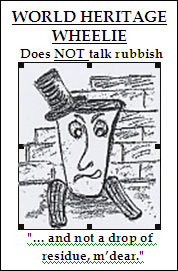 "A grateful and avid reader" writes from Lanzarote:
Huge congratulations on reaching fifty editions, wishing you many, many more. My abiding favourite feature of the Sentinel has to be World Heritage Wheelie and he may be interested to hear that although his sun kissed cousins in Lanza hang around in mobs on street corners and demand to be emptied daily they are still much maligned and under appreciated. We know this from a local news sheet which we received recently which headlines this simple story: One morning, two neighbours meet each other coming out of their homes. They greet each other and comment:
"How dirty the street is!"
"Well, yes, it's more than two days that the containers are not emptied."
"Sh…! And when they come to empty them they leave rests of rubbish lying all around and the containers so that you can't go near them because they're full of residues."
"You won't believe how many flies there will be when the heat comes."
I bet there are still no flies on our World Heritage Wheelie!

SALTS MILL - THE SILVER YEARS

Second installment of the continuing story
It is twenty years since the late Jonathan Silver bought Salts Mill. Roger Clarke got the true story of those years from Maggie Silver. Last month we learned that one of Jonathan's original aims was to make the Mill into the northernmost part of the Victoria and Albert Museum... Read more