JOHN NICHOLSON POETRY PRIZE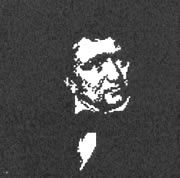 To encourage the reading and, more specifically, writing of poetry locally. ALL Sentinel readers are eligible to participate, the only stipulation being the theme of Saltaire and/or Airedale.
John Nicholson (1790-1843) , "The Airedale Poet", died tragically on the bank of the river, close to what is now Victoria Road.
The Sentinel picture of John Nicholson is an electronic adaptation of the engraving by W.O.Geller.
The closing date for entries to be considered for this year's prize is August 20th. This announcement will be familiar to regular readers, as the Poetry Prize is now in its fifth year. Another competition, launched at the same time (September 2003), it was felt better not to repeat:
The Saltaire Sentinel
GREAT TITUS BEARD COMPETITION
Saturday, September 20th 2003: Mr Jim Saville claimed the coveted title of 'Great Titus Beard', brushing aside fierce opposition from Messrs. Bob Taylor and David Starley, before an enthusiastic crowd in the Boathouse Inn.