Number 57, September 2007
In this issue
OUR WORLD HERITAGE SITE OFFICER
EXCLUSIVE INTERVIEW
Plus
POETRY PRIZE
WINNERS
Plus
ALL OUR USUAL
UNUSUALS
ONE BIG EXHIBITION
VILLAGE HOMES ARE ART HOUSES
Ten Saltaire Village houses will welcome visitors inside to view the work of more than fifty artists over two consecutive weekends 8/9th & 15/16th this month as Open Houses becomes, for the first time, a prominent feature of the Festival's Art Trail. Exhibition co-ordinator David Worsley, who first publicised the idea in the Sentinel back in April, says "It's a delight for the senses, a treat for architectural heritage lovers and a unique chance to experience an acknowledged record of social history." Other Arts Trail events are an Exhibition at Shipley College and, on Sept. 15/16, a Craft Fair in Victoria Hall. A free brochure is available with details of all these as well as locations and opening times for all ten 'Open Houses'.
'TALES', THE BOOK LAUNCH


Following the tremendous two year success of his musical Saltairy Tales, Eddie Lawler enhances this year's festival with the launch of the Tales in book form, illustrated with Deborah M Lawson's beautiful watercolours. Eddie will be giving his verse tales ("Some true, some with a pinch of Salt",) a musical send-off at the Half Moon Café in Roberts Park on
Monday, Sept. 10th at 6.45 pm.
Admission will cost £3, but this is redeemable from the price of a copy of the book. The event is one of a series of Twilight Talks at the cafe.
DRAMATIC YARN UNRAVELS OF THE BLACK THREAD

Margaret Muir's third novel, The Black Thread, tells the story of a desperate journey along the Leeds and Liverpool canal in the 1890's
Margaret, who grew up in Leeds but now lives in Tasmania, told the Sentinel... More >
RECORD ATTENDANCE FOR ARCHIVE OPENING
By Roger Clarke
Record attendances of over four hundred at the Archive Exhibition have rewarded the efforts of Julie Woodward and her staff at the Shipley College Resource Centre. A major attraction was the film of the Works Trip to Blackpool in 1953... More >
Saltaire people: INTRODUCING CRAIG McHUGH, SALTAIRE'S NEW WORLD HERITAGE SITE OFFICER
By Roger Clarke

It was good to meet Craig McHugh and talk with him about his career and his new job with Bradford Metropolitan District Council. 28-year-old Craig has been in post since June, and has already been spending time in the Village to find out about his new patch. Until he applied for this post, he had never been to Saltaire... More >
The Saltaire Sentinel: JOHN NICHOLSON POETRY PRIZE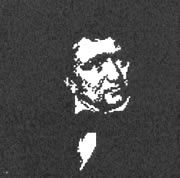 John Nicholson (1790-1843) "The Airedale Poet", died tragically on the bank of the river, close to what is now Victoria Road.
The Sentinel picture of Nicholson is an electronic adaptation of the engraving by W.O.Geller.
THE ENTRIES:
CANAL WALK…
a haiku sequence
by Bruce Barnes
IN THE CRADLE OF THE RIVER AIRE
by Gaye Gerrard
SALTS MILL- THE SILVER YEARS

Over the past 6 months, this column has featured the early years of Jonathan and Maggie Silver's re-development of Salts Mill. This month, with the help of John Collins, we look back at the situation which existed immediately before they bought the Mill.
More >
WORLD PREMIERE SHARES BILL WITH PRIESTLEY
Bradford playwright Chris Grogan (nee Murdoch) will be in most illustrious company when the world premiere of her Bitter & Twisted shares a double bill with J.B.Priestley's Mother's Day, in Victoria Hall on Thursday Sept 13th (6.45pm). The two works, which share the theme of mothers conspired against by their families, will be presented by local players watson:theatre . Tickets cost £8 (£6 concessions). Irene Lofthouse, who founded the company six months ago, says "We have strong links with local new writers, and are particularly interested in finding older people who write, perform or want to get involved in some other way".
CHURCH IS IMPORTANT VENUE
Saltaire United Reformed Church will, as always, be hosting a variety of events: As well as the Fete with Stalls in the grounds , there will be opportunities to hear the excellent organ played by experts, a lunchtime concert by the Doric String Quartet (1pm.Wed.12th) and, throughout the Festival, an exhibition, called Light and Life, by Ilkley Camera Club.
MUSIC GIG GETS IN THE SPIRIT
The now established music night "rpm@yoyo" at the Yo Yo Bar & Restaurant, Rosse Street, off Saltaire Road, Shipley, will be part of this year's Saltaire Festival. The event, which is usually on the first Thursday of each month, will feature live music on four consecutive nights from Tuesday 11th to Friday 14th. Each night is from 7.30pm until midnight (Friday until 2am) Free entry. Up to date info on what's on etc can be found at www.myspace.com/rpmatyoyo
SALTAIRE HISTORY CLUB
7.00 p.m. Thursday Sept 20th
Resource Centre, SHIPLEY COLLEGE, EXHIBITION ROAD
Join us on Sir Titus' birthday to learn more about the history of our World Heritage Site.
"Building Jerusalems" a lecture by Alan Petford of Leeds University
"The Saltaire Conversazione" a brief history by Roger Clarke
The Club meetings are informal gatherings over light refreshments. All welcome!