SHOPKEEPERS PHOTOGRAPHED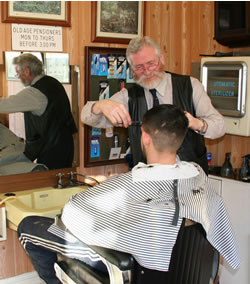 Roger Clarke and Pamela Reynolds have been busy with the dreaded digital camera recently, hurriedly collecting photographs of shopkeepers at work.
This strange activity is, it seems, in aid of Roger's forthcoming book, A Penny for Going, a detailed history of local businesses as remembered by owners and patrons. Roger is not restricting his investigations strictly to the World Heritage boundaries or to the half-forgotten past: As well as Peter Randall, who reportedly [i.e. what he told me – Ed] was too busy to stand still long enough to be photographed, butcher Richard Binns, on the far side of Gordon Terrace, found himself in the 'firing line'.
"He makes an interesting contrast with Eric Hodgson [also a butcher] on Katherine Street," Roger explained.
[Image: Peter Randall, Gents Hairdresser]
Watch this space for the progress of A Penny for Going – or better still, get yourself in it.
CAN YOU HELP TO FILL THE GAPS ?
If you recall more about any of the shops in Victoria Road, or elsewhere in the Village, you can help to record recent history for future generations.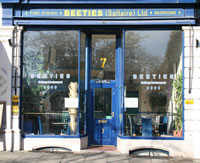 Roger, who can be contacted via the Sentinel or the website, looks forward to hearing from you. Meanwhile, he would like to thank Maureen, Mervyn and Jayne Dixon for their help in talking about Victoria Road shops from the 1980s onwards.
"Their memory for detail was remarkable; almost photographic in Mervyn's case. Their contributions to the Village through running Beeties and the tearooms and participating in the Tradesman's Association should not be underestimated," says Roger. [Image: Beeties, 7 Victoria Road]
Roger Clarke is a tour guide and local historian.
Email: Roger Clarke