Number 55, July 2007

In this issue
In this issue
BRADFORD NIGHTSTOP
Helping to help the homeless in the Village
Plus
NICK TANKARD
and his astounding artwork
Plus
THE QUANBURYS
A family with a history
Plus
PARK CONSULTATION
Plenty to talk about
Plus
FERRET RACING
Plus
ALL OUR USUAL
even more UNUSUALS
TELEVISION IN TOWN

An independent television production company is coming to Saltaire to record one of a ten episode series charting a coast-to-coast journey by water from Hull to Liverpool.
The company, Centini is owned by Christopher Bisson, star of Shameless... More >
VICARS ON VICTORIA ROAD
Number 79 Victoria Road, formerly known as "Helen Kemp's Shop", re-opened last month as Vicars. Food for Thought, a café in the community. Revd. Andy Bowerman, a 'vicar without a church'... More >>
NICK TANKARD – TALENT AT T'MILL

Thirty-two year old Nick Tankard is a gallery assistant and bookseller at Salts Mill, immersed in the special ambience which makes Saltaire an inspirational place to live and work. Nick is also an accomplished artist, who has recently discovered his own unique style... More >
NIGHTSTOP IN NEED

Bradford Nightstop has been established for nearly fourteen years and has helped over eight thousand young people by providing safe... More >
CONSULTATION IN THE PARK

Hilary Taylor Landscape Associates, appointed to draw up a restoration scheme for Roberts Park, are currently undertaking further discussions with local interest groups...
More >
The Saltaire Sentinel
JOHN NICHOLSON POETRY PRIZE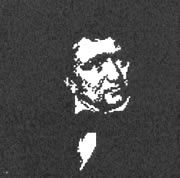 To encourage the reading and, more specifically, writing of poetry locally. ALL Sentinel readers are eligible to participate, the only stipulation being the theme of Saltaire and/or Airedale.
John Nicholson (1790-1843), "The Airedale Poet", died tragically on the bank of the river, close to what is now Victoria Road. The closing date for entries to be considered for this year's prize is August 20th.
Email the Sentinel with your entry.
Read last year's winning entry by Geoff Tynan.
FERRET RACING
The Rae Gala, held in Northcliffe woods on Sunday, June 10th this year was more popular than ever, with several hundred people enjoying the festivities opened by the Lord Mayor and Lady Mayoress... More >
Music night at YoYo
Thursday July 5th 7.30


Spring, Fazzini, Andrew N Brown - plus the Duke !
Yo Yo Bar & Restaurant, Rosse Street, off Saltaire Road in Shipley hosts a music night on the first Thursday of each month. The event is called rpm@YoYo and features a mixture of live performances and recorded music from the 50s through to the 80s.
"If there is anyone out there who used to perform but has fallen out of the habit and would like to get involved, please do get in touch."
www.myspace.com/rpmatyoyo
Roger Clarke's Saltaire people: The Quanbury family
The Quanbury family, who first appeared in Saltaire in the 1880s, have made a considerable contribution to local history – and are still very much in evidence! More >>
VILLAGE WEBSITE
Highlights online at the moment include fantastic photographs of the Salts Mill trip to Blackpool in 1953 and a week-by-week report, written by Eddie Lawler and with colour photos, of SALTAIRE BANDSTAND events. www.saltairevillage.info.
SALTAIRE BANDSTAND
Creek Alley Western Line Dancers are inviting all toe tappers to come down and get up and join them as they take their turn at providing the entertainment in the successful SALTAIRE BANDSTAND series in Roberts Park on Sunday, July 8th from 2.30pm.
BANDSTAND FIRST
Three weeks later, on 29th, there is a fascinating 'first' on the tarmac above the Half Moon, where the real bandstand once stood, when Nigel Gotteri contributes an organ recital. (Rumour has it Phil Fluke may have something to do with it.) Other top performers this month are:
Hall Royd Brass Band (1st),
Hot Aire (The Coolest Band Around) (15th)
Achord/ Voice Mail (22nd)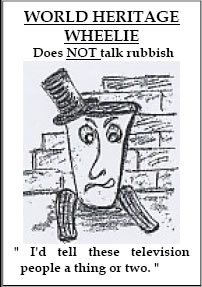 SALTS MILL- THE SILVER YEARS
Fifth installment: It is twenty years since Jonathan Silver bought Salts Mill; Roger Clarke got the true story of those years from Maggie Silver.

Last month we learned about the triptych by David Hockney, showing the strength of character and composure in Jonathan's face at a time when he had only a short time to live... More >