Number 56, August 2007
In this issue

NEW BOOKSHOP
Plus
NON-SLIP FLAGS
Plus
ROGER CLARKE'S PAGE
Plus
ALL OUR USUAL
UNUSUALS

ORGAN IN THE OPEN - A FIRST FOR SALTAIRE BANDSTAND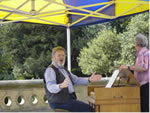 Mr Nigel Gotteri gave a unique touch to the tenth BANDSTAND concert in Roberts Park on July 29th by performing a fascinating recital – on the harmonium! The audience were treated to a programme which varied from Mozart to the modern works of Rosalie Bonighton. More >>
ARCHIVE OPEN THIS MONTH
Shipley College's archive of rare and interesting artefacts is open to the public until Friday August 17th. The exhibition, in the College's Exhibition Building, on Exhibition Road, can be viewed from Tuesday to Friday, 10am to 3pm. More >>
INTERVIEW WITH CRAIG MCHUGH
Saltaire's recently appointed World Heritage Site Officer Craig McHugh, who describes himself as an "avid Sentinel reader", has kindly agreed to be interviewed by Roger Clarke for next month's issue.
DAVID FORD'S BOOKSHOP
A bookshop is about to open in Saltaire, selling both new and secondhand books. It is situated on two floors at 217 Bingley Rd (near Saltaire roundabout, three doors down from the Deli). The ground floor will have comfortable seating and a cup of coffee available whilst you browse and downstairs will have secondhand books. More >
VILLAGE WEBSITE WATCHES LODGE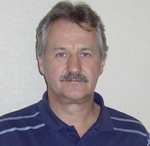 Peter J. Bottomley is keeping a watchful eye on renovations at North Lodge and making sure that visitors to the Village website are well informed. More >
Saltaire people: This month ALBERT BROWN By Roger Clarke
Recent contact with David and Jean Brown of Burton-in-Lonsdale brought me a profile of David's father, who many readers may remember: Albert Brown who was in charge of the Wages Dept. at the Mill for many years, having started out, aged twelve... More >
JOHN NICHOLSON POETRY PRIZE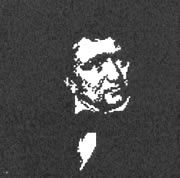 Now in its fifth year, our Prize, named after the most famous local exponent of the art, continues to encourage the reading and writing of poetry. Entries are accepted throughout the year. More >
Saltaire, Centre for the Arts
Magic Number Three started out at 3 Victoria Road, but relocated to No. 2 at Easter. It's still magic – selling arts, crafts and fine food, the majority of which is organic and locally sourced. The owners believe in minimising their carbon footprint... More >
DON'T TELL TITUS – THE PLACE IS GETTING BIGGER
Readers may have noticed that builders have been working at No.7 Victoria Road, which used to be Beetie's. This month, Bobby and Jas Bhatt, proprietors of 'Don't Tell Titus' next door, are opening a new restaurant there, linked with that successful business. The wine bar will still open during the daytime, but from 5pm traditional, home cooked dishes from around the world will be served in the new extension.
WORLD HERITAGE COMPETITION
Bradford Council's Design and Conservation team has organised an art work competition as part of the Saltaire Festival. You can submit any medium – drawings, photographs, sculptures, textiles or poetry so long as it has a World Heritage theme. Entry forms
are obtained from Hannah Meekings on 01274 432455 or email Hannah.meekings@bradford.gov.uk The closing date is 24th August. Entries will be exhibited in the Main Hall of the Exhibition Road building on 15th and 16th September.
SALTS MILL- THE SILVER YEARS
It is twenty years since Jonathan Silver bought Salts Mill; Roger Clarke got the true story of those years from Maggie Silver.
Last month we learned how Maggie embraced the task of developing the Mill after Jonathan's death, by working alongside his brother, Robin. They celebrated the 150th Anniversary... More >
COPPERS
Saltaire United Reformed Church is again appealing for coppers for the Restoration Fund. Much work is needed to maintain this magnificent building, with its prime position within the World Heritage site. Coppers can be handed in at the church on Sunday mornings or any afternoon between 2 and 4. Thank you.
WALK WAS WATERLOGGED
Shipley Support Group for Manorlands regret very much that the sponsored walk on Morecambe Bay had to be cancelled due to waterlogged and shifting sands. Any sponsorship money already collected will be very welcomely received. It has not been possible to rearrange for this year, but hopefully the sands will settle for 2008!
AMY BOOTH Shipley Support Group for Manorlands
SALSA DANCING
Qualified dance teacher Hazel Robertson is planning to start a beginners' course in
Salsa in the near future.

BRADFORD VOICES
Bradford Voices Community Choir is moving to Saltaire in September and is looking for new members. The choir will meet on Monday nights, starting on September 3rd, from 7pm till 9pm at Saltaire Methodist Church. Bradford Voices believes that everyone can sing and there are no auditions. The choir sings songs from all over the world including songs of peace, freedom and celebration. For more details please contact Pam Barnes: 01535 642259.