Number 49, January 2007
NOW IN OUR FIFTH
HAPPY NEWS YEAR
In this issue
CLIVE - Man of History
– or Mystery?
Plus
The Sentinel Salutes THE SILVERS
Plus
VICTORIA HALL
- Who really re-opened it ?
Plus
ALL OUR USUAL UNUSUALS
CALENDAR ACCOLADE

Congratulations are surely in order to David and Victoria Worsley, who organised the Living Advent Calendar, and to all those who took part in this project to be proud of . From Albert Terrace to the top of George Street, from Albert Road to Baker Street –the Village truly shone. In a real Community enterprise, amazingly artistic residents were joined by Saltaire Primary School, Shipley College and Salts Mill, where designers who had come from Hull to lend their expertise, worked with staff to the last minute to bring the whole delightful experience to a spectacular climax on Christmas Eve.
See the on-line Advent Calendar >
HELEN NOT RETIRING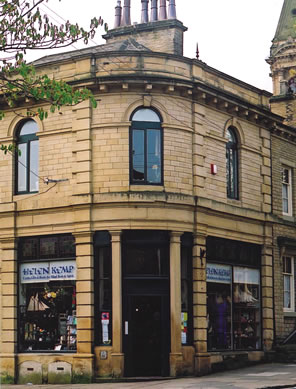 The closure of Helen Kemp's shop in the centre of the Village will inevitably have something of an emotional, as well as a huge visual impact on the area and its inhabitants. The Village website now features a special section where compliments and good wishes are already being posted; such as... Read more >
NEEDLEWORK SHOP CLOSES
It certainly is all change for shops in Victoria Road at the moment, with the closure of the Victoria Frame and Needlecraft shop at No.16, run by Alan and Joan Breban.
Joan intends to retire from business completely, after providing an excellent and much appreciated service to the local community for thirteen years.
The good news is that Alan will continue his framing service from home and can be contacted on
(01274 390247 – mobile:078116 51499).
A closing down sale begins on January 4th and will continue until all stock is sold.
SALTS MILL SINCE 1987
It is twenty years since Jonathan Silver bought Salts Mill; an event which is generally – and quite justifiably – regarded as the most important moment in the history of the Village since Sir Titus built it. Similarities between the two men, their contributions and the attitude which motivated them are many, legendary – and already well documented. Yet the wonderful thing is that... Read more >
OPENING OF HALL IS MARKED BY 'SPOOKY' DRAMA


On Thursday, December 21st 2006, Victoria Hall was officially re-opened, following recent refurbishment, by Mr Dan Salt, great, great grandson of Sir Titus.
A red carpet was laid, a red ribbon stretched and invited guests and photographers warmed with mulled wine and a luxury lunch. As Mr Salt cut the ribbon, the heavy oak doors behind him suddenly opened as if by themselves... Read more >
SHARE A PRAYER
An idea for Advent has grown into a regular observance at Saltaire United Reformed Church: Each Sunday at noon a representative of the church invites anyone to share a few minutes of quiet prayer. Exactly what happens depends entirely on who comes along.
Read more >

Roger Clarke's Saltaire people SPECIAL
THE HISTORY OF CLIVE WOODS


Most people in the Village will know Clive Woods, with his ruddy complexion, bushy beard, ready smile and friendly (rather eccentric) manner. His knowledge of the true history of Saltaire is second to none that I know and he prides himself on the researched accuracy of his information. He is best known as the Village historian... Read more >
A MESSAGE FROM ROGER CLARKE


Saltaire is a magical place which I love for its architecture, history and atmosphere. But I want YOU to tell ME why Saltaire is a special place to you. Perhaps your family lived here or worked at the mill? Share your thoughts about Saltaire with me - about your family, your history or about your expectations when visiting. Publish your thoughts in the Sentinel and/or on the Village website; you can contact Roger through either.
VILLAGE PEOPLE ON THE WEB
Amongst the latest additions to the Saltaire Village Website is a feature called Saltaire People. "Please think about putting in a snippet about yourself if you live in Saltaire or have strong connections here", says Pamela Reynolds, who designed and manages the site. "You may be an artist, a writer, a nurse or a bus driver. You may be retired or a full-time parent – living here, working here, or recalling times when Saltaire was part of your life." As well as extracts from the Sentinel's Saltaire people, the site includes a fascinating audio file in which Dave Shaw speaks to Harold Garrard, who recalls that after his first day at work in 1935, he stayed at Salts Mill for fifty years.
Link to Saltaire people >
Sentinel Readers
BEETIES: A BETTER GOODBYE
Last month, our front page carried the following item which we now reproduce in full so that readers may better appreciate the response to it, also printed in full, following, from Jayne Dixon. Read more >
THE HISTORY OF VICTORIA ROAD
Until this month, Alan and Joan Breban have run the Victoria Frame and Needlecraft shop at No.16 since 1993. At first they sold mainly prints and pictures, but over the years the needlecraft and framing aspects of the business came to predominate. Previously the owner, Paul Earland, had it as a shop selling models and kits.
From 1896 until 1923 No.16 was the Post Office, as the postbox remains to testify. The postmaster during those years was William Campbell who, from 1879, had fulfilled the same role at No.72, on the corner of Titus Street. If you look carefully at this building, there are still remains of the sign on the wall above the ground floor windows.
CAN YOU HELP TO FILL THE GAPS ?
If you recall more about any of the shops in Victoria Road, or elsewhere in the Village, you can help to record recent history for future generations.
Roger, who can be contacted via the Sentinel or the website, looks forward to hearing from you.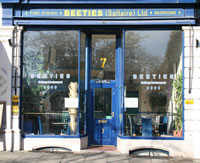 Jayne Dixon (see also Sentinel Readers) tells us that her parents, Maureen and Mervyn, bought the bakery at No.8 in 1984. Then, in 1990, they purchased No.7 from Jonathan Silver. This, she says, had been Bullets, the cycle shop about which Roger had enquired in this column, and prior to that a greengrocery.
Many thanks also to John Armstrong, who sent us an extensive catalogue of Victoria Road shops and their owners as they were in 1935.
Roger Clarke, the Sentinel's Ace reporter, is also a tour guide and local historian who has helped many visitors with their enquiries about the area while gathering information for the Saltaire Archive.