Building Plan

These notes are extracted from the Word Heritage Committee Nomination Document, 2001. You can download this comprehensive document from this website.
[You will need Acrobat Reader. If you don't have Acrobat Reader, you can download the software FREE. GET ACROBAT READER - FREE!]
Photographs and images are additional and are credited.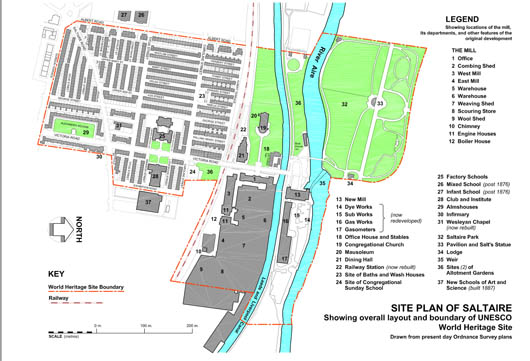 Click here, on on image, to enlarge.
Map, courtesy of Philip Barlow, Nemine Juvante Publications.
Time-line of Saltaire's construction
1851 - 1853

Salts Mill
Building started in 1851. Mill opened on 20 September 1853, Titus Salt's 50th birthday.
1854
1854
1854
1854
1854
1854-61
1854-68
1854-68
1854-68
William Henry Street
Edward Street
Fanny Street
Herbert Street
Amelia Street
Albert Terrace
Victoria Road
Titus Street
George Street

All 1857

Helen Street
Whitlam Street
Mary Street
Ada Street
1859

Congregational Church

1861

Constance Street

1862

Shirley Street

1863

Bath and wash house

All 1868

Lower School Street
Upper School Street
Lockwood Street
Mawson Street
Katherine Street
Dove Stree
Jane Street
Albert Road
Jane Street
Harold Place
Gordon Place
Myrtle Place
Fern Place
Daisy Place
New Mill (north side of canal)
Methodist Chapel (Saltaire Road)
School (Victoria Road)
The Hospital (Victoria Road)
Almshouses, Victoria Road

Both 1871

The Institute
The Park

1876

Congregational Sunday School

29 December 1976

Titus Salt dies.


Virtual Exploration of Saltaire
If you can't get here in person, you can be a virtual explorer of Saltaire with Google's new World Wonders Project. Explore!