DRAMATIC YARN UNRAVELS OF THE BLACK THREAD
Margaret Muir's third novel, The Black Thread, tells the story of a desperate journey along the Leeds and Liverpool canal in the 1890's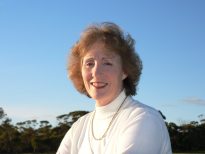 Margaret, who grew up in Leeds but now lives in Tasmania, told the Sentinel: "It may be of interest to some of your readers as it is set mainly in Saltaire and features Salts Mill and the town. The unique funicular tramway at Shipley Glen, which attracted thousands of visitors to the town over a hundred years ago, and still operates today, also features significantly, as do the famous fairground rides which were operating around 1900."
The author visited Saltaire last June and was assisted in her research by Clive Woods.
In the novel, Amy Dodd is confronted with a shocking revelation and hurries to Leeds by boat to unravel a twenty year mystery.
The Black Thread
Pub: Robert Hale Ltd.
ISBN: 978-0-7090-8343-6
[Note from the webmaster: The Black Thread is available from Saltaire Bookshop, Bingley Road (past The Tramshed and next to The Deli).