VICARS ON VICTORIA ROAD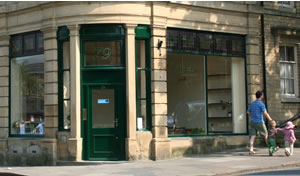 Number 79 Victoria Road, formerly known as "Helen Kemp's Shop", re-opened last month as Vicars. Food for Thought, a café in the community. Revd. Andy Bowerman, a 'vicar without a church' and currently chaplain to Bradford City FC, and his wife Alison hope to provide a good space to meet and eat, where all parts of the community will be welcomed. They provide good quality food including a Ploughman's', called a 'parson's', lunch.
Upstairs they have space for groups to meet and have already had interest and bookings from a range of community groups. As well as a café, a weekend bistro, Fairtrade gifts and food, and art workshops, their advertising includes Nooma Nights – a short DVD that stimulates discussion about life issues, over a simple meal.
Roger Clarke