OPENING OF HALL IS MARKED BY 'SPOOKY' DRAMA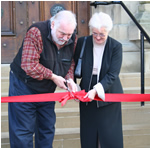 On Thursday, December 21st 2006, Victoria Hall was officially re-opened, following recent refurbishment, by Mr Dan Salt, great, great grandson of Sir Titus.
A red carpet was laid, a red ribbon stretched and invited guests and photographers warmed with mulled wine and a luxury lunch. As Mr Salt cut the ribbon, the heavy oak doors behind him suddenly opened as if by themselves – although perhaps assisted by a strong gust of wind – with a loud crash; a dramatic and quite spooky effect which could not have been better stage managed! The Hall had been well and truly re-opened by the elements. The crowd laughed nervously, but were glad to rush inside out of the bitter cold. Inevitably, there was talk of Sir Titus himself helping his relative to carry out his task. As one eye-witness reported, "Perhaps Sir Titus was there in spirit, welcoming us into his Hall, which looks so splendid."
STAR
| | | | | |
| --- | --- | --- | --- | --- |
| Nonetheless, Stacy Clarkin was to be congratulated on her excellent management and the arrangements which she, and Shipley College Resource Centre staff, had made. | | | | Mr. Phil Fluke opened his Harmonium and Reed Organ Museum and several instruments were played. But the real star of the occasion was the Hall itself; beautifully decorated and so tastefully improved by the Salt Foundation. |
FLAGS
There have been some objections to the use of concrete flags in front of the Hall. According to Ian Durham (Estates Manager of Shipley College), funding was not available for stone replacements.