This is the final blog of Dave Shaw, who was accompanied by Roger Clarke and David King. Phase One of the walk began on Saturday, 18 June 2011 and ended on Thursday 23 June, in Carlisle. Phase Two began on 19th July from Carlisle and concluded in Saltaire on Tuesday 26th July.
Last day: from Wharfe to Aire…. And home!
Dated Tuesday 26th July 2011
The last day of our walk took us from Ilkley to Saltaire – a seven mile walk out of the Wharfe valley, over Ilkley Moor (baht 'at), and then down into the Aire Vally via Dick Hudsons and Shipley Glen. A route that countless thousands of West Riding folk have travelled over the generations, and all the better for that.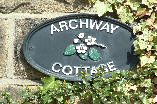 The day started well with a great breakfast, courtesy of the Archway Cottage B&B in the centre of Ilkley – highly recommended as a place to stay.
David had donned his walking boots for this last day, and we'd also planned to meet up at Ilkley railway station with anyone who wanted to join us. It was great to see John Myles, chairman of Hammonds Saltaire Band there ready for the off. Equally welcome, and a complete surprise, was Chris Grogan, co-author with husband Tony of "A Dales High Way" – the publication that describes a 90-mile-long walk between Saltaire and Appleby which had been one of the inspirations for our journey from New Lanark in the first place.
The weather was kind to us – pleasantly dry and warm, but not too hot to stop us making good time ascending the moorside out of Ilkley.

Click on image to magnify.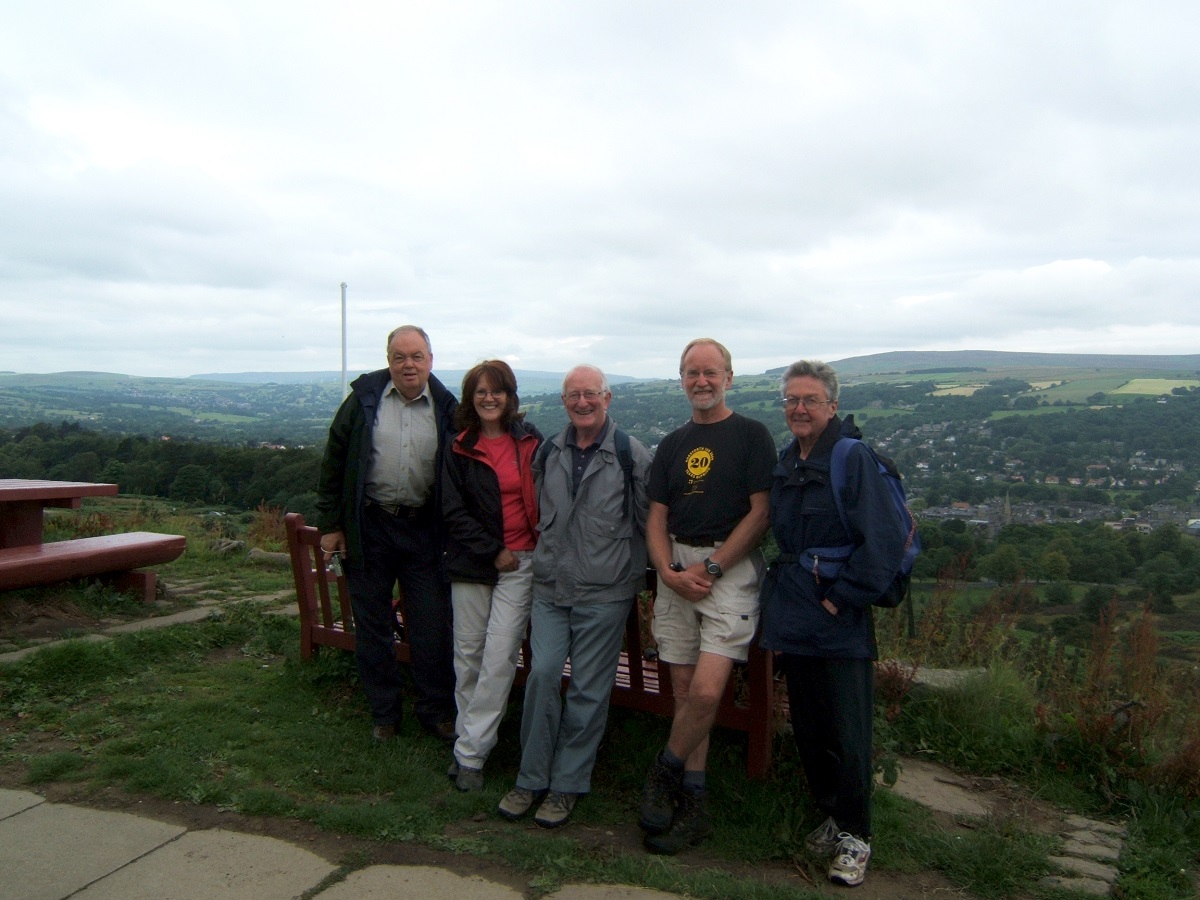 John Myles, Chris Grogan, David King, Dave Shaw & Roger Clarke
on the climb out of Ilkley to the Moors
We arrived at the Apostles Stones – the watershed between the two valleys – in good shape, with just descent ahead of us now into the Aire Valley and Saltaire. Very easy walking over the fields to Shipley Glen, a brief pause by the dodgem ride at the top of the Glen Tramway, and then descended into Saltaire where we all deliberately stepped over the boundary at Roberts Park in a line together.

Click on image to magnify.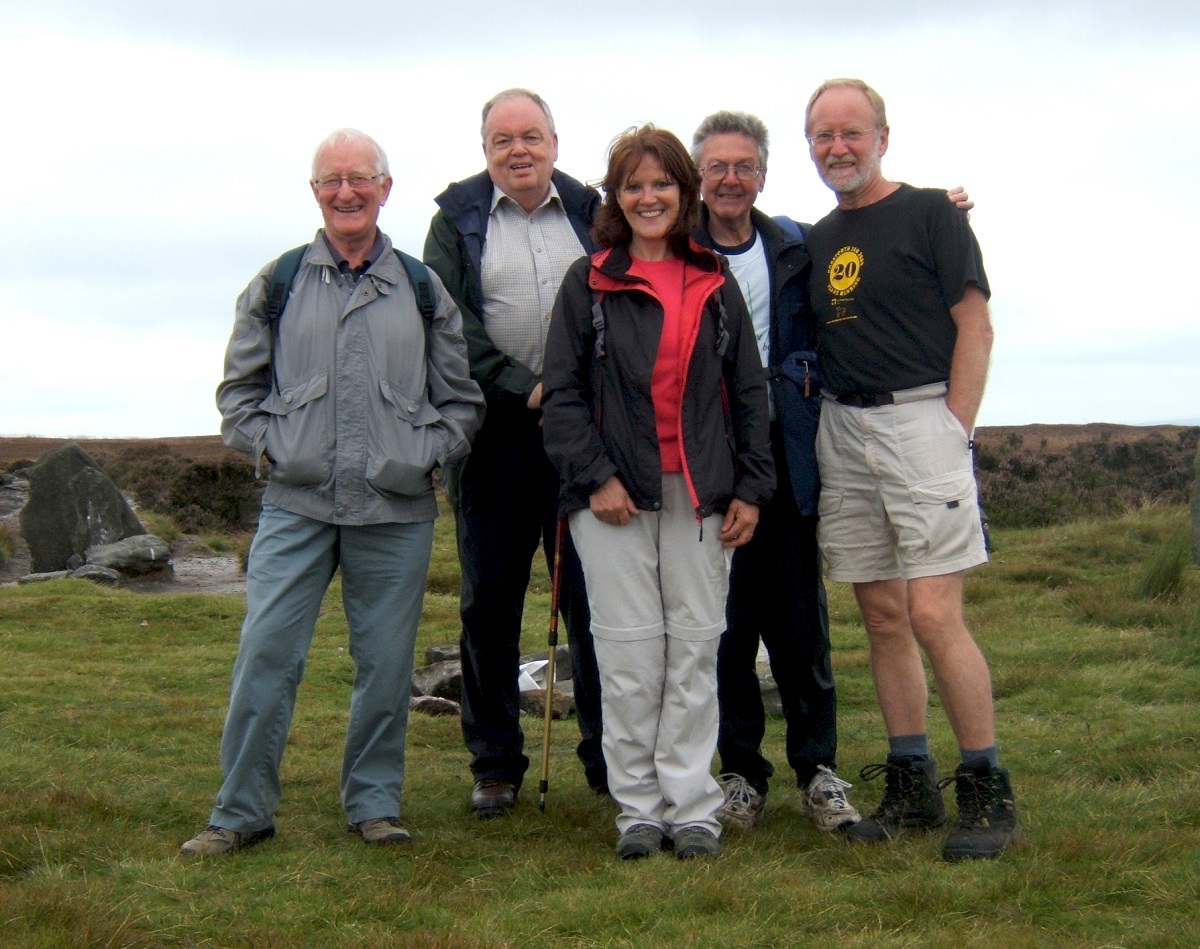 At the Apostles Stones where David, John, Chris, Roger and Dave are all smiling
at the thought of the downhill path to Saltaire
At the Boat House, where we were welcomed by several good friends - Julie, Jill, Veronica and Sandie from Shipley College Resource Centre had interrupted their lunch hour to join us, together with David's sister and brother-in-law, Margaret and David. Our good friends Ken and Margaret Erb, and Eddie Lawler were also there. Thank you all for being there – it made a difference to be greeted at the end.

Click on image to magnify.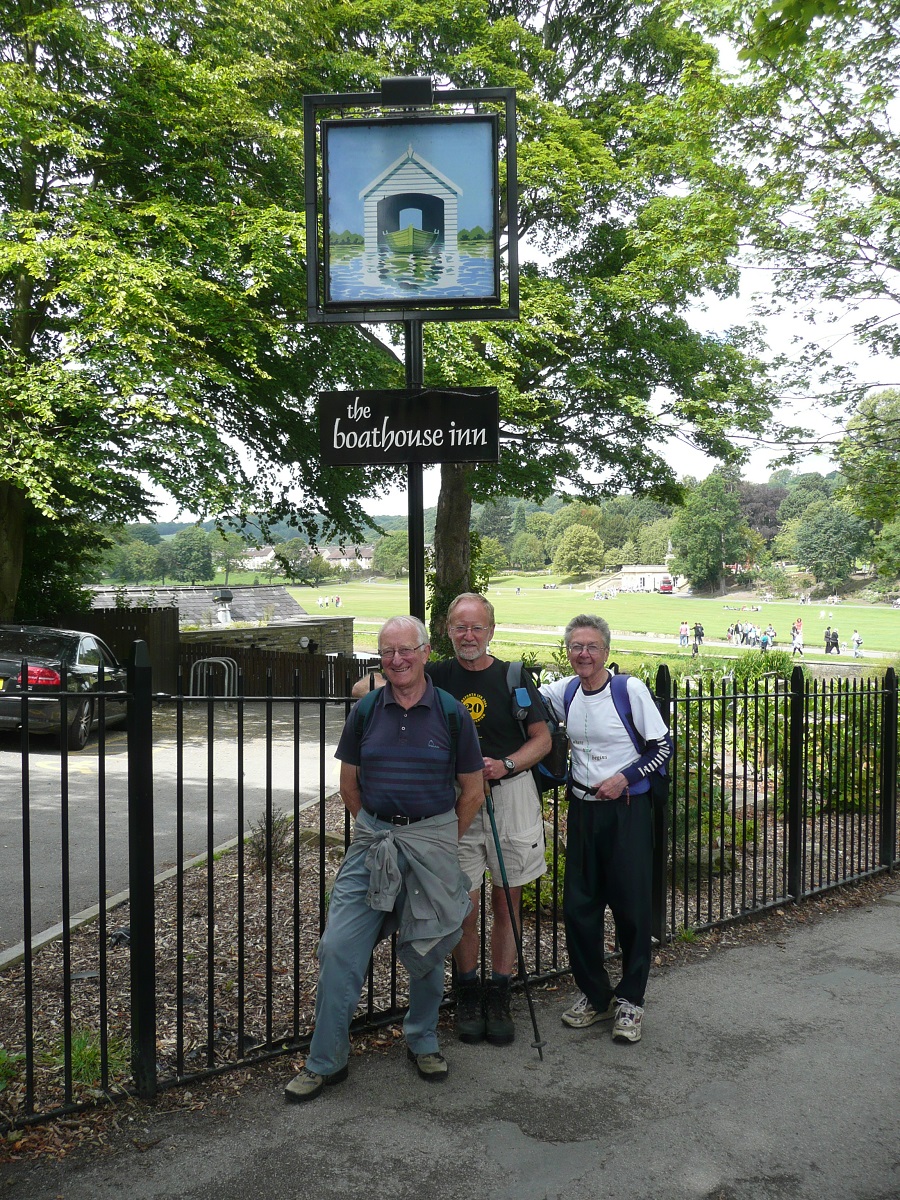 Journey's end - three triumphant historians at The Boathouse
by the side of the River Aire, Saltaire (courtesy Chris Grogan)
So the journey from New Lanark to Saltaire had been successfully completed! A 200+mile walk/ run/ stroll/ limp through beautiful countryside, reflecting on the lives and achievements of Robert Owen & Titus Salt. Was it worth it? Yes! Do it again? Yes! An increased appetite for walking? Yes! Nice meeting with other travellers along the way? Yes!
The three of us would like to thank Pamela for her excellent and indispensible support with the blog, and to those of you who read it and encouraged us along the way.
Further history inspired treks are being discussed for the future, with the possible theme of model villages, in other parts of the country. Ideas welcomed!
Signing off,
Roger, David & Dave