The Westbound Waters of the Ribble Valley
Dated 23 July 2011
We've reached Stainforth, two miles north of Settle, staying at the very comfortable Craven Heiffer Inn.
Today is a very special day – it's the 45th anniversary of Roger & Bronwyn's wedding, and England's World Cup victory. Who scored the most, you ask!!
We survived last night and the vagaries of Ribblehead's Station Inn bunk barn, where our cup did floweth over - but it wouldn't have done if the toilets had been anywhere near the rest of the accommodation.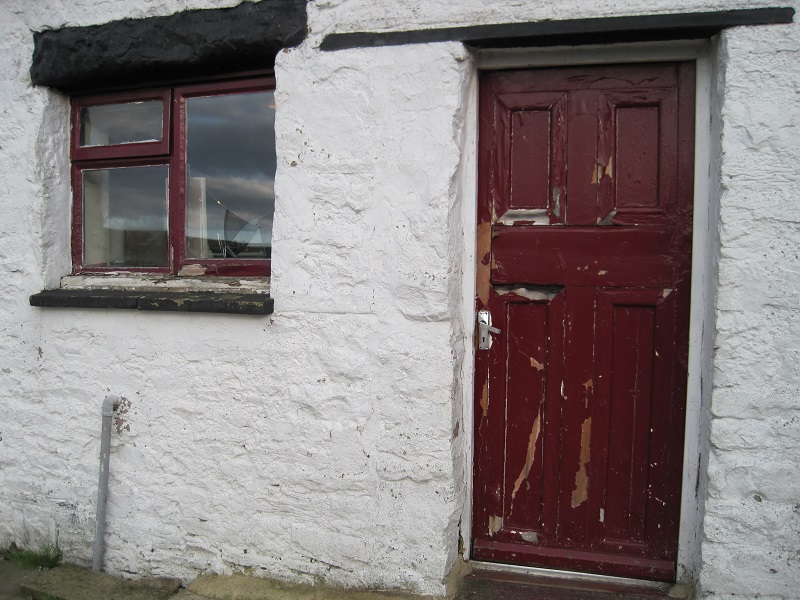 We slept here at Ribblehead!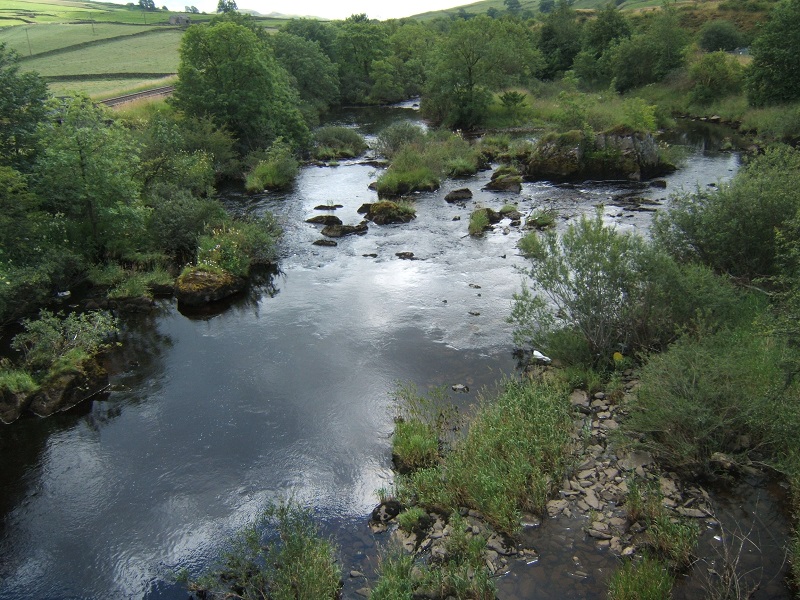 The Ribble from Helwith Bridge
The prospect of shorter walking days is inviting – most of our really long journey days are now behind us.
We knew where we going today – familiar paths through familiar villages, with good views of the Three Peaks along the way. The British Heart Foundation and other charities had organised a Three Peaks sponsored walk, and hundreds were taking part. We met many of them shortly after they had conquered Penyghent, with two peaks to go - hope everyone achieved a successful result and enjoyed the experience.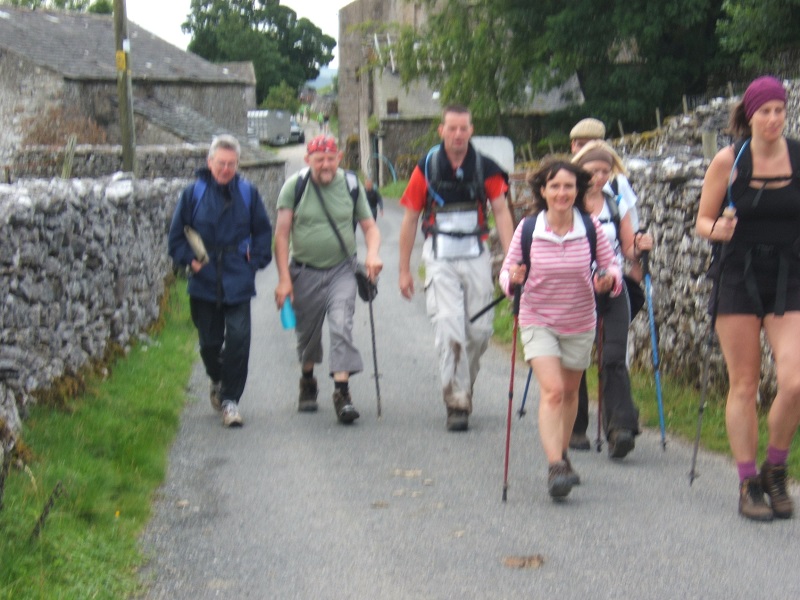 Ashbourne (Derbyshire) teachers doing a great job raising funds for their school
- & chatting to Roger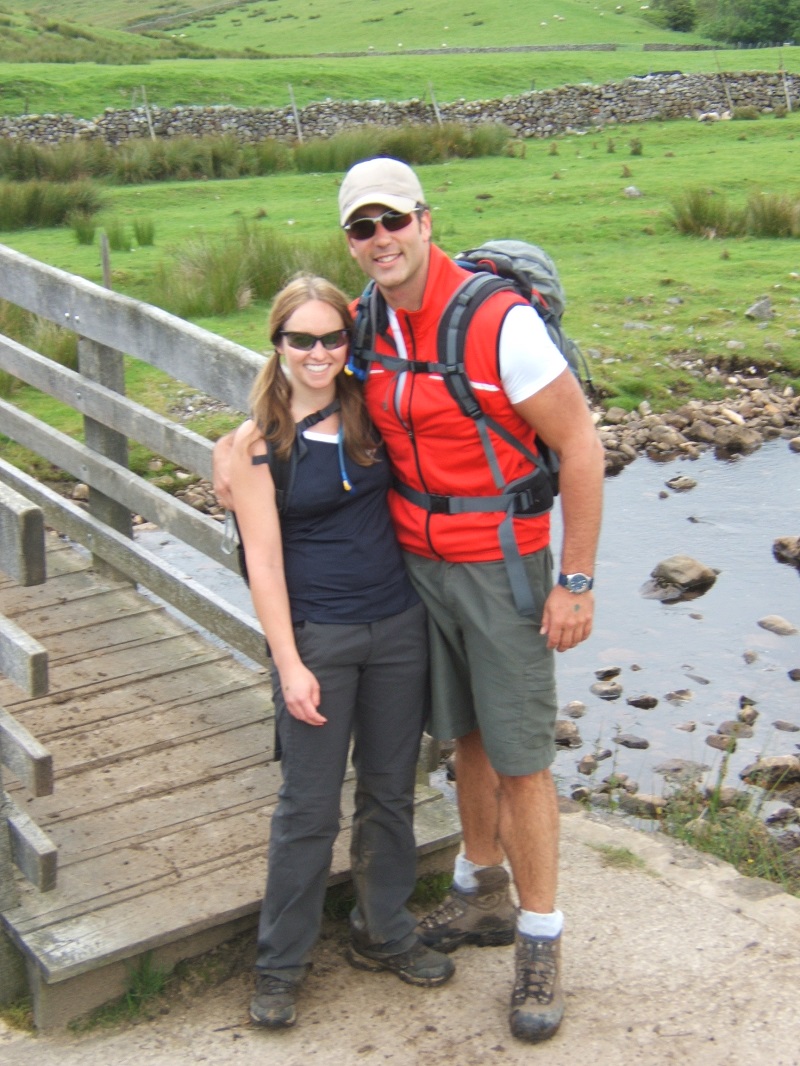 Chloe (from Nottingham) & Dan (New Foundland & Alberta) laughing their way
over the Three Peaks for British Heart Foundation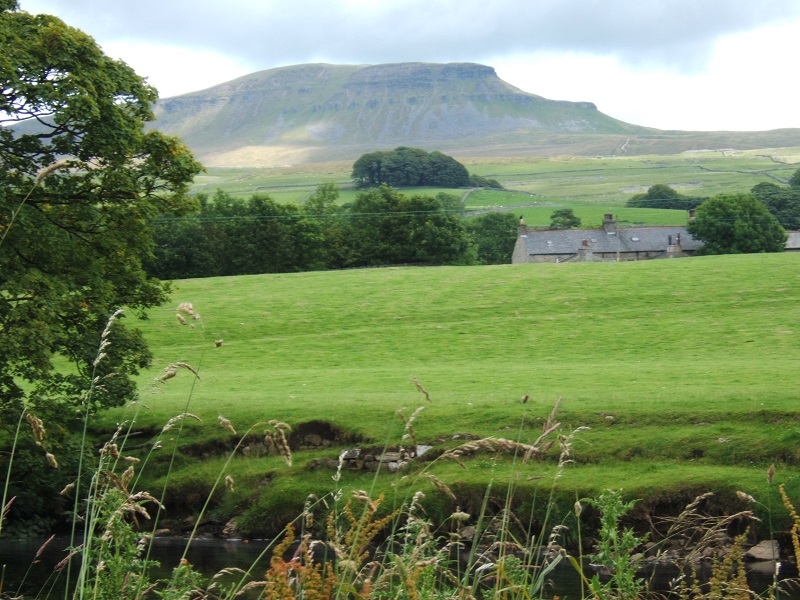 Penyghent in all its glory
The remainder of our day's walk was over beautiful limestone slopes, with an easy descent into Stainforth, in glorious sunshine.
David had a productive expedition to Sedbergh which has several antiquarian bookshops. He managed to acquire for Roger a copy of Jack Reynolds' "The Great Paternalist" – the seminal work on Titus Salt. Roger's search of several years has come to an end – and at a bargain price. "Thank you, David".
Today's shorter walk gave us time to visit the19th century lime kilns near Stainforth – highly recommended if you are ever in the vicinity. The lime was used as fertiliser, and in the manufacture of steel and…chocolate.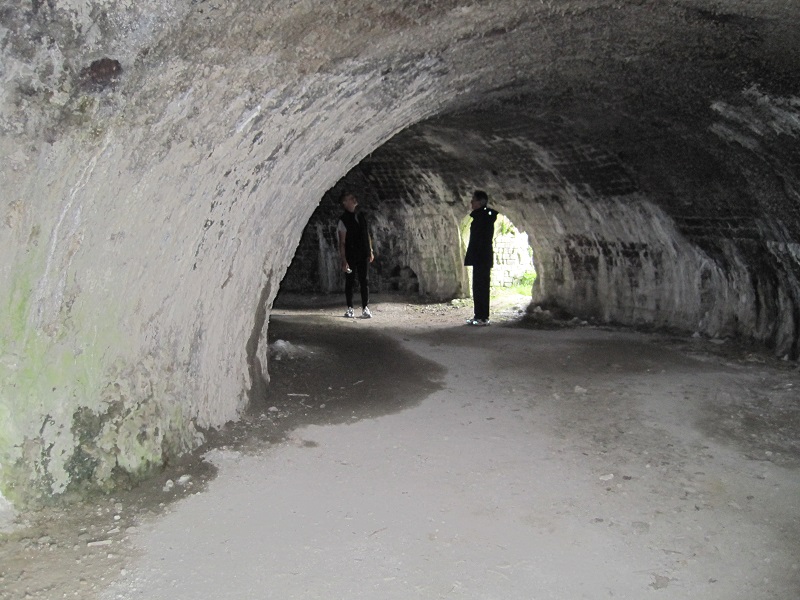 Inside the Hoffmann Lime Kiln at Stainforth
Tomorrow we are bound for Gargrave, and - finally - Saltaire's own river: the Aire!

P.S. Hope you all spotted the mistake in yesterday's blog. It wasn't Whernside that was framed by the viaduct's arches - it was, of course, Ingleborough.
Silent monitor mark for today: Perfect White!