Au Revoir to Scotland

Date: 23 June 2011
It's the afternoon of Thursday 23 June, and a short walk (10 mile) from Gretna to Carlisle has brought the first phase of our walk to an end.
Having set out from Gretna with helpful advice from our hosts at the excellent Surrone Guest House (great breakfasts!) we were expecting an uneventful walk across the border, down quiet country lanes into Carlisle (once over the River Esk's busy road bridge). So it proved, apart from one really nice encounter.
Along one of the back lanes we met another traveller - Lisa Hill …and her three ponies Artax, Dino and Dazzy…and her dog Maggie. What an entourage! Lisa has been riding round Britain, for charity, over the last couple of months. The ponies' specialist kit was interesting – from their saddle packs to their tailored hoof protectors (12 of them!). The independence of mind and strength of character that has led Lisa to undertaken such an adventure is just wonderful. Have a look at Lisa's blogspot to enjoy her travels, and to give to the charities being supported. Good luck on your travels, Lisa!
http://ridearoundbritain.blogspot.com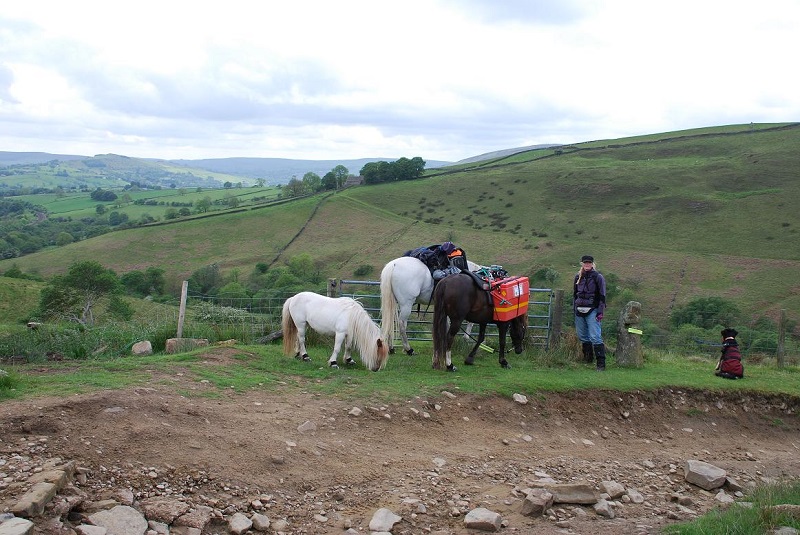 Traveller: Lisa Hill with ponies, Artax, Dino and Dazzy and dog, Maggie
In walking into Carlisle we were reminded of the town's importance as a transport hub. Someone who must have travelled down through Carlisle, en route to West Yorkshire, is Robert Milligan, first mayor of Bradford and close associate of Titus Salt. Born in Dumfries, Milligan migrated south around 1802. More than two centuries later, it was good to reflect on his great contribution to Bradford's development.
Arrival at Carlisle Castle was a bit of a relief – we made it just before the rain started, and the ever dependable David K was there to meet us, this time with some celebratory beers from Traquar Brewery.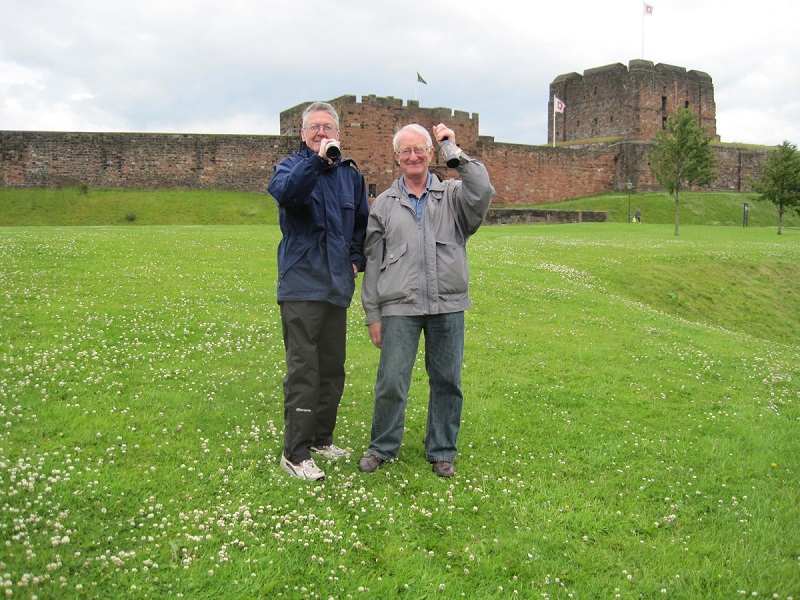 Roger and David hit the hard stuff at Carlisle Castle!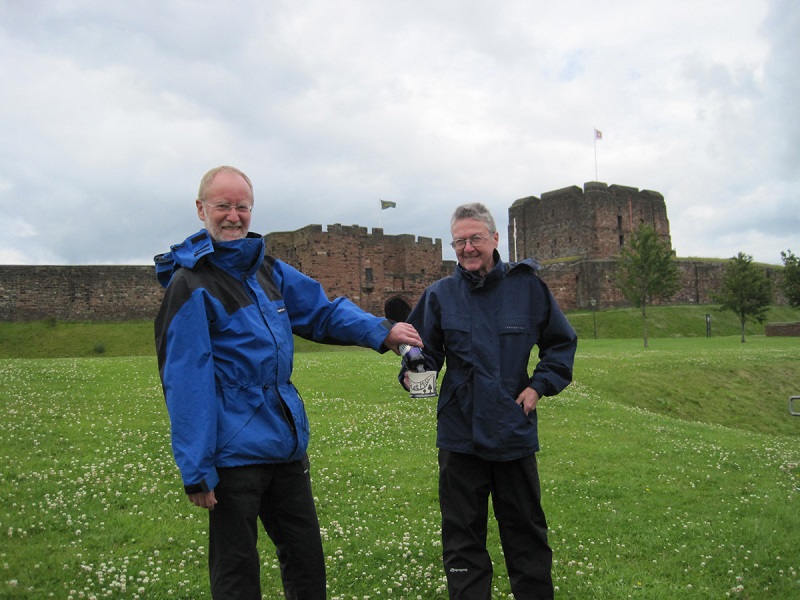 On the way to getting scuttered at Carlisle Castle?
We're now pausing in our travels, to return to Saltaire for a couple of weeks, but look forward to resuming our journey from New Lanark to Saltaire in July.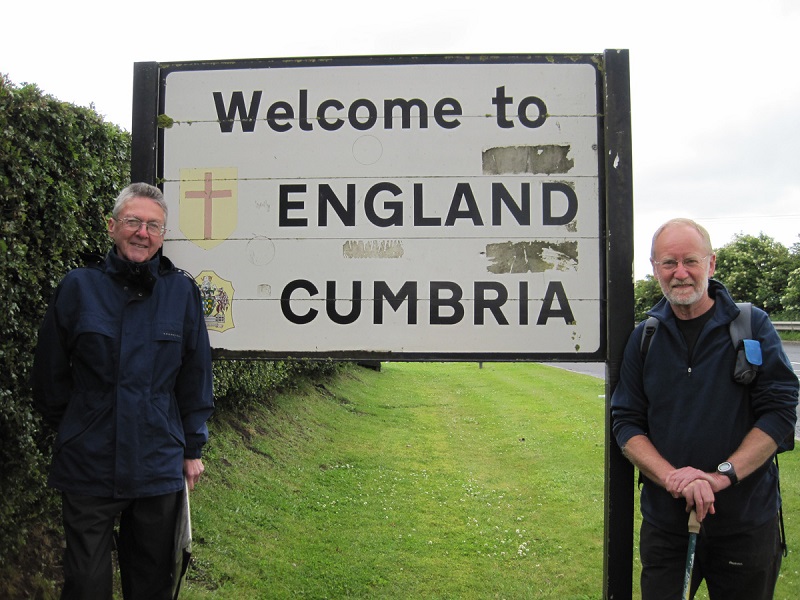 Propping up the border sign - Roger Clarke and Dave Shaw
To everyone we've met on our travels so far – thank you for your company and your hospitality!
Signing off... for now
Dave Shaw
An Epilogue by David King
I feel I cannot let the descriptions of the first leg of the Owen to Salt trip end without some comment from my own position as a mere observer of the events as they occurred. It is difficult to adequately express the great commitment and perseverance shown by Dave and Roger. Walking between seven and ten hours per day, for five days, they braved two periods where bouts of heavy rain must have been sheer misery to walk through. And boy can it rain in Scotland ! They endured steep ascents, areas of boggy ground, badly defined footpaths and, on some days, long stretches of road walking. Roger, who thinks nothing of running 100 miles at a stretch, sailed through the whole experience, which is all to his credit. Dave, who is not used to walking over such a long period of time, suffered bleeding feet, shin splints and general stiffness and fatigue, but persevered to the end, where many people would have thrown in the towel long ago. Perhaps ample supplies of cider in the evenings and the full Scottish breakfasts in the mornings helped to sustain his courage. At all times the two were able to look back on each day with their usual sense of humour.
Dave and Roger obviously worked well together as a team, encouraging each other when things were looking bad and ensuring that they never seriously missed there way. In spite of all the difficulties they encountered, a creditable average speed of two and a half miles per hour was achieved over the five days– and all this from two men who have been in receipt of their state pensions for nigh on five years each!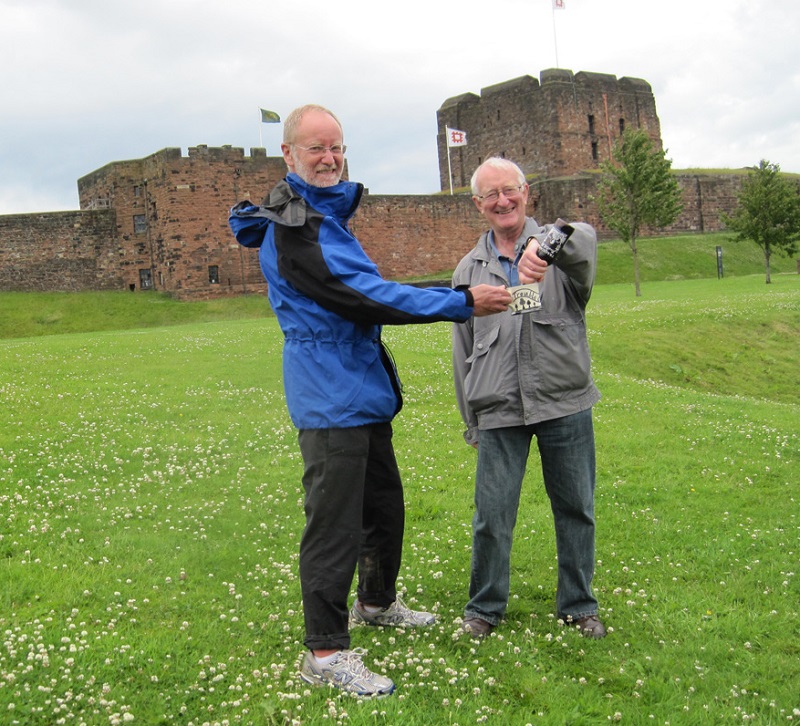 An empty bottle and two happy men at Castle Carlisle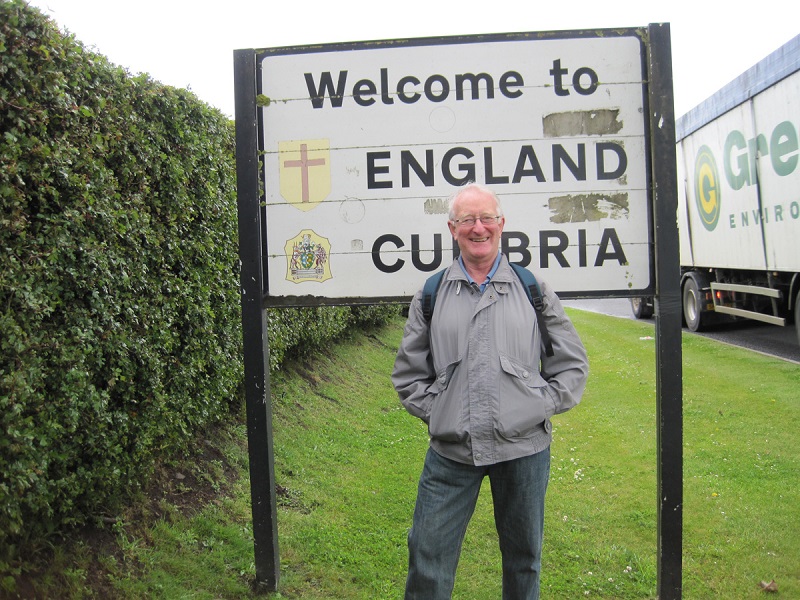 David King on the border of Scotland and England
I believe the magnitude of what they have both achieved is worthy of recognising and recording, as I know they would not wish to put praise on themselves. Well done Dave and Roger. I know I could not have done it myself.
Here's to the next two legs and the eventual completion of the journey in Saltaire!
David King