From Aire to Wharfe - Gargrave to Ilkley - with a surprise meeting!
Dated 25 July 2011
It's Monday, and the day has gone well. Our overnight stay at the River Cottage B&B was exceptionally comfortable – thanks to the wonderful hospitality of proprietors Keith & Kath!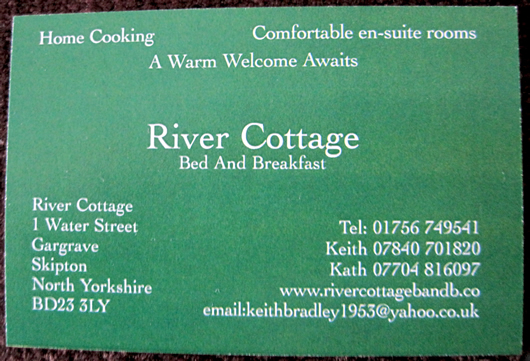 Contact details for River Cottage in Gargrave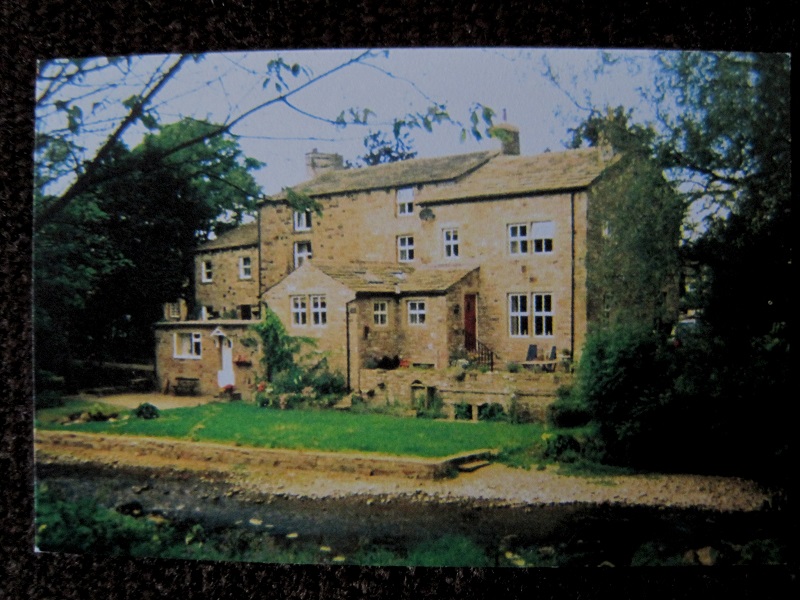 The Splendid River Cottage B&B in Gargrave
Also staying at the B&B were Nigel & Jill Jones, who had set out from Leeds to walk all the way to … Iona! They're going to use the Dales High Way Route to Appleby, and then continue north, picking up the same leg of the Southern Upland Way between Beattock & Wanlockhead that we had travelled over in the early days of our journey through Scotland. We mentioned to Nigel & Jill that we had set off from New Lanark…

Nigel & Jill Jones in Gargrave, walking to...Iona! (see blog!)
Nigel remarked "I've been to New Lanark; I once walked the Highland High Way, and a chap gave me a lift back to Leeds from Fort William on condition that we stopped at New Lanark". This was said at 8.30 in the morning, when my brain works only slowly. We all wished each other luck, and set off in our different directions – Roger & I along the canal-side to Skipton. After 30 minutes walking, the penny dropped…
Nigel: did the chap who picked you up near Fort William do so in the Summer of 2000? Was your son walking with you? Was the car you were travelling in a white Passat that overheated briefly, requiring a stop at a cottage to borrow some water? Did the driver drop you off in north Leeds, in the Roundhay Park area?? If so then the driver was….me! Small world! Sorry we didn't recognise each other in Gargrave! We'll think of you & Jill between now and early September as your journey progresses. What a great achievement if you make it to Iona.
Our 15 mile walk from Gargrave to Ilkley was uneventful, but it was good to be doing it in fine weather. A quick walk into Skipton along the canal towpath, then up onto the Roman Road to Addingham. Fine views over first the Aire, and then the Wharfe, valleys.
Roger & I arrived at the B&B in Ilkley at exactly the same time as did David, who had driven back to Bradford during the day to sort out his washing/ post/ tomatoes etc etc!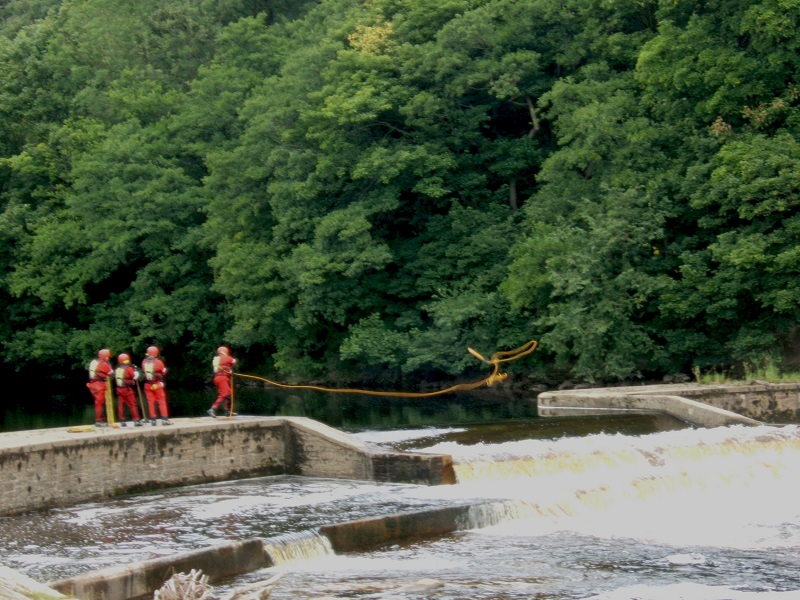 West Yorkshire Firemen practicing rescue procedures on the River Wharfe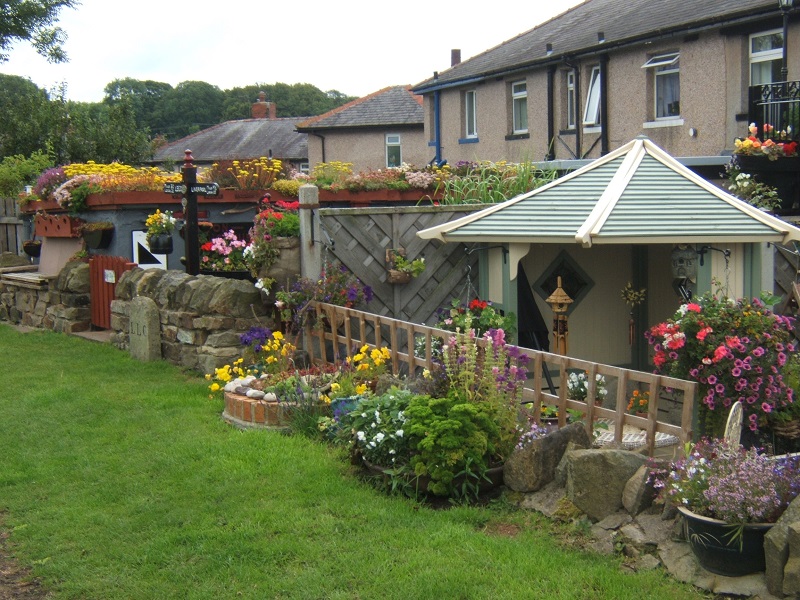 Beautiful Canalside Gardens between Gargrave & Skipton
The three of us are settled in the comfortable Archway Cottage B&B, shortly to spend our last evening in the well-known Ilkley watering hole, the Baht' At.
Tomorrow – Saltaire!!