Dayton or Bust! The blog of 2 Saltaire historians on an American Adventure
Day 5: Did Titus Salt Jr ever catch the Chattanooga Choo Choo?
Sunday 29th April
It's become a significant issue. It was on 5 March 1880 that the first passenger train leaving Cincinnati for Chattanooga was nicknamed "The Chattanooga Choo Choo". This date is in a critical period for Salts' development of Dayton, & we are anxious to understand how Titus Jr managed to get to Dayton in the early years of its development. It's possible that he caught the train down from Cincinnati (to the north of Chattanooga & Dayton) or perhaps he travelled on a more southerly route, from Atlanta (to the south-east). Maybe in the early years he might have had to rely on river transport to get to Dayton (or Smith's Cross Roads, as it was called until May, 1878). The issue of transportation appears to have been critical in terms of Dayton's development, so we're anxious to get to the bottom of it eventually.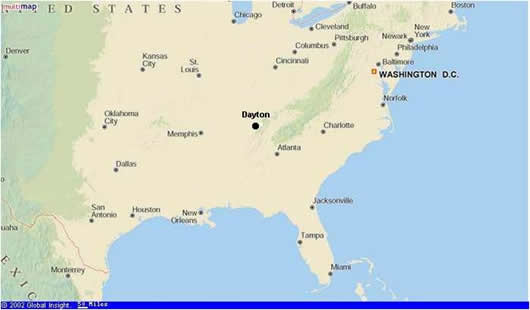 Google map showing Dayton
We are in fact now down in Chattanooga, staying a couple of nights at the Choo Choo Hotel (formerly the station made world famous by Glen Miller). We're actually staying in a railway carriage called the "Harlan A Mills".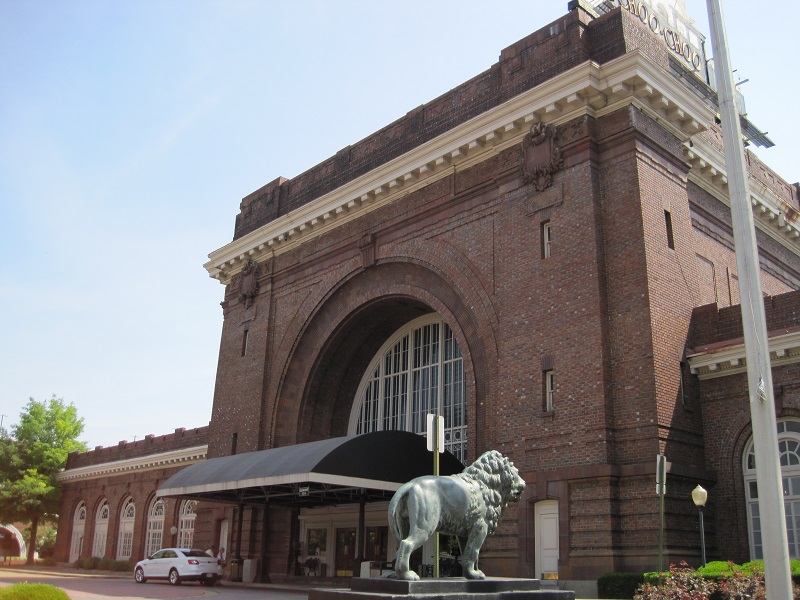 Chattanooga Hotel formerly the Central Station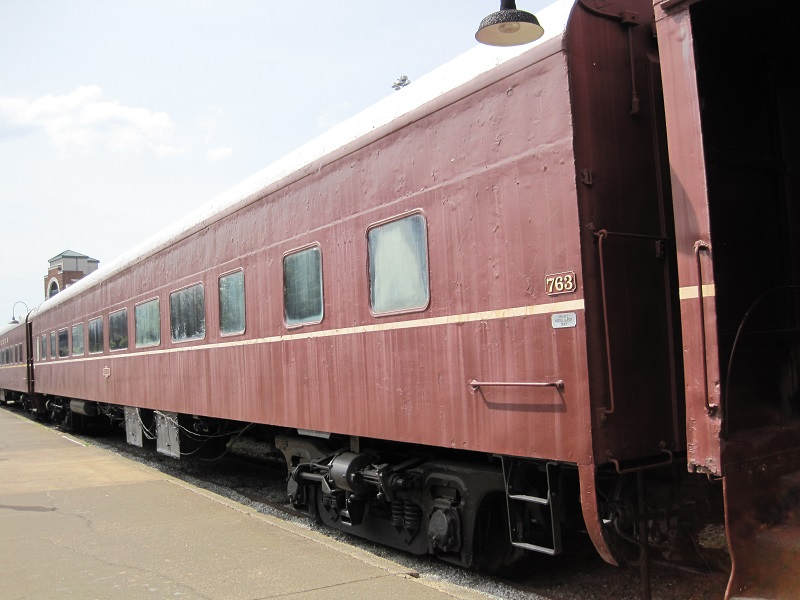 Our private railcar for our stay in Chattanooga
While other tourists were wandering about enjoying the scene, we were swotting up its history. David's eyes lit up when he spotted a brewhouse making its own beers just across the road. We just had to sample the wares.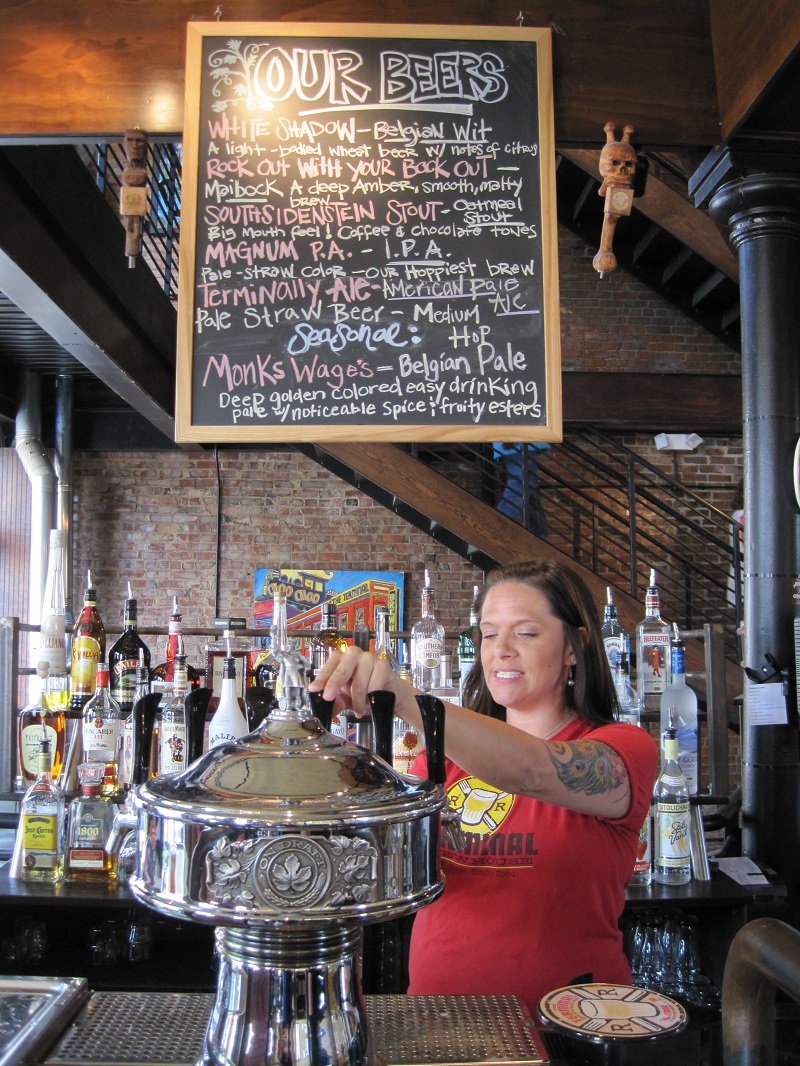 Emily, our barmaid in the Terminal Brewhouse

Downtown Chattanooga allows a good view of the mighty Tennessee River – impressive!
But the highlight of the day came at 8.30pm – when Cumberland Trail Superintendent Bob Fulcher devoted the 30 minutes of his weekly radio broadcast "Cumberland Trail" (see http://www.wdvx.com/webcast.html) to music themed around Dayton's coal & iron heritage. Bob's extensive knowledge of the country music scene resulted in an extremely entertaining programme, & it was simply great to learn that so much early music had been preserved on record. Sir Titus, Titus Jr, Saltaire - & even the two of us – got very welcome mentions. Thanks very much Bob!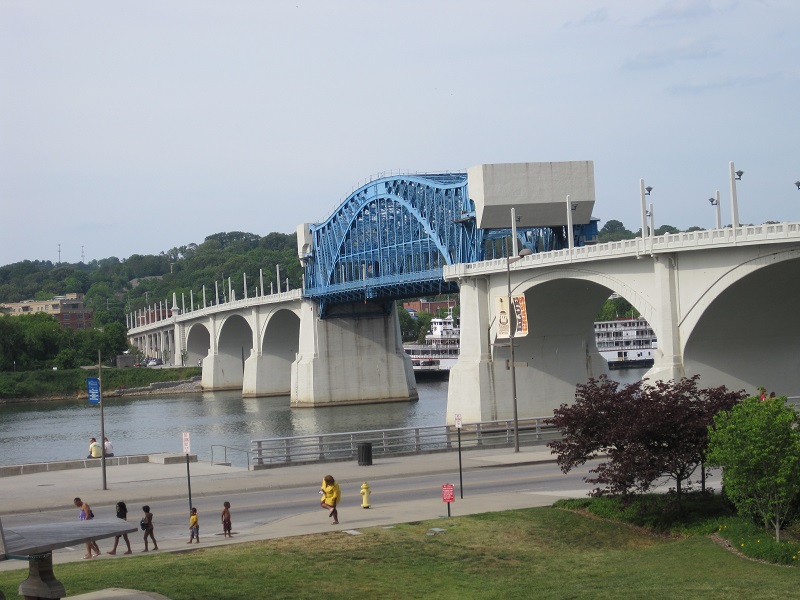 Tennessee River at Chattanooga
Tomorrow –we're going to explore Chattanooga a bit more – provided this rail carriage doesn't start moving, in which case we'll be having "ham & eggs in Carolina".
David & Dave