Number 46, October 2006
IT'S NOT THE PAPER PEOPLE BUY,
IT'S THE PAPER BY THE PEOPLE
In this issue
RAVE REVIEWS
of Festival successes
Plus
BICYCLES
Good news and bad
Plus
CHRISTIAN COURSE
Plus
OPERATIC ANTICS
Plus
ALL OUR USUAL
UNUSUALS
MILL HANDS WANTED
MEMORIES MAY MAKE A DIFFERENCE
Andy Abbott and Yvonne Carmichael, two artists who moved into the Village in the summer, are looking for help with an exciting new project – and turning first to Sentinel readers; many of whom have memories of mills - and the day they closed. Read more>
MAYOR SEES AND HEARS THE STORY
Saturday, September 30th 2006: The Lord Mayor of Bradford, Councillor Choudhary Rangzeb, gave a short speech expressing compliments and encouragement to the organisers of the Methodist Art Exhibition Seeing the Story when he and Lady Mayoress... Read more >
PRESENTATION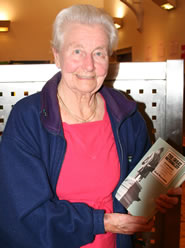 An historic commemoration took place in the Exhibition Building on September 20th when the presentation of a bust to Sir Titus Salt was re-enacted exactly 150 years (to the minute!) after the event. The original speeches were repeated verbatim by Mr Denys Salt, Mr Roger Clarke and Messrs Barlo & Shaw who had organised the proceedings. Further to this, a copy of The Great Paternalist by Jack Reynolds was presented to his widow. A most excellent buffet was provided by Shipley College for the several distinguished guests.
'SCHOOLROOM' DRAMATICALLY FULL
The downstairs rooms of Saltaire United Reformed Church may not be very spacious, but "packed houses" would not be an exaggeration of the attendance for the two performances of Hattie Townsend's drama Schooling Miss Martha on the Saturday and Sunday afternoons of September 9th & 10th.
As reported on this page last month, the script had a sound basis in history... Read more>
GOSPEL SHOW TOO MANY MISSED
The only disappointing thing about Eric Petrossian's one man Gospel show, Kingdom Come, in the United Reformed Church on September 13th was the size of the audience. The performance lived up to its billing as "accessible and entertaining to Christians and non-Christians alike", as Eric brought his experience of acting and stand up comedy... Read more>
BANDSTAND WILL BE BACK
Five of the six concerts organised by the Half-Moon Steering Group in Roberts Park this summer attracted audiences of forty to well over a hundred. Only one, a performance by 'Gypsy', had to be cancelled as wet weather did not allow the rock band to set up. Read more>
TALES TRIUMPH REPEATED
Saltairy Tales 2006, Eddie Lawler's thoughtfully revamped edition of last year's hit community musical, proved as popular as its predecessor and was a highlight of the annual local Festival. Accolades overheard included: "I really enjoyed the show; it was fun and I loved the variety of music and wit of the lyrics"...
"Thanks again for the super entertainment"...
"My friends were so appreciative and impressed".
[If you have any more, Eddie is still collecting – Ed]
SALTAIRY TALES AUTHOR 'FOR HIRE' AT MODEST FEE
Following the resounding (if unsurprising) success of his community musical Saltairy Tales 2006, author Eddie Lawler is offering to give talks on the work. In addition, groups visiting Saltaire (especially schools) are welcome to have a copy of the script and to borrow, free of charge, a DVD recording of the 2005 version. This would form excellent preparation, being informative as well as fun. Eddie can be contacted on (01274) 772721 or by e-mail at
eddie@eddielawler.co.uk
[Note from webmaster: Eddie Lawler's music CDs and poetry books will soon be on sale on this website.]
Roger Clarke's Saltaire people
This month: Eric Smith
Eric Smith is now eighty-three years old and his health is not too good, but his fascination for Saltaire and his detailed memory for people and events in the Mill and the Village are unimpaired. Born in Thomas Street, Shipley, he attended Charlestown Infants'... Read more>
La Sentinella
The Saltaire Village Website boasts thousands of 'hits' a week from all over the world. Features include Saltaire Shopping, Tourist Tips, Classified Ads, and Links to other local sites. Big news this month is that, thanks to modern technology, the contents of the Sentinel can now be read in a variety of languages. No longer do you need to be in Rome to do as Romans do and read La Sentinella di Saltaire! www.saltairevillage.info
Sentinel Readers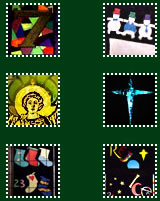 Saltaire residents David & Victoria Worsley have a bright idea for Christmas:
We would like to start a Living Advent Calendar using the windows of Saltaire's houses as the windows of the calendar. We are looking for 23 other houses to create a seasonal scene in their windows. Read more>
DAVID PICKLES and SAMANTHA McANENA wish to say "Thank You" to the participants and sponsors (All Terrain Cycles, Victoria Tearooms and Salts Mill) of the Slow Bicycle Race held in the grounds of the United Reformed Church as part of the Saltaire Festival Finale Weekend. Well done to the winners! The slowest times were: 6 mins 35 seconds, 6 mins 16 seconds and 4 mins 49 seconds. Over £200 was raised for Yorkshire Cancer Research. We only moved to the area in July and already feel very much part of the community. It was great to be part of such a wonderful event.
TESSA HANKINSON has been having trouble parking her bicycle:
OK, so some years ago I cycle to Saltaire and lock my bike up to some railings by the station and catch my train to Leeds. On my return the bike brakes have been vandalised and the seat lock stolen, rendering the bike unstable. So I push it one and a half miles home. The next time I leave my bike at Saltaire.... Read more>
We leave the last word to CAROLINE MOORE
- because it's such a nice one!
I visited Saltaire recently with my family as a 60th birthday treat! – and I picked up a copy of the Sentinel in Salts Mill. We have been reading it with great interest this morning, and see your request to tell you what a colporteur was. I expect you have had many replies by now .. but thank you for making us reach for the dictionary and educate ourselves! The Sentinel is great – I am sure it is a wonderful way of informing the Saltaire community of what is going on now, what will go on in the future and also what went on in the past. Well done! It encourages us to visit again and spend fftime exploring the town.
THE HISTORY OF VICTORIA ROAD
Continuing our series
Thanks – and an apology – to TONY MAHONY, who pointed out an error in last month's column: We made reference, in connection with a forthcoming feature, to the 'Quarmby' family, when we should, says Mr. Mahony, have printed Quarnbury.
Roger Clarke explains:
The problem of Quarnbury /Quanby/Quarmby/Quarnby/ Quanbury was kind of understandable. The family name has always been spelt in lots of different ways – even on their family tree; which makes tracing family members very difficult. However, Bert Thornton and David Nutton, who have done the most intensive work on the family, agree that Quanbury is the most common and acceptable.
Meanwhile, 'Mrs Lawson', whose family backrgound provided our 'History of Victoria Road' last month, has been in touch to say that she's Mrs Leach!
All the other details about her and her family are accurate – it's just the most important one that I got wrong!
Profuse apologies, Mrs Leach.
[Note from webmaster: this error has been corrected in the previous story, which now reads "Mrs. Leach"].
IAN SMITH has recently moved into the property opposite the Butcher's shop in Katherine Street and wonders if Sentinel readers have any information about, or pictures of, the Grocer's shop which his new home used to be.
CAN YOU HELP TO FILL THE GAPS ?
We have been asking about a cycle shop in Victoria Road.
Thanks to Fr Michael Kelly, formerly of St. Walburga's, who tells us: "There was a cycle shop at No.8 which sold and did repairs in a back room! I bought a bike there after mine was stolen. It was a good traditional shop which did tiny odd jobs for people."