Number 41, May 2006

GRANT FOR GROUND
WELL WATERED WICKET IS REWARD
Our local cricket club is one of the first to benefit from the Government's £9.4m Community Club Development Programme – monies pledged to the England and Wales Cricket Board (ECB), targeted at upgrading cricket facilities. Saltaire CC was identified as a club deserving support because of the strength of their junior cricket development programme. The conditional grant offer amounts to over £35,000.
Read more >
SEARCH ENGINE PUTS Sentinel TOP OF ITS LIST
AT LEAST IF IT'S INVALID PUDDING YOU WANT
There was (a respectable modicum of) excitement in the editor's office during the preparation of this issue. Researching a follow-up to Roger Clarke's recent piece on Cookery Classes (see page 2), I decided to ask the internet's most (in)famous oracle Google what it could tell me about "Invalid Pudding". There, at the very top of the list of possible sources of information (regular users wil not be surprised that there were 167,000) was Saltaire Sentinel News, with a very short extract from Roger's original. Read more >
RECYCLE SITE "END OF ROAD"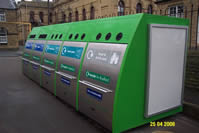 The recent opening of the long-awaited recycling site on Exhibition Road was described by Councillor Martin Love (Shipley, Green Party) as "the end of a very long road", although campaigning continues for a bin for plastics. Glass, cans and paper are all accommodated.

WE ALL NEED THE LOO
LOCKED UP LAVVY IS BAD FOR BUSINESS
Editorial
OVER THE BANK HOLIDAY WEEKEND, when a jangling till should have been rewarding their admirable efforts, staff at the Tourist Information and Gift Centre were listening instead to a barrage of complaints from visitors on a subject familiar enough to Sentinel readers: The public conveniences in Caroline Street car park - the only ones we have - whether newly renovated or not (Who can tell?) were firmly locked.
While her fury may have been misdirected, the disappointment of the lady who had driven from Birmingham with her disabled husband needs to be noted – as just one example. The reputation of this particular World Heritage Site is suffering seriously.
It is an embarassing subject !


Barlo & Shaw's A to Z of Saltaire street names
This month: WILLIAM HENRY STREET
Read more >
Through the Saltaire Keyhole with The Shipley and Saltaire Times
May 17th 1879
Read more >

TO MORECAMBE FOR MANORLANDS
The annual walk across Morecambe Bay organised by Shipley Support Group for Manorlands Hospice will take place this year on Sunday, September 3rd . The expedition will leave Arnside at 12.30pm and cross the Bay, under the expert leadership of Queen's Guide Cedric Robinson, to Kent's Bank.
To encourage Sentinel readers to take part, we asked our own experienced walker Roger Clarke to tell us about his own experience of crossing the bay the hard way.
Read more>

Dr. KITCHINER'S BROTH - OR IS IT?
In March, we carried a piece on Catherine Salt's cookery lessons and asked if readers had any information about Dr Kitchiner's Broth, which featured there. Harry Sheard of Leeds has sent us a recipe for Dr William Kitchiner's Spring Soup, which he found in a book called The Victorian Kitchen... Read more >
BIRTHDAY LIST
Clive Woods celebrated a birthday recently. This newspaper will not, of course, be making public the age of the gentleman, who has noticeably taken up an interest in public transport.
Our highly valued (ie only) regular writer to the editor, Mr Harry Sheard reaches an even greater age on the 10th of this month and has our congratulations and best wishes.
Master Jonathan Starley, who has the distinction of being the first person whose arrival in the world was announced in our pages, will be three years old on the 19th.
Roger Clarke and his wife Bronwyn became grandparents (again) on Easter Day with the birth, in Finland, of a girl called Loru.
The Editor shares the date of his birth with Her Majesty the Queen (Victoria) on May 24th

Roger Clarke's History of Victoria Road
Back to No.1: Last month we stirred up some confusion as to the dates of Vimto's Temperance Bar. Roger responds:
I assume that several consecutive owners sold the drink (perhaps under franchise) and used the advertising. Owners' names include Bowan, Holmes, Young, Wilde and Ramsden between 1928 and 1990, according to my updated research. The Vimto sign above the door was in evidence for a long time. I wonder if someone would know when it was removed.


If you recall more about any of the shops in Victoria Road, you can help the Sentinel to record recent history for future generations. We look forward to hearing from you.