'SCHOOLROOM' DRAMATICALLY FULL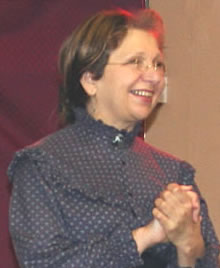 The downstairs rooms of Saltaire United Reformed Church may not be very spacious, but "packed houses" would not be an exaggeration of the attendance for the two performances of Hattie Townsend's drama Schooling Miss Martha on the Saturday and Sunday afternoons of September 9th & 10th.
As reported on this page last month, the script had a sound basis in history and having the performance in the actual room in which the play was set was a stroke of genius. The youngsters taking part were a credit to Bingley Little Theatre's 'Kaleidoscope' - although it has to be said that the adults refused to be outshone.
While it would not be appropriate to single out any of the very competent cast, there was a delightful poignancy for local historians in seeing Miss Anne Wade, whose name and obviously popular character are familiar from the pages of the Shipley and Saltaire Times, brought to life by Rosie Brooks.