Number 48, December 2006
A VERY HAPPY CHRISTMAS TO ALL OUR READERS
In this issue
LIVING ADVENT CALENDAR
ALL DATES & VENUES
Plus
CHRISTMAS CONCERTS
AND OTHER EVENTS
Plus
FANTASTIC FIND FOR WEBSITE
Plus
ALL OUR USUAL UNUSUALS

TOURIST INFO CLOSES
ROGER AND ANNE ARE RETIRING



Roger and Anne Heald, who built up the Saltaire Tourist Information and Gift Centre, which they have run for 23 years, have decided to go into retirement and put the property up for sale. It is now on an estate agent's books, with the shop, downstairs flat and upstairs accommodation being sold. Read more

---------------------------------------
NEW NEWSAGENTS
There are changes too at No.9 Victoria Road, where Ronnie and Shirley Atkinson have sold their business in order to retire and have a well deserved rest.They have served the community for five years... Read more

---------------------------------------
LIVING ADVENT CALENDAR LIGHTS UP VILLAGE WINDOWS
By Victoria Worsley


The Living Advent Calendar for Saltaire will open its first ever window on Friday December 1st at the Primary School in Albert Road with a window made by the 5-year-olds in their art class. Each night another window will open and light-up ... Read more

---------------------------------------
BEES PLEA
I keep bees and have four hives locally which I need to move from their current position. I am looking for someone who lives not far away from Saltaire who has a bit of land and who would be happy to have four beehives in the corner. Rent in honey ! If you think you would be able to help, I should be grateful if you would ring me on 07786 601670.
Emma Devlin
---------------------------------------
HISTORY CLUB
Over twenty people attended the inaugural meeting of the Saltaire History Club on November 16th .
Roger Clarke talked about his new book and Eddie Lawler offered a piece about the historic works trip to Gordale Scar, organised by Sir Titus Salt himself.
---------------------------------------
BEETIES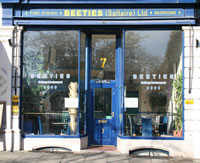 At No 7, Victoria Road, Beeties, the licensed restaurant run by Maureen and Mervyn Dixon, has closed after sixteen years. The interior fittings were stripped out on the day after closure on November 17th , leaving no clues as to the future use of the building.
---------------------------------------
OBITUARY
Many Sentinel readers will share the editor's sadness on learning of the death, on October 28th , of Mr Harry Sheard. Harry, who celebrated his ninetieth birthday earlier this year, was one of our first regular readers and always an enthusiastic contributor of information on anything from the history of Shipley Glen (where he had spent many happy, youthful hours) to Dr. Kitchiner's Broth, which somehow came up in our pages. A former liggin bobber, Harry last wrote to us to offer, typically, his assistance to a local investigation into millworkers experiences. It is no exageration to say that his correspondence will be sadly missed by this newspaper and our sincere condolences to Lucy Halloway, Harry's grand-daughter who was good enough to inform us of the sad news, and to all the family.
---------------------------------------
ROTARY SANTAS IN STORE
The Rotary Club of Shipley are gearing up for the festive season which starts with the Christmas Tree Appeal held at the local ASDA. To have a part in making this Christmas a better time for families in Shipley and Baildon, simply select a wish ticket from the tree which will be in the store from Monday 5th to Friday 9th . You are invited to buy a present for the person whose first name and gender only are on the ticket and take it to the Rotarians in the foyer, who will see it is wrapped and delivered. In previous years an average of 300 children have benefited from this scheme without knowing who their benefactor is, often having the present as their main one, or one of very few.
---------------------------------------

Roger Clarke's Saltaire people SPECIAL
In many ways, returning to Saltaire to take over No.2 Victoria Road was like coming home for Anne Heald, who was born in Baildon and attended Woodbottom First and Salt Grammar Schools. Her career in nursing began in Leeds, where she trained at St James' and Seacroft Hospitals. Read more

---------------------------------------

Mike Briggs writes from William Henry Street:
With reference to Richardson's chemist on Bingley Road, it was No.28, not No.30 as stated in Roger's article on Jack Grimshaw last month. Mr. Richardson sold the shop to Boots, who were there for approximately two years until their new shop opened in Shipley. They leased the shop to Mr. & Mrs. D.Luty, who opened it as one of the first D-I-Y shops in the Bradford area, where I worked from 1964 until 1987.
No.30 was Barclay's Bank until a few years ago.
CAN YOU HELP TO FILL THE GAPS ?
If you recall more about any of the shops in Victoria Road, or elsewhere in the Village, you can help us preserve history. Roger and the Sentinel, look forward to hearing from you.
---------------------------------------

MEDINA IS FANTASTIC FIND
By Pamela Reynolds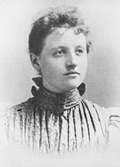 Two fantastic articles have been sent to the Village Website by Sally Rackham, who lives in Australia. The first, 'The Headmistress of a School Eighty Years Ago', was written by Sally's late grandmother Eveline Lewis, nee Griffiths in about 1954.... Read more