Number 44, August 2006
In this issue
LADY SALT IN SALTAIRE
Plus
MYSTERY OF MOVING MARKS IN TARMAC
Plus
ALL OUR USUAL UNUSUALS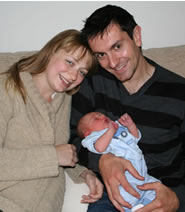 BABY JACK
STOP PRESS: AUG.1st
Weighing in at 7lbs, 12oz, Jack Oliver Lockwood is the newly born son of Elizabeth and Lee and grandson of celebrated local webdesigner Pamela Reynolds. Very best wishes to all from the Sentinel.
[Note from the webmaster: Thank you very much for this mention - I don't know about "celebrated" but I'm definitely celebrating. Baby Jack is beautiful. Thank you Lizzie and Lee.]
CENTURIES ON SHOW ARCHIVE ALIVE WITH OLD FRIENDS
Saltaire history as you've never seen it before!!
That is the Saltaire Archive, which is open to the public until August 18th, as described by Roger Clarke.
How many Sentinel readers know about the treasures which are housed in Shipley College, and which are available for YOU to see?
The Saltaire Archive is open to the public in the College's
Exhibition Road building... Read more>>
SEEING THE STORY IN ART AND EVENTS
Pictures from the extensive and impressive Methodist Church Collection of Modern Christian Art, will be on exhibition at Saltaire Methodist Church from September 8th to October 22nd. The collection, begun in the 1960s, consists of over forty original works. Read more>>
SALTAIRE BANDSTAND 2006
The successful first season of musical events (this century) in Roberts Park, comes to a close this month.
Sundays at 2.30pm
AUGUST
6th Scott MacNeal
20th Classical Cafe
Nick Watts (piano) & Scott Clifford (flute)
[Note from the webmaster: You can read reports on this event by following this link.]
The Saltaire Sentinel JOHN NICHOLSON POETRY PRIZE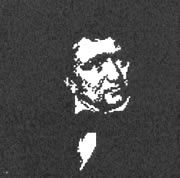 Now in its fourth year, our Prize, named after the most famous local exponent of the art, continues to encourage the reading and writing of poetry. Entries are invited and accepted throughout the year.
Poems may be of any length but must be written by a Saltaire Sentinel reader and have Saltaire and/or Airedale as a theme. John Nicholson (1790-1843) "The Airedale Poet", died tragically on the bank of the river, close to what is now Victoria Road.
The prize itself is publication in our September issue (which now involves appearance on the worldwide web) and, by arrangementwith the proprietors, display of work in the Saltaire Tourist Information and Gift Centre.
The closing date for entries for this year's prize is August 20th. The Sentinel picture of John Nicholson is an electronic adaptation of the engraving by W.O.Geller.
NO FEAR OF RELEGATION AFTER POINTS HAUL
Geoff Porter, Saltaire Cricket Club's Secretary, said the First XI would be in confident mood as they turned out against Farsley in their last league home match of the season, following a convincing victory over Pudsey St Lawrence... Read more>>

Through the Saltaire Keyhole with The Shipley and Saltaire Times
August 1879
Researched by Clive Woods
Read more >
Roger Clarke's Saltaire people
This month: HATTIE TOWNSEND
Read more>
Village on-line
The Saltaire Village Website, designed and maintained by Pamela Reynolds, boasts over ten thousand hits in one week; and the interest aroused is international. Most of the contents of the Sentinel can be found on the site, which also provides a quick and easy way to contact the newspaper. Other features include: Saltaire Shopping, Roger Clarke's tourist tips, FREE Classified Ads, Discussion forum and Links to all the other imporant sites of local interest.
www.saltairevillage.info

60 YEARS AGO
Last month we received an e-mail from Louisa Irving in Auckland, New Zealand seeking information which would help her organise a super celebration over there for the anniversary of her grandparents' wedding, which took place in Bradford – with the reception in Saltaire – in 1946. Roger Clarke was quick on the case and came up with the following to share with Sentinel readers: Read more>>

Roger Clarke's History of Victoria Road
No.8 was a grocer's until the 1890s when it became a baker's. It traded as Beanland's at the turn of the century and then Davidson's until the 1960s. Read more>>
"BLAST FROM THE PAST"
Lady Caroline Salt (right) is one of the famous people featured in photographs in the exhibition of local archive material. [You might need to ask about John Nicholson but, as regular readers know, the Sentinel makes sure he is not forgotten.]
IF you want a "blast from the past" or Reminiscence Therapy, you'll get it all from the Shipley College Resource Centre. If you are coming from a distance, phone them beforehand on 01274 327225/6 to make sure they are available to receive you. SALTAIRE ARCHIVE OPEN UNTIL AUGUST 18th. Tuesday – Friday, 10.30 am – 3 pm.
60 YEARS AGO
Read what life was like in Saltaire. >>
TARMAC MYSTERY
On the promenade in Robert's Park, near Sir Titus' statue, can be seen marks in the tarmac which, from their size and shape, clearly mark the site of the old bandstand. How strange, then, that their position does not (quite) seem to correspond with old photographs. Presumably, the bandstand was moved at some time before its final demise.