A LONG ROAD AHEAD
MP PLAYS FOR TIME IN BYPASS BATTLE
There will be no bypass around – or under – Saltaire for "many, many years," stated Phillip Davies, Conservative MP for Shipley, at a public meeting organised by Saltaire Village Society on September 24th, writes Pamela Reynolds. More >>
---------------------------------------
EXCITING FUTURE FOR HISTORY CLUB
One of the great local success stories of the year has been the establishment and rapid growth of the Saltaire History Club, brainchild of Dave Shaw. Denys Salt, who was accompanied by his wife Eva, addressed a very mixed audience of forty people on the 204th anniversary of his great grandfather's birth. More >>
---------------------------------------
PARK PLANS
Historic Landscape Consultants HTLA have unveiled the designs which will support the bid for Heritage Lottery funding of an extensive restoration of Roberts Park. More >>
---------------------------------------
NEW DRAMA, SAME SUCCESS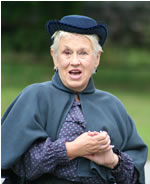 It's becoming an annual treat!
Hattie Townsend has written, directed, and frequently performed in, a series of dramatic productions for the Saltaire Festival every year for the past four years. More >>

Saltaire people: This month Frank and Ilma Senior
By Roger Clarke
In June, 2005, Frank and Ilma Senior celebrated their Diamond Wedding anniversary. Frank is now 87 years, and Ilma (whose name is Finnish), is 84 years old. They have both spent most of their lives in Shipley and Saltaire, and both worked in Salts Mill. More >>
---------------------------------------
JOHN NICHOLSON POETRY PRIZE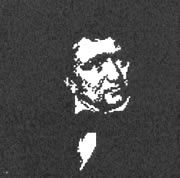 This month we are pleased to publish the fifth winner of this year's John Nicholson Poetry Prize, for which there was simply insufficient space in September's issue. Since the initiative was launched in 2003, the number of entries has steadily increased.

Of course, it's not about winning; the fact that readers see publication in these pages as a prize worth having and respond so positively to the invitation to participate is very encouraging. So Thank You as well as Congratulations to all this year's entrants.

Poems are usually published in September but may be submitted throughout the year. Details of the Who and Why John Nicholson appear regularly in these pages.

This year's winning poem: Saltaire - A unique monument to one man's vision, by Geoff Tynan >>

---------------------------------------

OVERWHELMING SUPPORT
KEEPS TEAROOMS GOING
A Message to readers from Tracey Bennett,
who runs the Victoria Tearooms at 8 Victoria Road: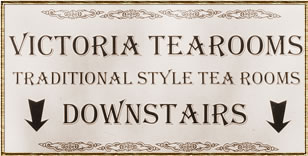 I would very much like to express my heartfelt thanks to all our customers who have supported us during the renovation works at Don't Tell Titus. At times we experienced major disruption with noise, builders, etc. Whilst it was completely unavoidable, trading in those conditions became extremely difficult and put the business under a lot of pressure.
The support from our regular customers has been overwhelming and has kept us going, and I would like to let them know that things are back to normal again and we look forward to welcoming them back.
In addition to the ever popular iced teas we have on sale, our new menu includes an extended range from Taylors of Harrogate, the name behind Betty's, featuring all the traditional classic blends such as Darjeeling and Assam, as well as a Fair-trade breakfast tea. The whole Taylors range is also on sale in boxes to take home and try later. The classic black tea infusions add a twist to the traditional teas, with natural flavourings (the mango tea in particular is proving very popular) and we would encourage customers to come and try something new today.
---------------------------------------

THE GLITTERING EVENT THAT WAS THE CONVERSAZIONE
By Roger Clarke
January, 1878, was the date of the first Conversazione. This was a 3 day, glittering social occasion, with much eating and dancing. It began on a Thursday evening with the grand opening, which all the top Society figures from the West Riding, and especially the Bradford area, attended. More >>
---------------------------------------
SALTS MILL- THE SILVER YEARS
By Roger Clarke

It is twenty years since Jonathan Silver bought Salts Mill. Anne Davies, now the Gallery Bookshop Manager, recalls the early days: Under Jonathan's leadership, Anne tells us, everyone did whatever was necessary. He was a workaholic... More >>
---------------------------------------

EDDIE IN ILKLEY


Eddie Lawler will be at the Ilkley Literature Festival next month talking about, performing from and hoping to sell his excellent new book Saltairy Tales. Ever loyal to his many supporters this side of the Moor, the Saltaire Songster officially launched the book as part of our Festival on September 10th in a packed Half Moon Café. "I've never worked so hard in my life" said James Duncan, who was selling tickets on the door, "I enjoyed taking people's money, but handing it over to Eddie was very difficult for me." Eddie can be seen (for free) at the Ilkley Playhouse (Wildman Studio) at 9pm on Oct 5th.
---------------------------------------
GOODBYE DAVID
In the August edition of the Sentinel, I reported that David Johnson had opened the Victoria Gallery at Number 3, Victoria Road. Sadly, he is now leaving Saltaire to pursue his painting career elsewhere. His painting is his passion, and the number of commissions which he has are testimony to his skill as an artist. He will be missed. Good luck for the future, David. Roger Clarke
---------------------------------------
SALTAIRE HISTORY CLUB
TRIP TO HALIFAX MODEL VILLAGES
Saturday, October 20th
Everyone is welcome to join our guided trip to visit: the model village at Copley; the Crossley Almshouses and People's Park; the village of Ackroydon and buildings not normally open to the public. The coach will leave at 9am from Exhibition Road and return at 5.30pm (or before). Bring a packed lunch.
Tickets £10 from Roger Clarke 592944 (after 5pm)
or e-mail rogerclarke@saltairevillage.info
or webmaster@saltairevillage.info
---------------------------------------
POLICE & COMMUNITY POINT
CONTACT SALTAIRE are based at the entrance to Salts Mill. People who live round and about are welcome to come and talk about any community issues, whether they are for the attention of the Police or the Council, on Wednesdays from 10am to 2pm. Email: contactsaltaire@yahoo.co.uk
---------------------------------------