NEW DRAMA, SAME SUCCESS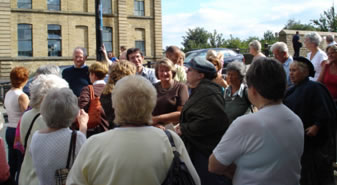 It's becoming an annual treat! Hattie Townsend has written, directed, and frequently performed in, a series of dramatic productions for the Saltaire Festival every year for the past four years. They never seem to lose their freshness and appeal.
This year's offering was a drama walk, "Challenging Utopia", featuring Kate and Dan Breeze from the village, plus Nathan and Tom Barker from Bingley Little Theatre. The brothers provided horseplay, touching ambition, and a healthy irreverence towards the more staid Village characters. Kate and Dan were tragic figures in a domestic conflict which spilled over onto Saltaire's streets.
They joined Hattie, Maria Glot and Roger Clarke, performing as housekeeper, mill worker and Minister, to link the drama with stories from different levels of Saltaire society in 1878. Repeat attendees and newcomers alike enjoyed the skilful crafting of Hattie's characters within their well researched historical setting.
For more Challenging Utopia images, follow this link.