SALTAIRE NEWS ARCHIVE
Due to time constraints of our volunteers, we're no longer adding items of news to the website. If you'd like us to promote your news or event, please tweet at @SaltaireWebsite and we'll do our best to retweet.

Try searching this website:
NEWS ARCHIVE:
2006 | 2007 | 2008 | 2009 | 2010 | 2011 | 2012 | 2013 | 2014 | 2015 | 2016 | 2017 | 2018
Saltaire Medical Practice
Patient Participation Group
Open evening at Saltaire surgery
Wednesday 10th October 2018
6.30-8pm
Improvements underway:
What services will be available following the renovations at Saltaire surgery?
All patients, friends and neighbours welcome!
For details email: ppgsaltaire@gmail.com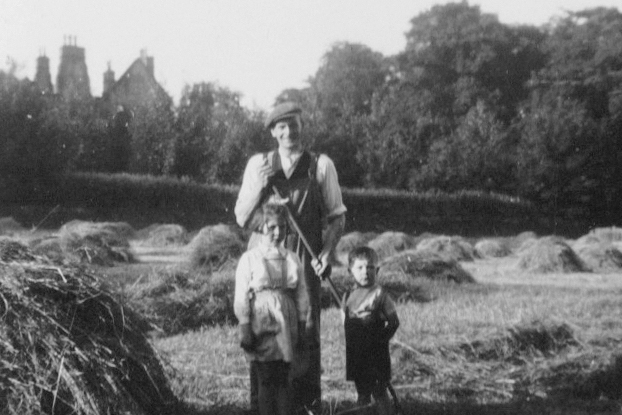 WHEN

Sat, 8 Sep 2018, 09:30
Sun, 9 Sep 2018, 16:00

WHERE

Milner Field Farm
Primrose Lane
Gilstead
BINGLEY West Yorkshire
BD16 4QU

FREE, BUT YOU NEED TICKETS

To register, follow this link. Please read additional notes re weather, food and children

DESCRIPTION OF EVENT

Nearly 150 years ago, Titus Salt Jr - son of Sir Titus, the founder of Saltaire - built a sumptuous mansion, Milner Field, just over a mile west of the World Heritage model village. On adjacent land he then created a 'model farm', an agricultural enterprise reflecting the spirit of the industrial age.

It remains a working dairy farm and the architecture which marks it as a Victorian model farm is largely intact. Working with the Saltaire History Club, farmers David and Stella Downs invite you to visit and to learn about

a mansion that hosted a future king
the mansion's designer and residents
the estate's gardens and landscaping
how c19 industrial giants modernised farming
the extensive connections between the Salts family and farming
the farm today.

You are promised a short tour with well-informed guides and you will be able to browse a wide-ranging display presented by knowledgeable local historians. And you never know - there may be Milner Field ice cream!

Register for your FREE tickets

To register, follow this link >
The Sataire Festival, 2018

NEW EXHIBITION AND DRAMA IN SALTAIRE: 4 - 5 AUGUST
Free to attend. Please reserve your tickets

Saltaire Archive recently acquired a whole new collection of letters, papers, objects and ephemera that had belonged to Isabel Salt - granddaughter of Sir Titus Salt. Isabel was a Suffragist and opposed to the methods of the Suffragettes whilst campaigning both within Saltaire and elsewhere for votes for women.

A very first exhibition about her work and the alternative Suffragette campaign will be held from 10 - 6 pm on Saturday 4 and Sunday 5 August in the Salt Building, Victoria Road, Saltaire. The exhibition is accompanied by an original drama (in collaboration with Bingley Little Theatre) that depicts the various positions held by a WW1 Soldier, Thomas (who also couldn't vote as a soldier), Isabel Salt (Suffragist), Maggie (A Suffragette and Thomas's sister), The Rev. Oates, somewhat torn in his views and Mr. Henry Beecher - a Conservative MP and a prominent member of the National League Opposed to Women's Suffrage.

The drama is being played at 2. 30 and 4 pm each day - all tickets for both are FREE and can be obtained through Eventbrite. Audience participation is welcomed and feel free to come in period dress.

Saltaire Arts Trail: Sat 5 - Mon 7 May

Open Houses Sat 5, Sun 6 & Mon 7 May 10am – 5pm
The Open Houses trail challenges the concept of art galleries. Residents and local artists across Saltaire village open up their Grade II listed homes, letting you enjoy contemporary art by both local artists and artists selected from across the UK. The Open Houses provide a unique chance to see art and meet the artists in an intimate, domestic setting, whilst getting a glimpse of life behind the doors of the UNESCO World Heritage Site. In most cases the art will be available to buy or commission.

Makers Fair
Victoria Hall Sat 5 May, 11am - 5pm Sun 6 & Mon 7 May, 10am - 5pm Our Makers Fair promotes the best independent artists, makers and designers from across the UK, displaying and selling their contemporary and original creations. Showcasing new designs in ceramics, jewellery, glass, silver, metal, books, paper, leather, wood, plastics, furniture, textiles, accessories, interior textiles, printmaking and photography. This years Makers Fair is the biggest yet, with 70 exhibitors in three rooms!
World Heritage Day, 2018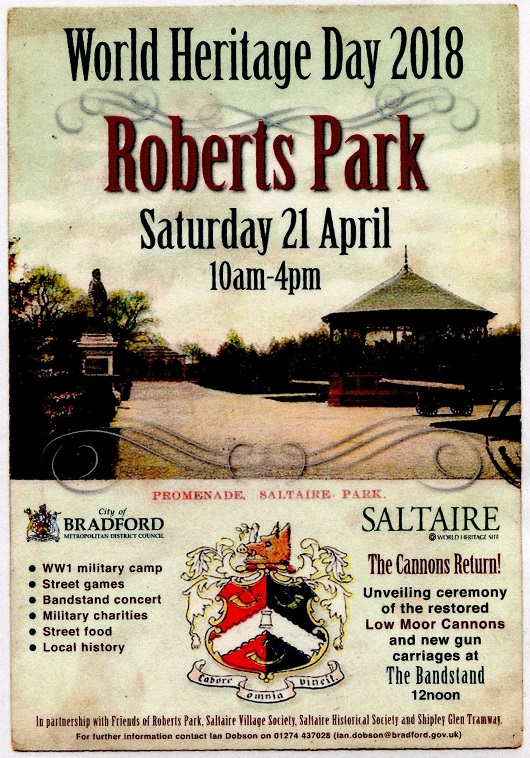 Dear History Club Members,
On Sat 21 Apr, the Club is playing its part in an event organised by Bradford Council & others, marking the return of cannons to Roberts Park. The event will be staged 10 am - 4 pm.

In 1871, Sir Titus Salt bought two cannons as original features for Saltaire Park, later renamed Roberts Park. They were scrapped during WW2.

To celebrate World Heritage Day, the cannons will return on a day with a WW1 theme. There'll be a military camp, a concert in the bandstand, and the History Club will be on hand to tell you about the impact of WW1 on Saltaire.
Further info is given on the attached poster.

Oh, and the park will be at its usual brilliant best: children's playground, skateboarding, acres of grass to play on, a lovely café…
It's FREE and you don't need to book.

Hope to see you there!
Best wishes
Dave (Shaw) on behalf of Saltaire History Club
Day of Dance – the Last Hurrah!
Saturday 28th April will see the glorious Victoria Hall in Saltaire once again pound to the sound of tapping, jiving, dancing feet as the Day of Dance returns for its 46th event.
A full programme is available online and tickets can also be bought online (with no booking fees) at www.yorkshirecnd.org.uk/dayofdance, or alternatively, pick up a leaflet from various venues including tourist offices and Victoria Hall, or contact Yorkshire CND 01274 730395.
THE SALTAIRE SENTINEL
It is with great sadness that I must write that James Duncan, Founder and Editor of The Saltaire Sentinel, has passed away. There will be a final edition of the Saltaire Sentinel when we join together to celebrate and pay tribute to James, a good, kind and creative man and a dear friend and colleague.

Anyone wishing to contribute to the Tribute Edition, please email your contribution to: editor@saltairevillage.info by 22 January. Thank you.

Funeral arrangements: A celebration of Jame's life will take place on Monday 5 February 2018 at Eccleshill United Reformed Church at 2.00 pm.

Further arrangements are to be finalised.
Rose & Brown Events: 2018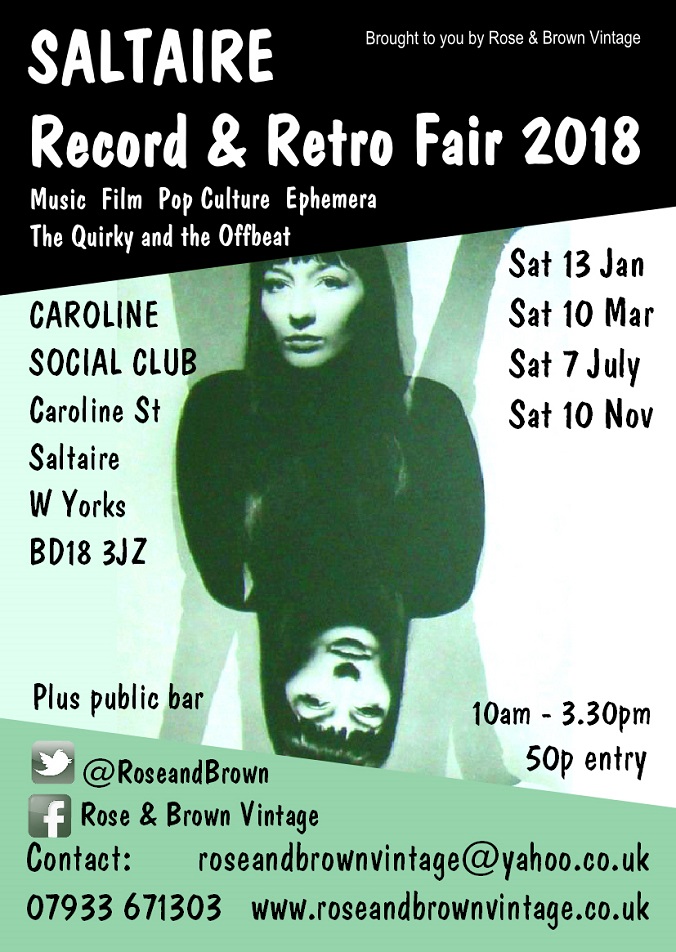 Rose & Brown Saltaire events, 2018:
Saltaire Vintage Home & Fashion Fair (Victoria Hall)
27 Jan 2018, 24 March, 23 & 24 June, 15 & 16 Sept, 1 December 2018

Saltaire Record & Retro Fair(Caroline Social Club)
10 March, 7 July, 10 November 2018
Rose & Brown Whitby events, 2018:
Great Seaside Vintage Fair (Whitby Pavilion)
21 & 22 July 2018

October Seaside Vintage Fair (Whitby Pavilion)
6 & 7 October 2018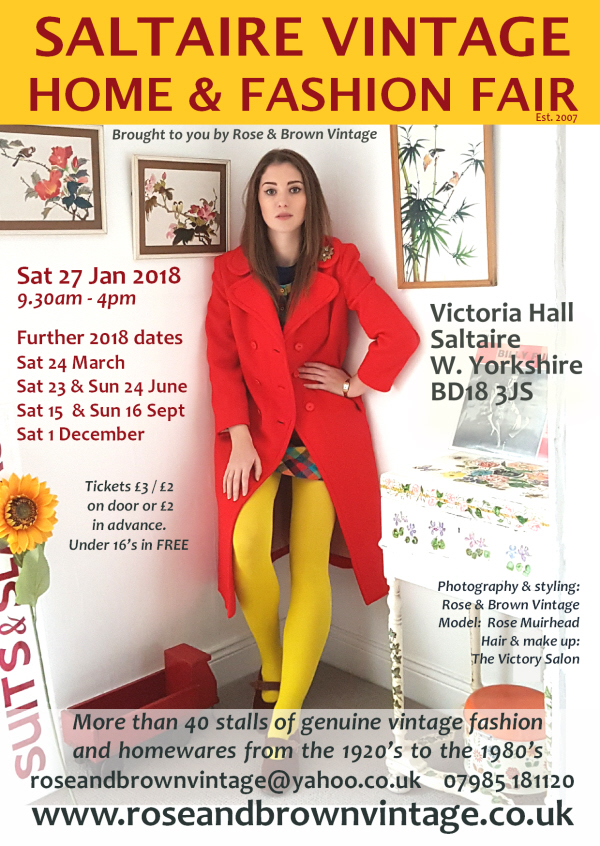 Caroline & Julian Brown
Rose & Brown Vintage
Event organisers dedicated to true vintage since 2007

Telephone: 07985 181120
Website: www.roseandbrownvintage.co.uk
Twitter: roseandbrown
Facebook group: The House of Rose & Brown Vintage Boutique
Facebook likes page: Rose & Brown Vintage