EXCITING FUTURE FOR HISTORY CLUB
One of the great local success stories of the year has been the establishment and rapid growth of the Saltaire History Club, brainchild of Dave Shaw. Denys Salt, who was accompanied by his wife Eva, addressed a very mixed audience of forty people on the 204th anniversary of his great grandfather's birth. Alan Petford gave an informative and entertaining lecture on the development of model villages nationwide.

Mouse over image to enlarge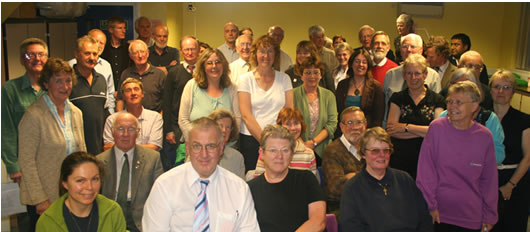 This turned out to be an enticing backdrop to the announcement that the Club is organising a trip this month to Copley, Ackroydon and other historical sites near Halifax… (See page 4)
Dave Shaw introduced his latest initiative, The Saltaire Journal, and Julie Woodward recruited volunteers for Friends of Shipley College.
Roger Clarke spoke about the Conversazione—(of which he writes further in this edition) - the annual get-together which was the 'talk of the town' in more ways than one from 1878 until 1964.
Victoria Hall Manager Stacey Clarkin is so keen to see this reinstated that she has already set dates for the three day event – February 14th-16th 2008 - and is asking Sentinel readers who would like to be involved to contact her: sclarkin@shipley.ac.uk
Watch this space for further news of the Saltaire Journal, and Friends of Shipley College. The next meeting of the History Club will be on December 6th at 7pm in the Shipley College building on Exhibition Road.