Number 45, September 2006
IT'S NOT THE PAPER PEOPLE BUY,
IT'S THE PAPER BY THE PEOPLE
In this issue
JOHN NICHOLSON goes on the internet
while we publish
PRIZE POEM
Plus
UNIQUE EXHIBITION
Plus ALL OUR USUAL UNUSUALS
The Saltaire Sentinel
SEEKS READERS' REVIEWS OF FESTIVAL EVENTS
FOR PUBLICATION IN NEXT ISSUE.
ANOTHER 150 YEARS
ANNIVERSARY INSPIRES NEW CLUB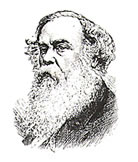 On Wednesday, 20th September, 2006, it will be 150 years since thousands of Salts Mill workers gathered in St George's Hall to present a bust to Titus Salt, as testimony of the affection in which they held him, Writes Dave Shaw.
To celebrate this anniversary an informal buffet supper is to be held at Shipley College, Exhibition Road... Read more>
PRIZE YARDS
There was a record number of entries this year for the Backyard Competition sponsored and organised by Rance Booth & Smith, chartered architects, of 11 Victoria Road, Saltaire. Read more>
GOSPEL TRUTH
Eric Petrossian brings his one man gospel presentation, in which he plays over thirty parts, to Saltaire at the invitation of the local United Reformed Church. (Where you can see the bust referred to in our lead story.) Read more>
ARCHIVE EXHIBITION "UNIQUE"
Visitors want it made permanent
I called at the Shipley College Resource Centre recently to find out how the Archive Exhibition had been received. Julie Woodward and her staff had sixty vistors this year, compared with forty-two in 2001. Read more>
The Saltaire Sentinel JOHN NICHOLSON POETRY PRIZE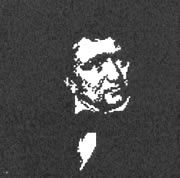 John Nicholson (1790-1843) "The Airedale Poet", died tragically on the bank of the river, close to what is now Victoria Road.
CONGRATULATIONS to this year's winner,
GEOFF TYNAN of Hirst Lane, Saltaire.
Read the winning poem>
The Sentinel picture of John Nicholson is an electronic adaptation of the engraving by W.O.Geller.
Former Poetry Prize winner Jim Saville is loading some of Nicholson's work onto the internet and has written a biography, some of which he has kindly offered to share with other Sentinel readers... Read more>
[Note from webmaster: The Saltaire Sentinel newspaper has limited publishing space and the Regular Features were omitted this month.]
HARRY SHEARD writes to us from Leeds:
I have just received my copy of No.43 (July 2006 issue). I was very interested in Roger Clarke's Saltaire people. I recently celebrated my ninetieth birthday. I too started work as a bobbin ligger, in 1930. My first wage was eight shillings (40p). The overlooker I shall remember always. His sharp toed clogs were quite painful if you didn't hurry to lig your bobbins.
HELEN LIVINGSTON of Caroline Street took a positive view when the Village Clean Up went wrong:
I also watched the skip fill up and overflow but the space was cleared and cleaned by the following Tuesday. Maybe in the future we should be more positive and try to adapt a great idea that helps people skip their rubbish into a format which will unify neighbours' views; and could even make us famous: What if Saltaire joined the likes of Tracey Emin? She exhibited her art at the Tate Gallery in London and her installation, using an unmade bed and assorted used underwear, sold for a lot of money. We could follow her initiative and make art with village leftovers. We could turn the whole community into recycling artists. Think of it. Once every four months the village would stage an event lasting all weekend where local residents and tourists could come and watch it grow.

CHRIS COOPER responded by e-mail to a request for information arising from last month's cutting from the Shipley and Saltaire Times:
You asked what a 'colporteur' is. I believe it's a travelling bookseller (often of religious books/pamphlets). Hope that's of some use.
[It certainly is, Chris. Thank you. – Ed]
Revd. FRANK PAGDEN of Horsforth, Leeds, added a little detail and comment:
...a colporteur was someone who helped missionaries in heathen parts of the world by travelling around distributing religious literature and bibles. Nowadays, when we are the heathen and Christianity is booming in the Third World, they are sending their missionaries to us, but I haven't seen any immigrant colporteurs – yet!
[If there are any, these pages will give them a welcome. Meanwhile, Eric Petrossian is the nearest we can get. - Ed]
Roger Clarke's History of Victoria Road
I had a phone call recently from Mrs Leach in Skipton, whose daughter took her a copy of the Sentinel.
Mrs Leach used to live at No.8 Victoria Road, and was kind enough to give me this information about it:
In November, 1943, the Davidsons sold the shop to her father, Lars Sture... Read more>
Roger Clarke writes: I have just interviewed ninety-five year old Jack Grimley, who owned the Chemist's shop at No.12 between 1951 and 1976; so readers can look forward to having some pharmaceutical memories revived – complete with brands and prices. Also coming shortly: How the Quarmby/Nutton family traded in the Village.
CAN YOU HELP TO FILL THE GAPS ?
Do you remember a cycle shop in Victoria Road? If you recall more about any of the shops, you can help to record recent history for future generations. The Sentinel looks forward to hearing from you.
RESEARCH BEHIND SCHOOLROOM SCENES
Hattie Townsend's drama Schooling Miss Martha, being performed in the rooms of Saltaire United Reformed Church on Sept. 9th & 10th (2.30pm) as part of the Festival, features the problems facing a 17-year-old girl struggling with her educational ambitions... Read more>
MOVING MARKS IN TARMAC
Undated old postcard may hold clue
Last month the Sentinel posed an interesting question about the site of the long-gone bandstand in Robert's Park – why is there a discrepancy between the site of the bandstand and the present-day bandstand-shaped (!) repairs to the tarmac in that area of the park? Read more >