MOVING MARKS IN TARMAC

Undated old postcard may hold clue
Last month the Sentinel posed an interesting question about the site of the long-gone bandstand in Robert's Park – why is there a discrepancy between the site of the bandstand and the present-day bandstand-shaped (!) repairs to the tarmac in that area of the park? I offer a possible explanation, partly through fear that if left unexplained it will be blamed on global warming.
There is a postcard – quite old, but undated - which shows an empty space where the bandstand used to sit (isn't English a nice language?). The postcard photo shows surface-water lying in a shallow depression in the tarmac. I think what happened was that following removal of the bandstand, the ground settled more than expected. Over the years it became necessary to do further surface repairs, which extended into the main promenade, creating the markings that we see today. Maybe other readers have better explanations? (Does anybody want to blame the rainfall in the photograph on global warming?).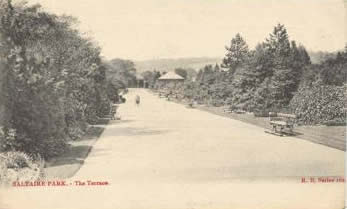 Postcard image of Roberts Park, bandstand in the background. Date unknown.
Does any reader know why the bandstand was removed and when? A second postcard, dated 1942, indicates that, surprisingly, the removal occurred before that date. Was there a fire? Was the metal taken for the war effort? Or was it thought to becausing global warming?
Dave Shaw