Next meeting:
Meeting was cancelled on 8th March due to bad weather
Rearranged for Thursday 15 March, same place
from 7 - 9 p.m.
All welcome and it's free!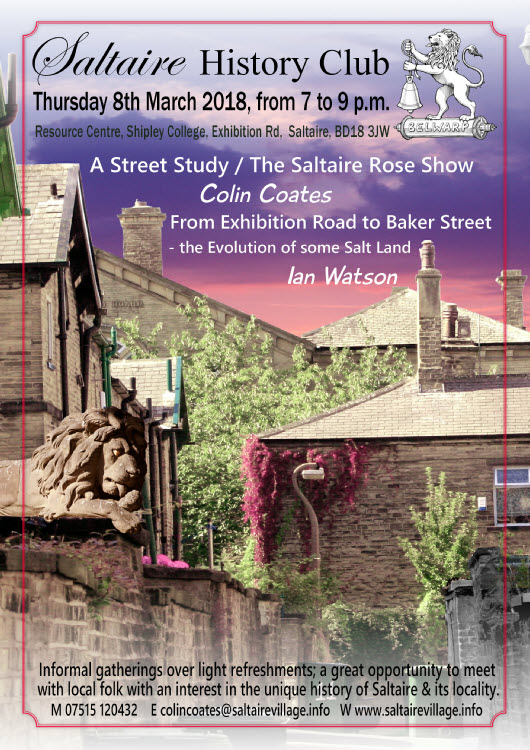 Dear History Club Members, Our meeting of 8 March was cancelled because of weather conditions.

It has now been rescheduled to Thurs 15 March.

This has been made possible with the kind cooperation of Shipley College – many, many thanks to them!

Further details (time/ venue/ programme etc) remain unchanged.

Very much hope you can make it!

Best wishes
Dave (Shaw) on behalf of Saltaire History Club

Best wishes
Dave (Shaw) behalf of Saltaire History Club
Two talks by local historian, Colin Coates
A Street Study
The Saltaire Rose Show
Also
From Exhibition Road to Baker Street
- the evolution of some Salt land
by Ian Watson
Meeting venue
Resource Centre, Saltaire Archive Room
Shipley College
Exhibition Road,
Salltaire
BD18 3JW
POSTER
Download the poster >
The Saltaire History Club is free to attend and everyone is welcome.

MORE INFO ABOUT THE MEETING
Coming soon >
Follow Saltaire History Club on Facebook