Meeting: Thursday 7 June 2012
One Photo - Many Changes
An Open Forum Discussion of CH Woods' 1935 Photograph of Saltaire
The Salts' Dayton Venture - a 21st Century Revisit
by David King
NOTE THE VENUE:
Shipley College, Victoria Road
(opposite Victoria Hall) 7 – 9 pm.
ALL WELCOME - and it's FREE!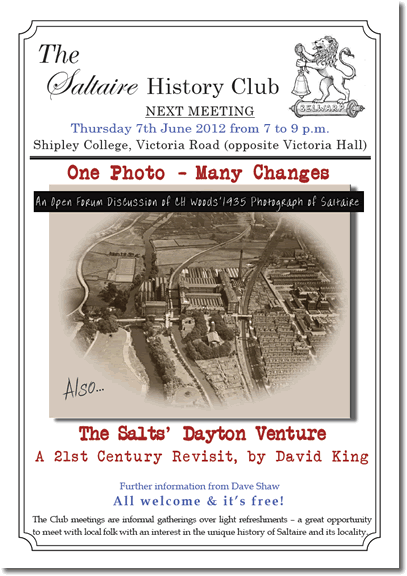 Dear Friends,
Greetings, & a particularly warm welcome to the several new Members of the Club who will be receiving this, our usual meeting notification, for the first time. (Some are as far afield as Australia, but don't worry, if you can't get to the forthcoming meeting, we'll present your apologies!)
The next meeting of our Club is on Thursday 7 June, the venue being Shipley College, Victoria Road (opposite Victoria Hall). Post code for Sat Navs is BD18 3LQ. As usual the meeting will be held 7 – 9 pm. Entry, as always, is free. We've got a really good line-up for the meeting.
We'll start with a presentation "The Salts' Dayton Venture, a 21st Century Revisit" by Club member David King. David will be fleshing out the account of a recent trip to Dayton, Tennessee that can be followed via the daily blog: Blog link>
After our usual coffee/ tea break, we're then going to have an open forum that you're invited to take part in, should you wish. If you're lucky enough to live locally & have been in Saltaire's Visitor Information Centre, you will have been struck by its main historical display - the magnificent 1935 aerial photo of the village taken by well-known photographer C H Woods. Bradford Industrial Museum has kindly given us permission to feature the image at our meeting, & we're going to have an open discussion "One Photo – Many Changes". Everyone will have chance to comment on which Saltaire features have changed in the 77 years since the photo was taken. We're also gathering a few of our local nonagenarians who were around when the photo was taken, to learn from their comments.
We very much hope you are able to be with us on the 7th – it'll be an outstanding evening of Saltaire history!
Best wishes
Dave (Shaw)
Dayton or Bust! The blog of two Saltaire historians on an American Adventure