Meeting: 6 December 2007

Shipley College, Exhibition Rd, Saltaire, 7pm – 9 pm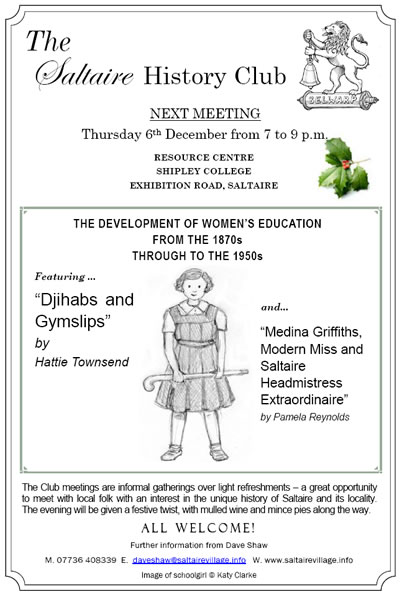 Each and every one of our meetings this year has led to increased attendances. We hope to keep it that way, and end a really successful year for the Club with a meeting on 6 Dec - usual place and time: Shipley College, Exhibition Rd, Saltaire, 7 – 9 pm.
The theme for the evening will be the development of women's education from the 1870s through to the 1950s, looking at both national and local perspectives. Saltaire guide and dramatist Hattie Townsend will speak on "Djihabs and Gymslips". Pamela Reynolds (the brains behind our Saltaire Village website) will give an account of Medina Griffiths, first headmistress of the Girls School in Saltaire.
We're planning to give the evening a festive twist along the way, with mulled wine, mince pies and Santiago cake. (Wondering what djihabs and Santiago cake are? Me too. All the more reason to come and find out!).
As history enthusiasts, we all know how the passage of time can change someone's appearance. Just for the fun of it on the 6th, if you have an early photo of yourself to hand, please bring it along – we'll get them all on display for the break and see how many of us are still recognisable…..
Look forward to seeing you there!
Dave Shaw