BACK TO THE FUTURE FOR THE HAMMONDS SALTAIRE BAND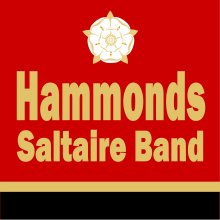 Championship band, YBS has changed its name to Hammonds Saltaire Band, a name which reflects its 150 year history.
Although the Band has been known as YBS for the past 15 years it has been fondly remembered as the "former Hammonds Band" going back to a time when it was sponsored for a period of almost 50 years by the then local Hammonds Sauce Works which was based in Saltaire. The name Saltaire also reflects the band's roots as being the place where the original band was founded over 150 years ago by Sir Titus Salt at his mills in the town of Saltaire, Bradford.
The new name became effective on January 24th 2009, when the band played at one of its favourite concert venues at Stephen Joseph Theatre in Scarborough.
John Myles, Chairman of the Band said "We're very excited about the name change. While the band has been hugely successful under the YBS banner, it feels that now is the right time to move forward with a new name. It was unanimously agreed that Hammonds Saltaire Band was the right name to reflect the Band's heritage and take us forward - back to the future!
John continued "Following discussions with McCormick (UK) Ltd, who now own the Hammonds brand name, they were delighted to welcome us back and we are looking forward to working with them in the next chapter of the band's 150 year history."

Lisa Rogers, Marketing Manager at McCormick's said "We are delighted that the Band has decided to use the Hammond's name again. We are very proud of our heritage with this brand which was started by Mrs. Goodhall back in 1853 when she invented the Hammonds relish recipe in her Leeds kitchen. After 2 world wars and numerous location moves and ownership changes the name is still going strong and we will be investing in it for the foreseeable future"
Anyone wishing to contact the Band can do so on its new website www.hammondsband.org.uk
Contact details

John Myles – Chairman
07836 356568
Dave Long – Band Manager
07970 034798
Added :28 January 2009