Meeting: 5 MARCH 2020
All welcome and it's free!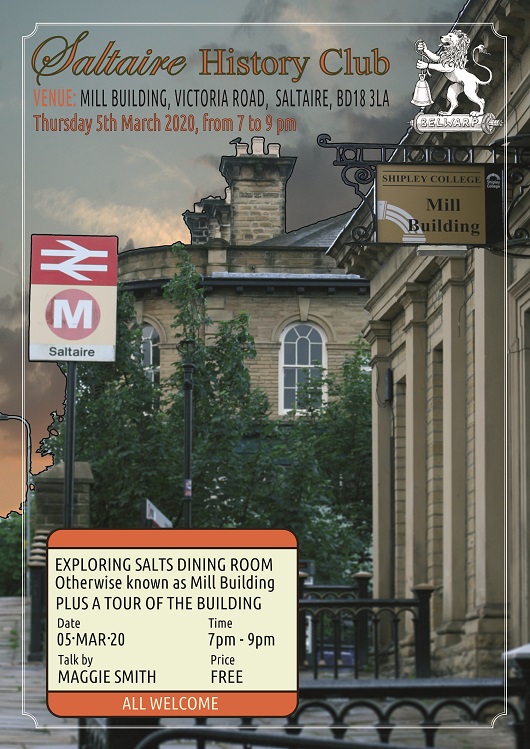 Exploring Salts Dining Room
Otherwise known as Mill Building
PLUS
A tour of the buildingA talk by Maggie Smith
NEW VENUE FOR THIS MONTH
Mill Building
Victoria Road
Saltaire
BD18 3LA
Date: 5 March 2020Time: 7 p.m. to 9 p.m.
POSTER
Download the poster >
The Saltaire History Club is free to attend and everyone is welcome.

Follow Saltaire History Club on Facebook
Preamble to meeting
Meeting: Thursday 5 February 2020
7pm to 9pm
All welcome and it's free!
Our next quarterly meeting will not be at the usual location as we 'll be
Exploring Salts Dining Room at the Dining Room itself. Now known as Shipley College's Mill Building, it's next to Saltaire station. Please use the side entrance.
There'll be a talk by Maggie Smith and a tour of the building. Not to be missed!
All welcome – and as usual, it's FREE.
REFRESHMENTS will be available for a small charge.