Meeting: 5 September 2019
All welcome and it's free!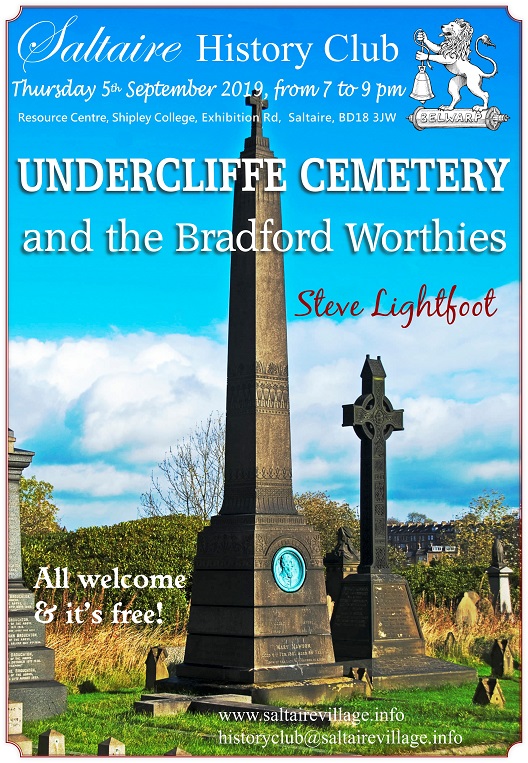 Undercliffe Cemetery and the Bradford Worthies
A talk by Steve Lightfoot
Venue

Resource Centre, Shipley College
Exhibition Road,
Salltaire
BD18 3JW
Time: 7 p.m. to 9 p.m.
POSTER
Download the poster >
The Saltaire History Club is free to attend and everyone is welcome.

Follow Saltaire History Club on Facebook
Summary of meeting on 5th September 2019
UNDERCLIFFE: A HISTORICAL TREASURE TROVE

James Roberts writes:Thank you to everyone who joined us for a well-attended and enjoyable Club meeting. We would like to express thanks to our speakers and in particular to Steve Lightfoot for a fascinating presentation on Undercliffe Cemetery and some of its notable occupants.
Speakers
Undercliffe Cemetery and the Bradford Worthies - Steve Lightfoot
The presentation began with a short BBC News video about volunteering at Undercliffe
Steve gave an overview of the history of Undercliffe Cemetery and how it came to be operated on a volunteer-led charitable basis as it is today
The charity runs a number of tours and open days including one on the Bradford Worthies which formed the basis of this talk. This tour will be run on 21st September and places can be booked online
The 'Worthies' have been selected based on research by Underfcliffe volunteers using contemporary sources, representing figures who were well known & successful in business or public life. These included:
Thomas Appleton
Sir Isaac Holden
Alfred Illingworth
Angus Holden
Jacob Behrens
William Mawson
Nancy De Garrs
Steve gave a biography of several of the Worthies, including some interesting anecdotes (such as the 'Rattenbury murder' of William Mawson's nephew depicted in the 1989 film 'Cause célèbre'
The final worthy described was Nancy De Garrs, a former nurse to the Bronte family who fell on hard times in later life. She was known at the time as a fervent defender of Patrick Bronte following publication of Elizabeth Gaskell's biography of Charlotte Bronte. Nancy died as a pauper in a workhouse and was buried in an unmarked grave. Steve has written a biography of her which is being sold to raise funds to purchase a headstone.
Donations to help fund a headstone for Nancy De Garrs can be made online
Saltaire World Heritage Officer – Sheena Campbell
As Saltaire's World Heritage Officer, Sheena introduced herself to the club and gave some interesting insights into the surprises and challenges of her new role. This included highlighting some of her key focus areas around:
Reviewing transport links to ease pressure on parking in the narrow historic streets
Making a record of the buildings in the mill complex
Delivering a Business Toolkit to help businesses benefit from heritage tourism
Improving coordination between SWHEA and Salts Estates
Announcements
Club Business
Audio Equipment

We have a new PA System and lectern purchased thanks to a generous donation from (the clearly misnamed) Nemine Juvante for which the Club is very grateful.
Thanks were expressed to Henry for his help with the new PA system including his advice, practical support with setting it up and donation of some equipment.

Co-ordinating Group Vacancies

We have two remaining vacancies on the co-ordinating group and are looking for volunteers to fill these. Neither is expected to require a significant time commitment but are vital to the smooth running of the club.

Treasurer
Club Secretary / Programme Secretary
Research
A brief summary was given of article from August 1919 identified by Colin Coates:

A planning request was made by Sir Titus Salt Bart Sons and Company Limited to provide temporary hostel accommodation for 100 female workers on land behind the alms houses. Permission was eventually given by Shipley Urban District Council on the basis that the company was trusted to maintain the accommodation in good conditions and to remove the temporary buildings once they were no longer needed.
Les Brook noted that attracting workers clearly continued to be problematic after the end of WW1. The response by SUDC also showed that the company continued to be highly regarded locally.
Events
An exhibition honouring Saltaire's "Hidden Heroes and Heroines" will be running at the Salt Building on Victoria Road as part of the Heritage Open Days on 21st and 22nd September (10am to 4pm). Saltaire Collection and Saltaire History Cub have worked together to prepare this.
A.O.B
Request for information
Following a visit from descendants of the Mawson family, Ian Watson has become aware that William Mawson left a statue of Titus Salt to Bradford Libraries. There is a suggestion that this may be held in Manningham Library. Ian would be grateful for any information on what has become of it.
The Saltaire History Club can be contacted by email historyclub@saltairevillage.info or via our Facebook page https://www.facebook.com/SaltaireHistoryClub/
Preamble to meeting
YOU ARE INVITED to the Club's next quarterly meeting which will take place from 7-9pm on Thursday 5 September 2019 at Shipley College's Learning Resource Centre in the Exhibition Building, Exhibition Road, Saltaire BD18 3JW.

We'll be hearing from Steve Lightfoot whose talk is entitled "Undercliffe Cemetery and the Bradford Worthies". Many of you will know Bradford's splendid, Grade II* listed cemetery…but who were the 'Bradford Worthies'? Come along and find out. All welcome – and as usual, it's FREE.


YOU ARE ALSO INVITED to a Heritage Open Days exhibition on Saturday and Sunday 21 and 22 September between 10am and 4pm at the Salt Buildingopposite Victoria Hall in Saltaire. This FREE exhibition is being organised by the Saltaire Collection with support from the Club and the focus is on
Saltaire's Hidden Heroes and Heroines.

… AND YOU ARE ALSO INVITED to no fewer than 5,000 historical events during Heritage Open Days which will take place between 13 and 22 September. There are a remarkable 384 FREE heritage events within 25 miles of Saltaire! Find out more at https://www.heritageopendays.org.uk/

Les Brook