Meeting: 6 June 2019
All welcome and it's free!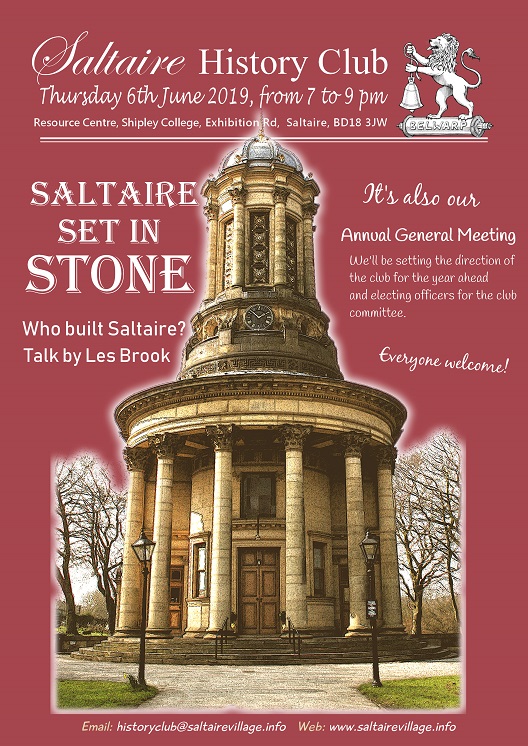 Saltaire set in stone
Who built Saltaire?
A talk by Les Brook
"… the names of the builders who set out and built the village, and who must have been very skilled in local building crafts, are no longer known" wrote the authors of SALTAIRE: The Making of a Model Town in 2010. On 6 June 2019, all will be revealed by Les Brook.
2019 Annual General Meeting:
Please come along and help us set the direction of the club for the year ahead. We will be electing officers for the club committee and welcome your participation.
Venue
Resource Centre, Shipley College
Exhibition Road,
Salltaire
BD18 3JW
Time: 7 p.m. to 9 p.m.
POSTER
The Saltaire History Club is free to attend and everyone is welcome.

Follow Saltaire History Club on Facebook
Hello
I hope you will be able to join us for the Summer Saltaire History Club meeting and AGM which will take place from 7.00 p.m. to 9.00 p.m. at the Resource Centre, Exhibition Building, Shipley College in Saltaire. It should be an illuminating and productive meeting.

Les Brook will be giving a talk – 'Saltaire Set in Stone' – which will share insights into the individuals who built Saltaire. This is a follow on from Les' talk in December 2017.

Following Les' talk we will be having our annual AGM at which we will

Present the Club's accounts
Discuss and hopefully ratify a new constitution for the Club
Elect members to the Club's Coordinating Group

The documents below are combined here as an Acrobat file.

The agenda for the AGM
The draft constitution
An overview of possible roles on the Coordinating Group – we are looking for people to get involved!

Looking forward to seeing you there, and happy to answer any questions you may have in the meantime.

Best
Rachael
Acting Chair and Treasurer