Meeting: 13 December 2018
All welcome and it's free!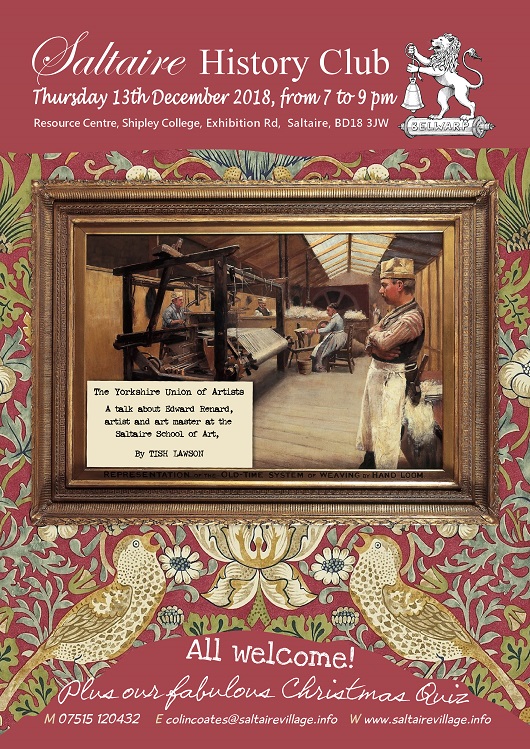 The Yorkshire Union of Artists
A talk about Edward Renard, artist and art master at the Saltaire School of Art, the Yorkshire Jubilee exhibition of 1887 (the Hermit's Cell), the formation of the Yorkshire Union of Artists as a result of the Exhibition and its first President William Powell Frith whose painting 'The Railway Station' was a great success.
By Tish Lawson
Plus the FABULOUS Christmas Quiz by quiz master extraordinaire, Colin Coates
Venue
Resource Centre, Saltaire Archive Room
Shipley College
Exhibition Road,
Salltaire
BD18 3JW
POSTER
Download the poster >
The Saltaire History Club is free to attend and everyone is welcome.

Follow Saltaire History Club on Facebook
Note from Colin Coates, History Club Chairperson
For our last meeting of 2018, we have an excellent speaker in Tish Lawson.
Tish will be giving a talk about Edward Renard, artist and art master at the Saltaire School of Art, the Yorkshire Jubilee exhibition of 1887 (the Hermit's Cell), and the formation of the Yorkshire Union of Artists as a result of the Exhibition and its first President William Powell Frith whose painting, The Railway Station, was a great success.

We will be hearing about how successful our Heritage Open Days were at Milner Field Farm and in the second half of the evening we will have a fun quiz.

The meeting is at our usual venue, the Shipley College Building, in Exhibition Road, starting at 7pm and finishing at 9pm

As most of you are already aware, this will be last meeting as I have decided to retire from work and then I am going to emigrate to Australia in February 2019.
Can I take this opportunity to thank you all for supporting the Club and I hope you continue to do so. Although I will be living in Australia I will be continuing with my Saltaire research.

Colin Coates
Chairman, Saltaire History Club