Meeting: 6 September 2018
All welcome and it's free!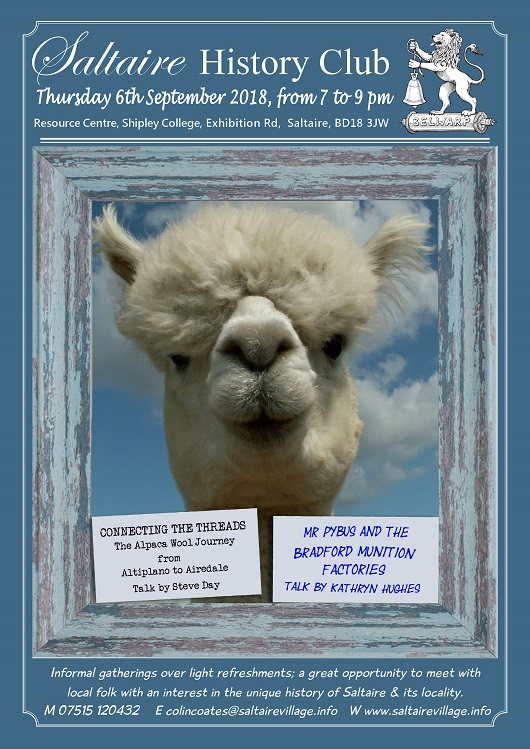 Image courtesy Shaun and Julie Daniels.
Meet Lewes, who is a very happy alpaca living with Shaun and Julie,
Yorkshire alpaca farmers.
Website: www.countyalpacas.co.uk
Steve Day
Connecting the Threads - The Alpaca Wool Journey
from Altiplano to Airedale
The talk will be based on my progress so far in researching the remarkable journey of the alpaca wool from its source in the high altiplano of Andean Peru, across the Atlantic via Cape Horn, Liverpool and the Leeds-Liverpool Canal. Given the non survival of archives from Salts Mill I'll outline the available sources that enable us to piece together the story. So far they've taken me from Leeds to London. I'll also make use of sources I've found on the internet that can give us some further insight. The focus will be mostly on information I've garnered relating to the business in Peru, but there will be some references to sources closer to home drawn from the archives of Black Dyke Mills.
Karthryn Hughes
"Mr Pybus and the Bradford Munition Factories"
Find out how Bradford responded to the national shell crisis. With pictures from inside the Pheonix Munitions works at Thornbury you'll gain an insight into what it was like to work there and what kind of manager Mr Pybus was.
Venue
Resource Centre, Saltaire Archive Room
Shipley College
Exhibition Road,
Salltaire
BD18 3JW
POSTER
Download the poster >
The Saltaire History Club is free to attend and everyone is welcome.

Follow Saltaire History Club on Facebook